Red Shield riders ready to pedal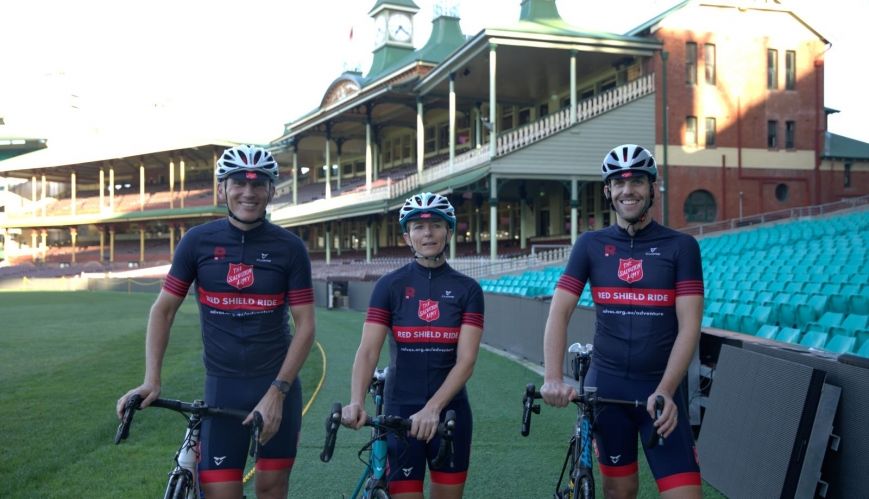 Red Shield riders ready to pedal
23 April 2019
This year's Red Shield Ride starts on 29 April at the Sydney Cricket Ground and finishes in Melbourne 10 days later.
By Lauren Martin
 
Twenty-six cyclists are gearing up for a challenging 1400km jouney from Sydney to Melbourne to raise money for The Salvation Army Red Shield Appeal.
The Red Shield Ride, which begins at the Sydney Cricket Ground on Monday 29 April before finishing in Melbourne 10 days later, has already raised more than $100,000 through participant and corporate fundraising.
Organiser Peter Cleave, The Salvation Army Adventure Fundraising Relationship Manager, says the event is about much more than just raising money.
"We want to raise awareness of what The Salvation Army is doing through this, by connecting with our participants, who are fundraising in their local communities and workplaces, and when we are on the ride, by connecting with the communities that we are riding through," he said.
"The Red Shield Ride will also raise awareness in rural communities in NSW, ACT and Victoria for the national Red Shield Appeal, with local media and some local politicians involved."
The route meanders down the east coast, taking in the iconic Sea Cliff Bridge north of Wollongong, through Kiama, up Jamberoo Mountain and across the Southern Highlands to Canberra. Some riders will finish in Canberra. The rest will head south to Melbourne, with the route taking in the Baw Baw National Park with a challenging 3600m climb on day nine.
"The route was chosen because we will be riding through lots of communities with Salvation Army expressions, and also because we are connecting the two territories, symbolically," Peter said.
"Riders will attend Red Shield Appeal launches in Canberra and in Melbourne. They will also attend a number of Salvation Army corps along the way and hear first-hand testimonies from people who have been assisted by The Salvation Army through Red Shield Appeal donations.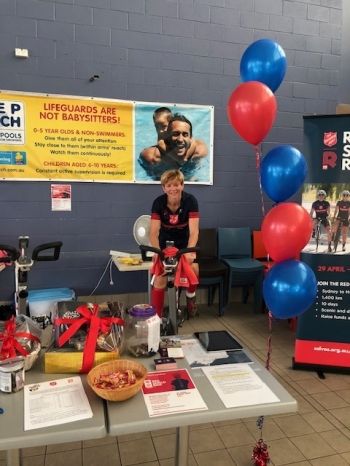 Michelle Williams raised funds through a recent 14-hour spin-bike event.
One of the riders, Michelle Williams, said riding from Sydney to Melbourne had always been on her 'bucket list'. Michelle has been involved with the Red Shield Appeal for the past seven years, assisting her children who volunteer as doorknockers.
"I drive around my local area with them on Red Shield Appeal doorknock day … now this is my turn to actually raise some money," she said. 
Michelle, who works in the health industry, is also a fitness instructor and has raised money through a "crazy 14-hour day on a spin bike", as well as doing bake sales at work and a crowd-funding campaign through social media.
"I'm looking forward to riding together as a team and getting each other through," she said. "I think it's going to be such a big challenge for all of us and we're all going to have a bad day at some point along the journey, so helping each other to get to the end will be quite amazing. I know I'll cry at some stage!"

To make a donation or follow the progress of the Red Shield Riders, head to www.salvationarmy.org.au/redshieldride