Queensland coffee mornings shine light in dark places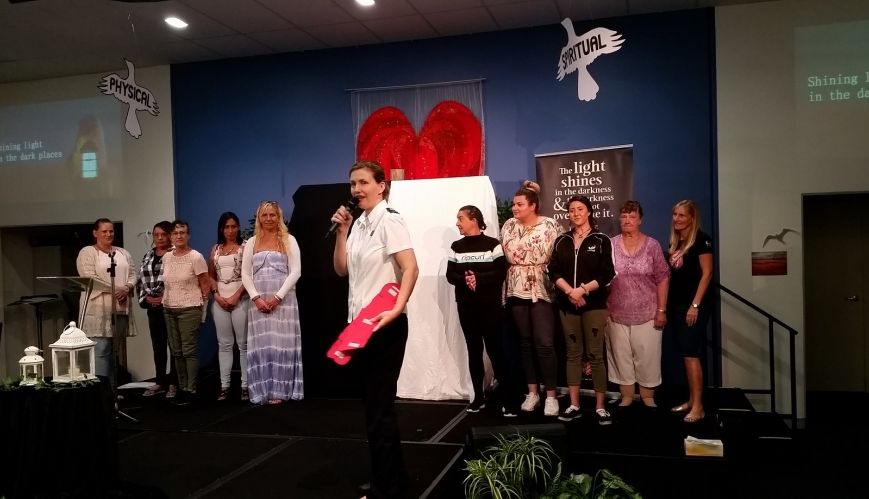 Queensland coffee mornings shine light in dark places
3 May 2019
Auxiliary-Lieutenant, Dr Catherine Philpot, speaks about mental illness during the recent Queensland divisional coffee mornings.
By Simone Worthing
"You were brave and vulnerable and made us aware of attitudes around mental health issues that we need to call into question and change," said Major Michele Terracini, Brisbane South, West and Gold Coast Area Officer.
"This was not just a good talk, but an awesome presentation."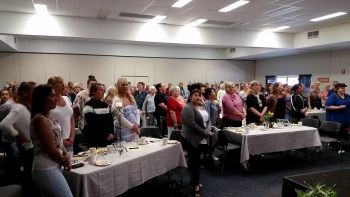 The Brisbane morning began with worship.
Major Terracini was speaking to Auxiliary-Captain, Dr Catherine Philpot, guest speaker at the Queensland Divisional coffee mornings held in four locations across the state from 3 April–2 May.
Approximately 250 people attended across the four events. 
"Shining light in dark places" was the theme of the coffee mornings.
Using the metaphors of light and darkness, Dr Philpot, Centenary Corps Officer and South Brisbane Community Project Officer, presented a number of Bible verses to show that Jesus is light, and everything he did was an act of light – including feeling sadness, being angry, and experiencing anguish as he anticipated his approaching death.
Dr Philpot explained that these feelings, although difficult to experience, are not of themselves, darkness. Neither, she said, is death, sickness or mental illness – the latter being something that one in two people will experience in their lifetimes, and one in five will experience this year.
"Mental health issues don't belong with evil and darkness," she explained. "It is a real and personal place, one that is sad, uncomfortable and horrible, but it's not a person's fault and it's not helpful to blame them for feeling miserable or having crippling anxiety.
"This just adds a whole layer of guilt and shame to what is already so painful and it gets people stuck."
Dr Philpot powerfully shared her own struggle with mental health issues, what helped, what didn't, and that Jesus is always right beside those who are struggling, even though they can struggle to see and connect with him.
Attendees from Maryborough joined the Gympie morning.
She also spoke about ways others can be a light to those in troubled times – through love, care and just being there for someone.
Dr Philpot again shared from experience, and what helped her to journey out of depression, out of thoughts that she was evil and bad, and into enjoying life again.
"I needed to hear the truth that I was not evil for having mental health issues, that I wasn't alone in my experience, and that I was unconditionally loved," she said.
Dr Philpot shared that her most profound moment of healing came through an encounter with Jesus.
"Jesus is the light of the world – he transforms our sorrows, transforms our lives, and transforms our wounds which become the means through which we can reach out to others," she said.
In conclusion, Dr Philpot showed that while we associate joy with light, the Bible doesn't. For Jesus, blessedness comes when we mourn and are poor in spirit. For it is then we find the light of the kingdom of heaven, and the light of God's presence with us as comforter.
"But Jesus always comes alongside us, is close even now, and saves us in all our troubles," she said.
Projects
Major Rowena Smith, Women's and Families Secretary, Queensland, and Captain Leisa Humbley, Queensland Divisional Adults and Seniors Secretary, launched the 2019 territorial and divisional women's ministries projects during each event.
The territorial project is Women of Worth – a village education and banking program that helps women in Africa lift themselves and their communities out of the cycle of poverty. More than $2000 has been raised so far in Queensland.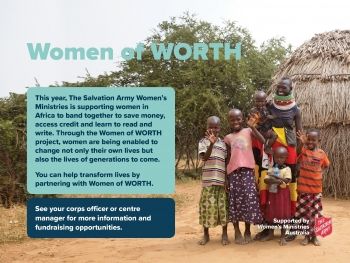 The 2019 Women's Ministries project was launched at each event.
The divisional project, also called 'Shining light in dark places', will help provide funds for training workshops across the state to better equip ministry workers as they support people with mental health issues. Dr Philpot will facilitate these workshops in 2020, with a fundraising target of $12,000.
Captain Humbley also thanked the women for supporting last year's territorial fundraiser – the Simba project – that provides preventative anti-human trafficking education for women and children in the African nation of Kenya. Almost $41,000 was raised across Queensland.
The women of the state also doubled their target and raised $12,000 for last year's divisional project, the Green Thumbs Up project. The funds will be used to establish vegetable gardens at the Army's Gold Coast and Cairns centres for women in crisis.
"I think everyone who attended our coffee morning events in Qld this year would agree that these mornings have stirred up a new hope and encouraged us to see mental illness differently," said Captain Humbley.
"It has been a huge blessing to organise and arrange events that really provide an opportunity for our people to be empowered to live as shining lights in their world. We have been truly blessed by Catherine's teaching and look forward to more as we roll out the 'Shining light in dark places' workshops next year."