You are here:
Home › News › 2019 › 05 › 15 › Park Outreach Program Forms An Expression Of Riverland Corps
Park outreach program forms an expression of Riverland Corps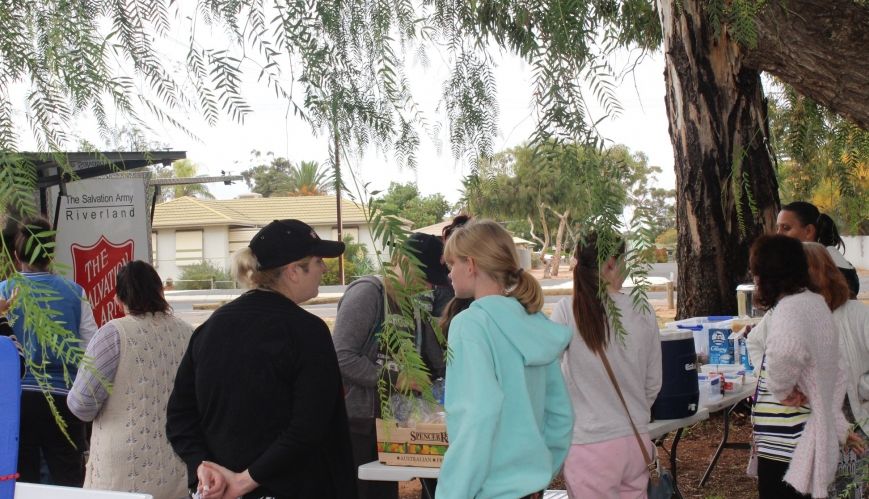 Park outreach program forms an expression of Riverland Corps
15 May 2019
Riverland Corps outreach barbecues in the park are making an impact in the local community and creating their own faith community.
By Simone Worthing
"We really have three different expressions of our church here," said Helen Adamczyk, Riverland Corps Leader and Salvos Store Manager in Berri, South Australia.
"We have our corps that meets on a Sunday morning, our Salvos store, and our community services."
The corps also includes a community outreach program, that is fast becoming another expression in its own right.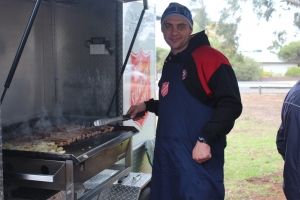 Volunteers at the barbecue are familiar faces at the outreach events.
Helen began leading the corps in 2017, with a prayer group, Bible study, and church meeting.
"It was not really successful and I felt that we needed to be a presence and visible in the community," she explained.
"This tied in with the Army's emerging mission focus, which I am totally sold out on, and my personality leads to getting out into the community.
"My vision for the corps was that it be made up of the disadvantaged and marginalised – many of the people we serve here."
Helen and her team focused on meeting people's physical needs first, and, one year ago, began setting up a fully equipped trailer and holding a weekly barbecue and soup outreach event after church on Sunday in a popular park in Berri.
Just three months ago, adherent Carolyn Druery, from nearby Renmark, began a similar outreach event on Wednesday afternoons.
Between 40 and 50 people attend each event, with many coming from the corps' community services.
"We make ourselves available and also take out evangelical material, Bibles, tracts, and information about what we offer as a corps.
"Gradually we are having more one-on-one discussions which are starting to lead to some heavy duty spiritual conversations.
"We have to earn the right to speak into people's lives, and these faith pathways will take care of themselves if we are meeting people at their point of need.
"I really hope to see this outreach translate to growth in the corps but if not, we still have a faith community there.
"One lady already calls this her outdoor church, another began serving in the Salvos Store as a volunteer, one family has come to the corps, and we've also had a few ask for Bibles.
"As a corps, we have our sleeves rolled up!"
The corps is also dedicated to prayer and runs three different prayer groups. Many people from community services attend these groups, as well as one family from the Berri outdoor outreach.
Stepping up
Helen began leading the corps in 2017, after no new officers were appointed and the future of the corps was uncertain.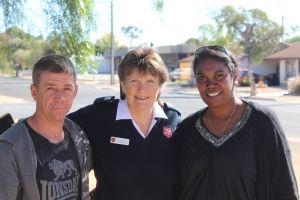 Helen Adamczyk (centre) is well-known in the community.
"I thought that, we were all adults and could look after ourselves, with some support from Salvos Stores through CEO Matt Davis, and the Division," said Helen, who was the Family Store manager at the time.
"After discussions with Major Barry Casey, Divisional Commander, firm support from Salvos Stores, many administrative tasks removed, and 3-4 faithful members, I was ready to continue managing the store full-time and lead the Riverland Corps.
"We wanted to see the corps not just survive, but thrive."
Helen explained that, with supportive people around her, delegation of tasks and responsibilities, and changed expectations from both the corps and the store – both places are indeed thriving, with particular provision and blessing for the outreach program.
"I have even put proper strategies in place to get focused family time and rest," she laughs
"It's been an amazing journey; I feel like I am doing what God compels me to do, I love doing it; and we are thankful for the exciting future ahead!"