New café building community at Brisbane corps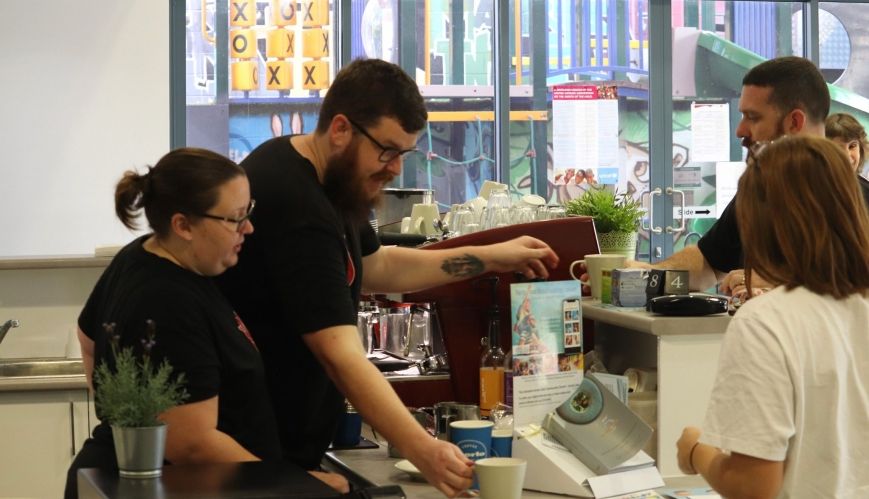 New café building community at Brisbane corps
20 May 2019
Captain Vanessa and Lieutenant Anthony Hunt serve customers at the newly-opened Milk and Honey Café at Forest Lake Corps, west of Brisbane. Photos Kian Worthing.
By Simone Worthing
The Milk and Honey Café at Forest Lake Corps is bringing "a vitality to the building, a sense of the abundant life God has for us and is definitely a place of grace", according to Corps Officer, Lieutenant Anthony Hunt.
The café, which opened at the corps in Brisbane's western suburbs on 18 March, is open three days a week and is so far attracting up to 40 people through the doors each day.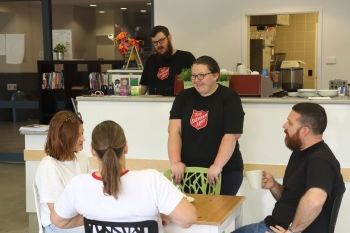 Building relationships is a key focus at the café.
"When we first arrived here two years ago with two children under five, we did a lot of research to find child-friendly cafés where we could get out and about in the community, and could only find a fast food restaurant," explained Captain Vanessa Hunt, Corps Officer.
"It was crazy that there weren't more options, especially given that Forest Lake is Brisbane's biggest suburb, with nearly 30,000 residents and a majority of young families."

The Hunts and their team looked at the pre-existing available space in the corps where a café had operated in the past, and decided to renovate the area and create a child-friendly community café.
A mission development funding grant through The Salvation Army Queensland Division paid for an outdoor playground, with additional grants enabling café renovations, basic furniture, and indoor activities.
"This is a space where families can come with their kids to enjoy time together, where the kids can be normal kids without judgement or embarrassment, and where people can connect with each other, the community and, our great hope, with the Kingdom of God," said Lieut Anthony.
"It reflects the biblical principles of hospitality, opening the door to all, and stewardship as we more frequently use the building for others.
"We connect with people as we serve coffee and food, building relationships and letting people know that we are here for them."
Lieut Anthony mainly makes the coffee, while Vanessa prepares the food and interacts around the tables and playground with customers.
Volunteers assist and, in time, the Hunts plan to train additional volunteers to run the café so they can be freed up to interact with the community and build relationships.
As well as hot and cold drinks, the café also offers healthy and child-friendly food options, at affordable prices.
A culture of grace
Already, community members who wouldn't normally come into a church are becoming regulars at the café.
"We've had a mother with a daughter with disabilities, a grandmother with her grandchildren, a mother's group, family day carers, and a range of different people," said Captain Vanessa.
"We've had long conversations with many people and we intentionally, and authentically, welcome and interact with everyone.
So far, the café is attracting up to 40 people a day.
"This is church, a place where we are cultivating a culture of grace, and we don't know where it will lead. We are really examining what a faith community might look like in this space and are considering Messy Church here too, in time.
"We want to be genuine though, and not make people feel that this is a bait to get them to church."
The Hunts would also like to develop the café into a place where people can gain skills and confidence in a safe and nurturing environment as they prepare to enter, or re-enter, the workforce. This could include barista and hospitality training.
The Hunts and their team are also planning to develop and expand the resources offered at the corps to help develop healthy families and community.
"We believe that healthy families make healthy communities," the Hunts said. "We love interacting with our community in the café environment and are believing that lives will be changed as people feel included, a sense of belonging and loved for who they are, noisy kids and all!