The phone call that saved a dad's life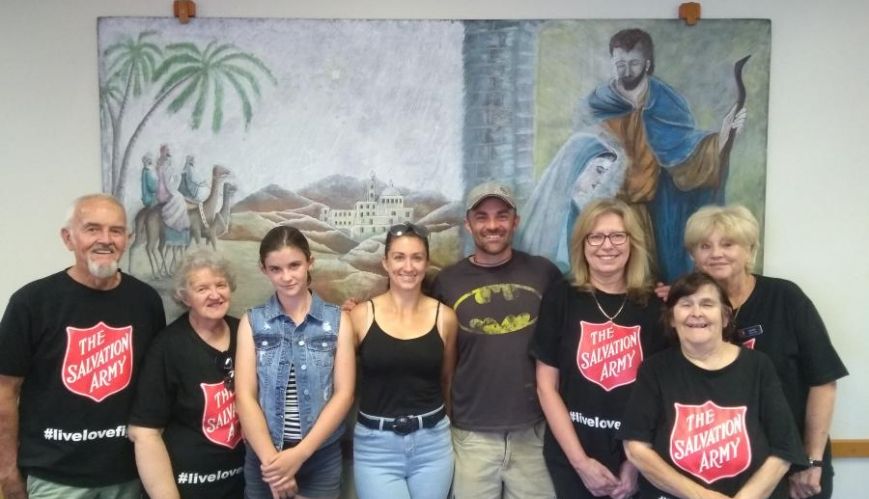 The phone call that saved a dad's life
20 May 2019
Daniel Thomas (centre) with his wife and daughter, and Swan View Salvation Army volunteers. "We feel like we've gained a family," Daniel says of the love and support given when they were going through a hard time.
By Lauren Martin
Daniel Thoms, his wife Fern and their five children live on a beautiful bush property in Western Australia, grow their own vegetables and run chickens for eggs. It sounds idyllic, but the pressures of work and family life started to mount.
Daniel was away from home for long periods of time because of work and this was impacting on his mental health. "Dads need to be at home [more]," he says. "There was a significant amount of pressure on me. I was suffering from anxiety and I couldn't sleep. I knew it needed to change."
Daniel and Fern's youngest daughter has Down syndrome and needs full-time care. With his mental health suffering as a result of his job, Daniel decided to take the plunge and leave work to become a full-time carer, so that his wife could follow her dream and train to become a midwife. Despite living on acreage and being somewhat self-supporting, it wasn't long before the family's savings dwindled and the bills started to pile up.
"I started selling everything just to make ends meet," Daniel remembers. "I grow my own greens, but I don't have a whole lot of variety. The kids would say, 'What have we got?' and I'd say, 'Well, we've got eggplant and spinach again for lunches for school.' Then they started saying, 'Dad, are we poor?' And that just added to the day-to-day stresses.
"I've got a degree in banking and economics. I keep meticulous budgets, to the cent. At the end of the day, [I realised] I'm $10,000 short a year on expenses, just to keep my head above water."
Desperate and not knowing what else to do, Daniel started sorting through neighbouring farm bins [containing vegetables not sold at markets but still fit for animals] to feed his family. "It was significantly time consuming to source and wash and process. It was so stressful; I was a wreck. I thought, 'I can't do this anymore.'"
Eventually, Daniel swallowed his pride and started calling agencies for help. He didn't want a handout, and told them that. He was just looking for somewhere that he could buy day-old bread, or discounted groceries. "I called up loads of places and they said things like, 'You live in the wrong postcode.' They all basically said: 'We can't help you.'"
Daniel was at a low ebb by the time he called The Salvation Army. After explaining his situation, he was referred to Swan View Salvos, in outer north-west Perth, close to where he lived. The woman on the phone was kind and welcoming. That phone call, Daniel now admits, probably saved his life.
"I'm going to get quite emotional thinking about this … I was at the point of thinking that it's better for me to commit suicide so that my family get the payout and my kids can live a good life. And The Salvation Army lady, Carol, said to me: 'Come in straight away.'
That 'Carol' is Swan View Salvos Corps Officer Captain Carol O'Leary. She invited Daniel to the corps café that runs in connection with its weekly emergency support services. The café provides not only physical support for families in crisis, but emotional and spiritual support as well. "It meets people where they are at," she says. "The people who come feel totally loved and cared for and heard … it's about pointing people to the reality of Jesus by experiencing his love."
For the next few months Daniel came into Swan View Salvos every week. It was a relief for him to buy discounted groceries, fruit and vegetables, but he also now had the time to tackle other issues like refinancing, applying for disability support for his daughter and getting mental health support for himself. 
"Besides the general sense of relief, I felt like a good dad again," he says. "I felt confident again, that I had personal value. Instead of being stressed and trying to fight every day to provide for my kids, I could actually spend quality time with my family."
The connection with the Salvos also encouraged Daniel to reconsider his faith. He grew up in an impoverished household, with his mother a sole parent who struggled to make ends meet. She would take Daniel to church several times a week.
"I was very religious growing up. I believe in God and I believe in a higher divine being and spiritual-self, but I'm personally not entirely 'there' yet as to what that is, because I stepped away from it."
But something about Swan View Salvos has him thinking about God again.  
"There's so many occasions where I say to my wife, 'Every time I come to Swan View Salvos I feel unconditional love. I see it and I feel it.' I actually feel like I've gained a family. There's nothing I wouldn't do for them now. There's just genuine love, that's the only way I can describe it.
"Maybe that is Christlike love?" Daniel says and laughs. "Maybe."