Salvation Army receives award in Solomon Islands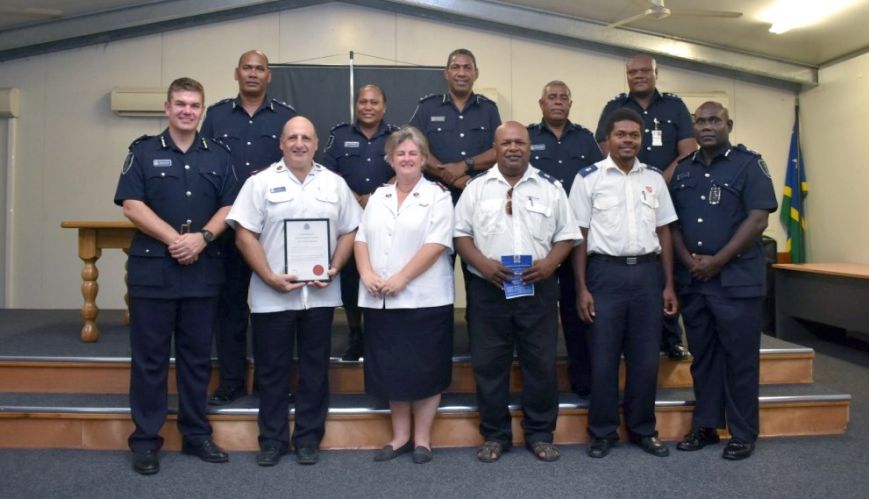 Salvation Army receives award in Solomon Islands
4 June 2019
Majors Robert and Vanessa Evans (front, second and third from left) received the award for outstanding service on behalf of The Salvation Army Emergency Services team.
By Simone Worthing
Police Commissioner Matthew Varley of the Royal Solomon Islands Police Force (RSIPF) recently awarded The Salvation Army Emergency Services district team the Commissioner's Group Commendation for Outstanding Service rendered during the nation's general election in April.
This service included the timely serving of high-quality lunches and dinners to between 200-250 personnel during the week of the election, and ensuring a chaplain was on duty each day to connect with RSIPF personnel lining up for meals.
It was the first time that volunteers from churches in the Solomon Islands had served the RSIPF.
The Salvation Army was also asked to provide pastoral counselling for RSIPF officers who had been on the front lines of the riots that broke out in the capital, Honiara, after the election of Prime Minister Manasseh Sogavare.
Majors Robert and Vanessa Evans, Officers-in-Charge of the Army's work in the Solomon Islands, selected a team from the Honiara Corps to support the RSIPF during this challenging time.
"We were both surprised and honoured by this award," they said.
The certificate was "Awarded with deep appreciation" to the Army's commitment to supporting the RSIPF during the election. The citation on the certificate stated: "The Salvation Army Emergency Services (SAES) met all its objectives in supporting the RSIPF in a dedicated manner, demonstrating a level of sustained excellence, commensurate with the values of RSIPF and worthy of recognition."
Commissioner Varley presented the award during the monthly RSIPF interfaith service in May, where Major Robert Evans shared a message on the theme of "Divine Gratitude".
"Such an award was a great encouragement for the SAES team, recognising the success of their first deployment," said Majors Evans.
"As a result of our service, The Salvation Army has been invited to provide ongoing pastoral counselling at police stations throughout Honiara.
"The SAES volunteers were very encouraged by the recognition and feel this new service in the Solomon Islands will open doors to many other mission opportunities.
"It was amazing to see the development and growth of the volunteers throughout the election period as they learned about menu planning, meal preparation, equipment management and community engagement."