Recycling project getting people back on the bike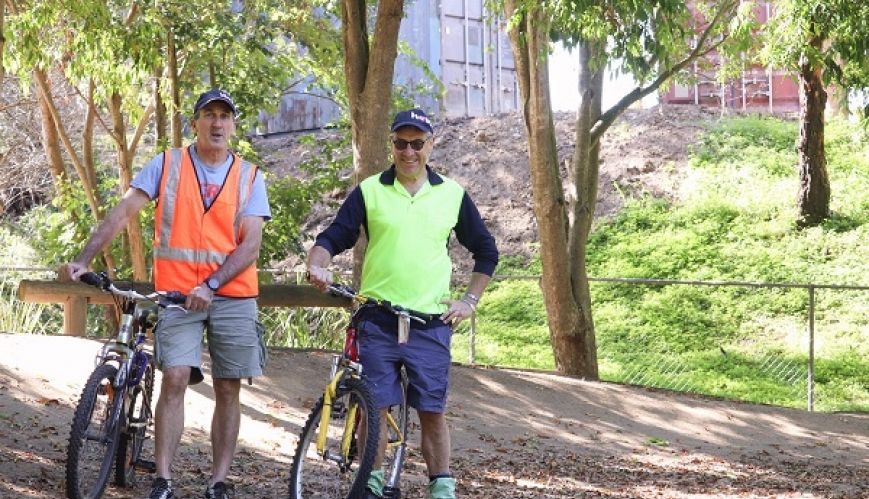 Recycling project getting people back on the bike
11 June 2019
Salvos Recycle Bikes operates from two shipping containers set next to Salvos Stores in Brisbane's Red Hill. Andy Steele (right) leads this social enterprise. Photos: Kian Worthing.
By Simone Worthing
Salvos Recycle Bikes, a new social enterprise in Brisbane, is all about empowering people and giving them a hand-up as they learn a new skill, make friends and contribute to the community in the process.
The enterprise is based at two donated shipping containers and set in its own corner of the Salvos Store grounds at Red Hill.
Up to 90 bikes come into the Red Hill Salvos Store each month.
A grant from the Australia Territory Innovation Funding initiative, in addition to a start-up grant from Brisbane City Council and local donations, has made possible the establishment of Salvos Recycle Bikes.
Salvationist Andy Steele, who has been a volunteer at Brisbane Streetlevel Mission for many years and also runs a life-changing prison ministry, saw great potential in a bike-recycling workshop and started to actively pursue the idea last year.
"We felt it would empower people in a range of different ways, and give them a hand-up, rather than a handout," he said. "It would also enable those involved to do life with each other – something we Salvos just love to do! – and encourage people, such as those coming out of prison, to move forward with their lives."
Andy says the goal is that trained volunteers, and eventually paid staff, will give all bikes coming through Salvos Stores – between 80 and 90 a month – a "health check" and do any servicing or work to make them roadworthy and safe.
They will also help store volunteers to price the bikes according to their worth on the market.
"Any bikes that can't be fixed will be recycled in some way," said Andy.
The site for the workshop is almost ready for operation.
"We are also setting up a full bike workshop and can build or maintain bikes for private clients. Profits made will go back into the enterprise."
Salvos Recycle Bikes (SRB) will also be offering a Certificate 3 in Bike Mechanics, giving those interested an opportunity for both education and future employment at bike workshops and stores.
As a full social enterprise, SRB is guided by a steering committee, made up of cyclists who were part of The Salvation Army Ride for Homelessness last year. [This was a ride from Brisbane to Sydney that raised $130,000 for those experiencing, or at risk of, homelessness.
"Queensland Rail, 99 Bikes at Indooroopilly and other companies and individuals have given us a number of second-hand bikes and spare parts so we've been able to fix and rebuild a number of bikes already," said Andy.
"Some of them we've given to our Streetlevel community to provide them with transport they wouldn't otherwise have. We just insist they have a bike lock and helmet."
Andy and his team expect that the Certificate 3 students will come from all walks of life – graduates from Moonyah (Brisbane Recovery Services), corps, local schools and the general community.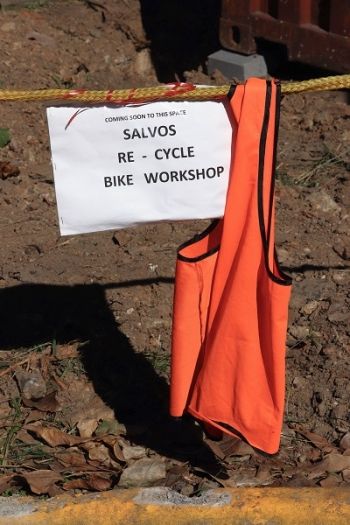 There is much potential for the new enterprise to grow.
Andy is a keen cyclist who last year rode 1700km across South Africa as a fundraiser, and later this month will ride the Pyrenees Mountains (between Spain and France).
"I enjoy being on a bike, and with people on bikes," he said. "It's a good way to get to know people as you talk and do life together. It's like a men's [and women's] shed on wheels."
Partnerships
SRB is working in partnership with Salvos Stores, on whose land at Red Hill they are located.
"Area Manager of Salvos Stores, Stuart Estreich, has been amazing," said Andy.
"We are also looking at other partnership possibilities, such as having the Streetlevel coffee van here on Saturday mornings, and involving any corps who have people who want to ride, volunteer or just see what we're about.
"This could be a model for other enterprises, such as sewing, or candle making or similar. It would be great to become a hub here but, for now, we're taking one step at a time."
Listen to Andy's story below.