Tidds honoured during farewell service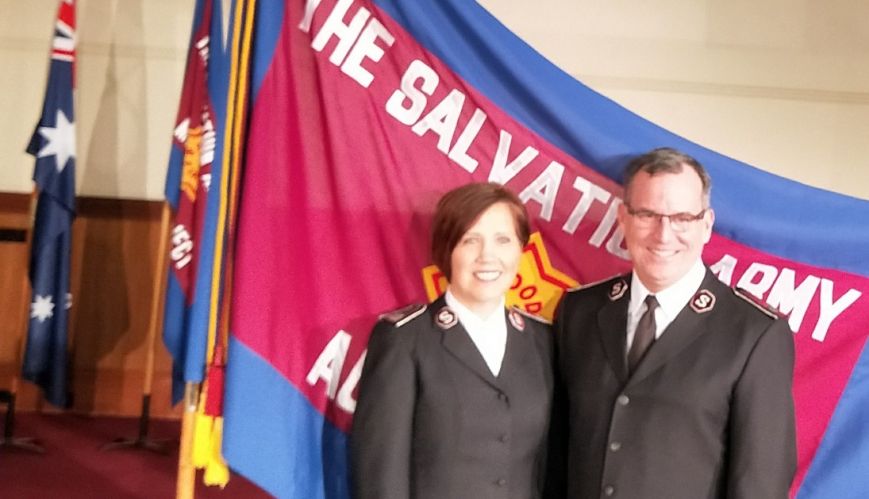 Tidds honoured during farewell service
17 June 2019
Commissioners Floyd and Tracey Tidd will return to their homeland to become leaders of the Canada and Bermuda Territory.
By Barry Gittins
Commissioners Floyd and Tracey Tidd have been praised for their passion for Christ, mentoring, practical love, and Floyd likened to a well-known TV commercial character, during their farewell from the Australia Territory on Sunday afternoon.
Around 250 people gathered at Melbourne Project 614 to thank the territorial leaders for their service, and bid them farewell as they prepared to return to their native Canada.

Chief Secretary Colonel Mark Campbell, in commencing proceedings, acknowledged "the absolute privilege" it had been for he and Colonel Julie Campbell to work with the Tidds.
"We have learnt a lot from them, and we thank God for the changes that will continue to take place," he said.
Earlier, in an interview with Others magazine, Colonel Campbell had focused on the Tidds' commitment to the journey of bringing the two Australian territories (Eastern and Southern) into one national territory.
"The Tidds are real team players who see the value of corporate knowledge and cooperation; they get the right people into the right places, and into the right rooms when we make decisions," he said.
Commissioner Tracey spoke warmly of their time in Australia, noting that their six-year term, including the Royal Commission Into Institutional Responses to Child Sexual Abuse and the Australia One journey, while difficult, was "bathed in prayer … we have undergone a deep, deep journey together.
"We are grateful to each and every one of you," she added. "The past six years have had a huge impact on me; my faith has been tested, but through it all God has been faithful."
Victoria Division leaders, Lieut-Colonels Bruce and Debra Stevens, spoke on behalf of the territory, lauding the Tidds' passion for Christ, their mentoring, and practical love, and likened Commissioner Floyd's energy to that of the 'Energiser Bunny' from the popular TV commercial.
The territorial commander responded by highlighting that their desire as a couple during their time in Australia has always been to be obedient to God.
"We didn't choose the change" from Canada to Australia, with the Royal Commission looming, he said, nor the change to one territory through Australia One. Nor, he added, did "we choose to leave. We do not choose change," Commissioner Floyd explained, "but we choose to be obedient … the timing was God's.
"We believe God is doing a new thing through The Salvation Army," he added. "Not for us, not for you, but for millions of Australians who need you. Love the Lord your God, walk in God's ways, obey God's commands.
"As we choose obedience, as we choose to love God, God gives us opportunities to walk with him and serve him, by how we live our lives and interact with each other. Every step we take, every walk we take, we can 're-present' Christ. Take steps that reflect that you love God."

Captain Stuart Glover, in an acknowledgement of Indigenous elders, thanked the Tidds for their steadfast leadership in helping reconcile The Salvation Army with Aboriginal and Torres Strait Islander Australians.
Music was the touchstone of the day's celebration, with Ringwood Corps' Genesis Brass, the Salvo Big Band, Waverley Temple timbrel brigade and songwriter Luke Inglis all taking part before, during and after the farewell.