Red Rocket ready to take off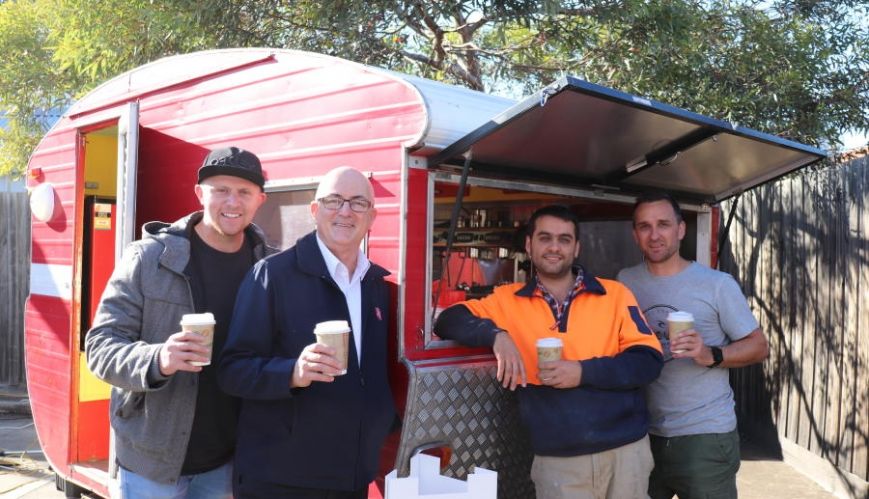 Red Rocket ready to take off
3 July 2019
(From left) Lucas Edwards, Major Peter McGuigan, Tim Hiah and Red Rocket project coordinator Damian Rawlings. Photo: Imogen Rawlings
By Jessica Morris 
Mateship, mission and holistic men's health are at the centre of a new initiative of Preston Salvation Army in Melbourne.
Project M is bringing together men of all ages to work on converting a caravan into a mobile coffee and food van. Nicknamed the 'Red Rocket,' once completed the caravan will travel around the Darebin local council area to provide food, coffee and other basic amenities to those doing it tough.
"The whole concept of Project M is that we bring men together to use their skills and create a sense of common purpose, a goal we can work towards," said project manager Damian Rawlings.
"During the six-month refit, we will work and bond together, helping each other learn what it means to live in a healthy and productive way as men today amid the demands of everyday life."
Preston Corps Officer Major Peter McGuigan said the van would provide those working on the project with a community to belong to, and a productive space in which new skills are learned and spiritual, emotional and mental health is nurtured.
When the Red Rocket is on the road, the ministry will be a connecting point for locals who will have access to personal support, including referral to mental health services.
"There's a lot of men today who struggle with identity and underlying issues of who they are as men," Peter said.
The project is being implemented through the Innovation Funding grant initiative announced by Australia Territory leaders Commissioners Floyd and Tracey Tidd late last year.