New Indigenous red shield for Canada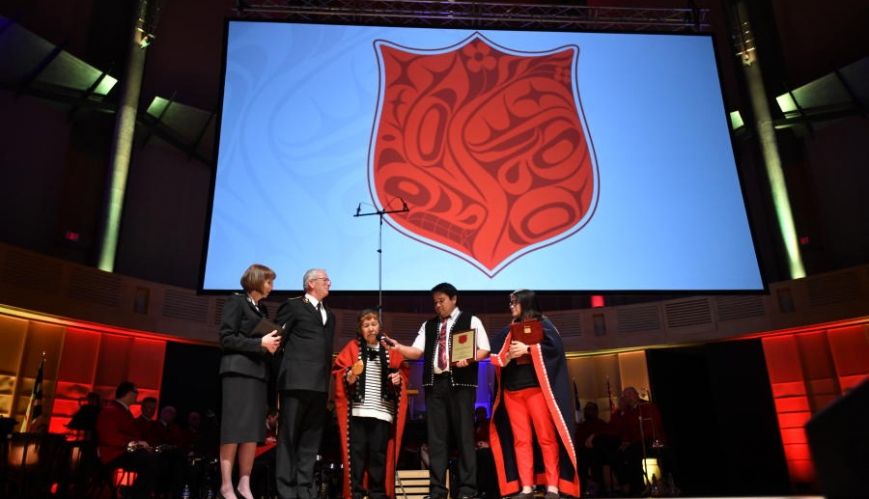 New Indigenous red shield for Canada
9 July 2019
The General unveils the new Gitxsan Shield, which represents Salvation Army ministries within the Gitxsan Nation of northern British Columbia. (From left) Commissioner Susan McMillan; General Brian Peddle; Simogyet (Chief) Axigigii of the Gitxsan Nation; Indigenous Salvationist Alex Stoney, who envisioned the shield; and Indigenous Salvationist Michelle Stoney, who crafted it. Photo: Ray Shum
By Simone Worthing
General Brian Peddle has unveiled a new Salvation Army red shield acknowledging the Gitxsan Indigenous people of Canada during a recent visit to his home territory of Canada and Bermuda.
The Gitxsan shield, approved by International Headquarters, was envisioned by Indigenous Salvationist Alex Stoney as a response to the UN Declaration on the Rights of Indigenous Peoples and the [Canadian] Truth and Reconciliation Commission's Calls to Action.
Indigenous Salvationist and professional artist Michelle Stoney designed the shield as an acknowledgement of the Gitxsan language, culture and history within a Salvation Army context and representing Salvation Army ministries within the Gitxsan Nation.
The Gitxsan Nation is one of Canada's First Nations, which occupies 33,000 square kilometres of traditional territory in British Columbia.
Shirli Congoo, the Australia Territory Aboriginal and Torres Strait Islander Ministry General Manager, said the shield was a beautiful tribute.
"Many Indigenous nations would appreciate and connect with the symbolism of the artwork as many nations prior to colonisation had no written language and used artwork symbols to convey important and sometimes complex stories and messages through the generations with relation to hunting, food, historical or sacred information etc.," Shirli said.
"It's great to see Indigenous peoples being recognised and celebrated in a way that they can express themselves through art, song and dance.
"The Australia Salvation Army is on a building cultural capability journey in the new territory and we look forward to the day when one component is designing a shield that represents our First Nations peoples."
The Gitxsan shield will be displayed at corps in British Columbia towns of Gitsegukla, Sik-e-Dakh and Hazelton.
The General, along with Territorial Commander Commissioner Susan McMillan, conducted the ceremony during the recent British Columbia Congress and Commissioning in Vancouver.
The ceremony featured a tribute to National Indigenous Peoples Day, with Indigenous Salvationists taking the stage for a dramatic presentation involving drums and singing.
The General and Commissioner Rosalie Peddle (World President of Women's Ministries) were special guests for the congress.