Commissioner Read receives award of the highest order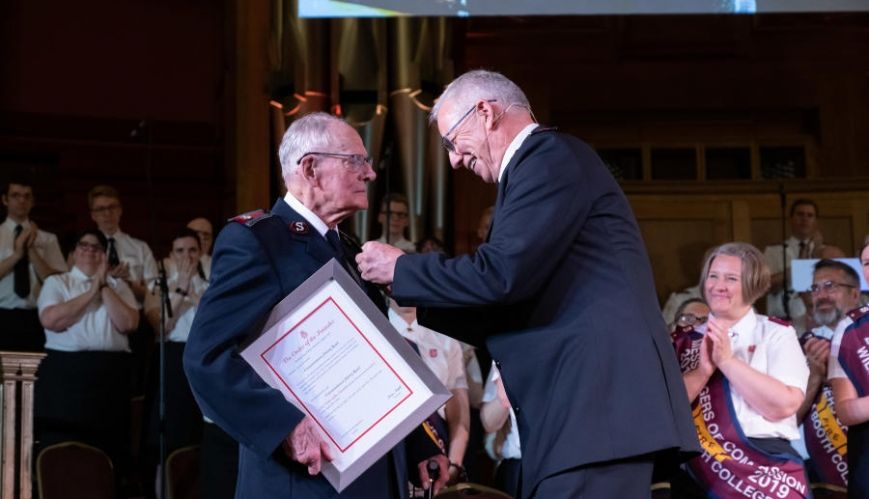 Commissioner Read receives award of the highest order
11 July 2019
General Brian Peddle admits Commissioner Harry Read to The Salvation Army Order of the Founder. Photo Andrew King.
IHQ Report by Lieut-Colonel Jonathan Roberts
General Brian Peddle has admitted 95-year-old Commissioner Harry Read to the Order of the Founder, The Salvation Army's highest honour, during commissioning celebrations for the Messengers of Compassion session in the United Kingdom Territory with the Republic of Ireland. 
A video about Commissioner Read recalled his World War Two service, for which in 2016 he was made a Chevalier (knight) of the Légion d'honneur – the highest French order of merit – and detailed his lifetime of international service as a Salvation Army officer.
The video also showed the commissioner's recent skydive to commemorate the 75th anniversary of the D-Day landings (see video below) and his meeting with a German D-Day veteran, who he told: "We are brothers."
Commissioner Read, who – like the audience – clearly knew nothing about the award in advance, made his way to the platform where he saluted the General and acknowledged the congregation, which had risen to its feet in enthusiastic applause and remained standing throughout the presentation.
The General read the citation, which stated that Commissioner Read was admitted to the Order of the Founder "in recognition of a life of outstanding Christian witness in word, verse and deed spanning 75 years, with a recent and relevant witness through social media captivating a global audience with the authentic message of reconciliation, hope and peace".
He then admitted Commissioner Read to the Order of the Founder and directed that his name be inscribed on the roll of the order, dated 6 July 2019.