Celebrating freedom at Palm Beach/Elanora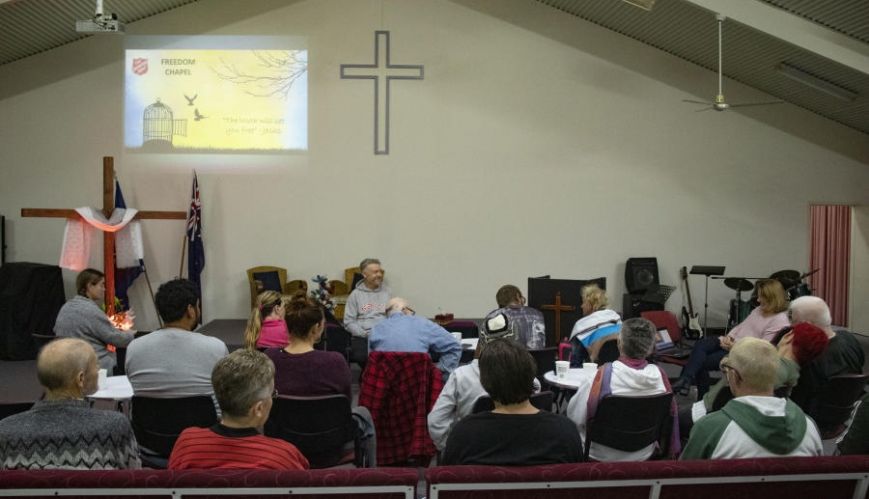 Celebrating freedom at Palm Beach/Elanora
22 July 2019
Major Darren Elsley leads Freedom Chapel at the Palm Beach/Elanora Corps on Queensland's Gold Coast. Photos Kian Worthing.
By Simone Worthing
"A supportive and encouraging gathering for people journeying through the hurts and hassles of life," is how Freedom Chapel at the Palm Beach/Elanora Corps is described by Corps Officers Majors Darren and Leanne Elsley.
Freedom Chapel is a safe and authentic space for all.
"We gather to share our experiences and hopes and celebrate our journey of recovery and our freedom won in Christ," said Darren.
"And we are all on that journey of recovery, all recovering from the effects of The Fall and our wilful separation from God."
Freedom Chapel is a cafe-style interactive meeting that attracts people of all ages from the local community, as well as those recovering from addictions. The style is relaxed – discussing a different topic each night, sharing struggles and victories, and being open in a safe and caring environment.
"Everyone is welcome, regardless of their beliefs and where they are in their faith journey," said Darren.
"This is the authentic Salvation Army. We don't want to introduce traditions or get stuck in our ways."
Jesus is always the focus at Freedom Chapel.
Leanne said Freedom Chapel was a place where people could be authentic and vulnerable, while focused on Jesus as the higher power in their lives.
"People are growing in their faith, and seeing how they can look after each other, and how God wants our communities to be," she said.
Area Officers Majors David and Michele Terracini, Courts and Prisons Chaplain Major Chris Cohen and people from both the Tweed Heads and Gold Coast Temple Corps also lead some of the meetings.
"I am so grateful for this church," said one attendee. "They pray for me, support me, but also help me to give back to the best of my ability."
Collaboration
Freedom Chapel is just one of a range of Salvation Army expressions on Queensland's Gold Coast and in Northern NSW, working together to build greater effectiveness in mission and deeper community connections.
Palm Beach/Elanora Corps on Queensland's Gold Coast, together with Tweed Heads Corps in Northern NSW (also pastored by the Elsleys), work with Fairhaven (Gold Coast Recovery Services), Salvos Housing, the Gold Coast Temple Corps, courts and prisons chaplain, Doorways and other services to provide a more complete and holistic mission to the local community.
Collaboration is the key in South East Queensland.
Transition House
Darren and Leanne assumed additional leadership of the Palm Beach/Elanora Corps in January 2019, which has also allowed The Salvation Army Palm Beach officers' quarters to be refitted into a transition house for recovery services graduates, in direct collaboration with Fairhaven.
The house's four residents are now closely connected to the Palm Beach/Elanora Corps, where Darren meets with them individually and as a group, each week, for support, encouragement and spiritual formation.
The residents also participate in the "Extended Care" program, run from the Gold Coast Salvation Army site, as part of their ongoing recovery and integration back into the community. They attend Freedom Chapel, receive assistance with finding employment, are offered volunteer opportunities, and accepted and cared for by the corps.
Salvos Housing manages the tenancy of the transition house.
A Salvation Army innovation grant helped to furnish the house, with many items also being sourced from Tweed Red Shield Family Store.
"The issue of affordable housing is a huge one and a lot of our graduating folk have nowhere to go and end up back in the environments they came from," said Darren.
"Providing a low-cost supportive environment enables them to be supported as they continue their recovery journey.
"In their volunteering, they can draw on something that they're passionate about, such as one resident who is a horticulturalist and helps with our community garden.
"It helps them become productive members of society and shows them that opportunity can come from adversity. It helps us as well!"
Doorways, a caseworker, community meal, school mentoring and a range of community groups are also available at Palm Beach/Elanora, Tweed Heads and Gold Coast Temple Corps during the week.