Building hope in the centre of Portland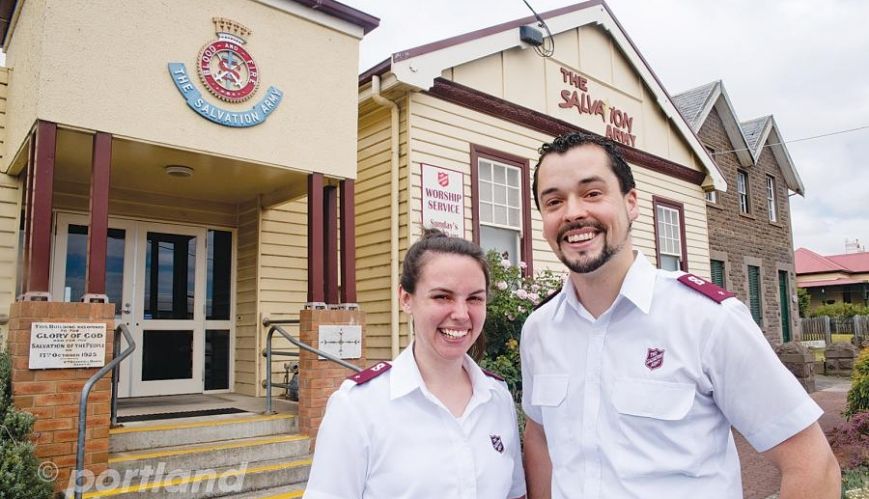 Building hope in the centre of Portland
1 August 2019
Portland Corps Officers Lieutenants Heather and Peter Stamp will coordinate a new multifunction 'Hope' centre that will give the growing work of The Salvation Army more space to serve the community. Photo courtesy of the Portland Observer.
By Jessica Morris
Hope is the heartbeat of Portland, and The Salvation Army will soon be at the centre of it – quite literally.
A planned $4.5 million purpose-built complex in the centre of the south-west Victorian coastal town will bring together the corps worship centre, thrift shop and welfare services. And Portland Corps Officers Lieutenants Heather and Peter Stamp, who will oversee operations, say this is just the beginning.
"People [in Portland] have been gravitating towards The Salvation Army because we've been offering a place of belonging, but it's not going to be long before we completely outgrow the centre we are in," said Peter.
"Generally, there's nowhere for people to hang out during the day. There's no [major] shopping centre and if you want to spend time somewhere you have to spend money at the pokies or the pub."
Funding for the 'Hope' centre has come through the sale of the current corps building and property previously acquired outside of the town.
The new complex will function as a community space where people can not only receive help but journey together with a sense of purpose and belonging seven days a week.
On any given morning, around 20 people line up outside the Army's doors seeking food and welfare assistance, with more coming in throughout the day.
The current building houses corps programs, Doorways, Salvo Housing and Salvo Connect, a snapshot of the ever-expanding collaboration between Salvation Army expressions in the area.
Reaching at estimated 250 people a week, not including those who venture into the thrift store each day, many clients cross over to alternate services, their weekly meals and Sunday meetings.
"There's huge respect for The Salvation Army in Portland ... we've even had the mayor washing the dishes during our meals program," laughs Peter.
"We offer a place where people can come and have a chat and spend time, and we have been able to come alongside and journey with people much deeper than what we've had opportunity to before."
With a drop-in centre and additional welfare services on the horizon, as well as a newly rejuvenated thrift shop and a boom in volunteers (40 in the past five months), the new building will be an answer to prayer.
"We keep asking, 'What would it be like for someone to spend a day at the Salvos?' and 'What would it mean to the community for us to be available seven days a week?' We're really excited to be working towards our national vision in our local context," said Peter.
"Since we announced it to the public there's been a real excitement in the community ... there's a much-needed hope emerging in Portland."