Final figures in for 2019 Red Shield Appeal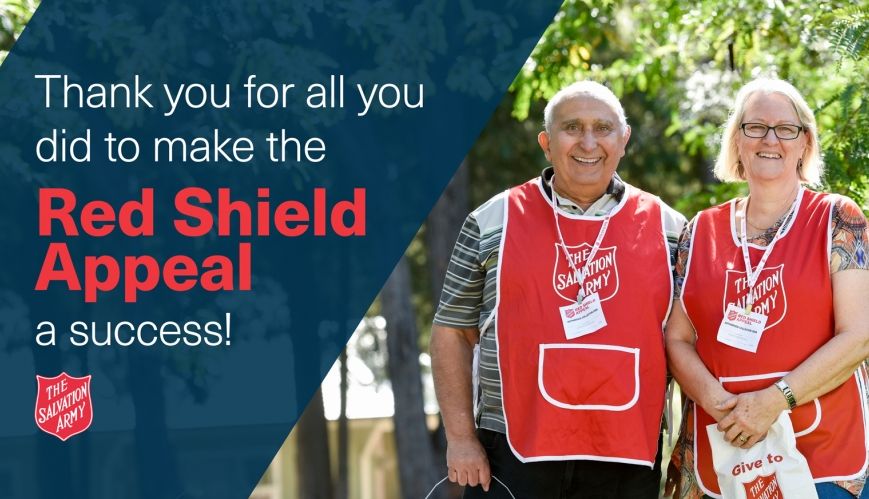 Final figures in for 2019 Red Shield Appeal
21 August 2019
Thousands of Salvation Army volunteers were a visible presence in the community all over Australia during the Red Shield Appeal campaign.
In its first year as an Australia Territory appeal, The Salvation Army Red Shield Appeal raised nearly $78 million, including $6.7m through the Community Doorknock campaign between 13 May and 2 June. 
"This is an amazing result, given the amount of change The Salvation Army has gone through this year," Salvation Army Head of Fundraising Janine Kewming said.
"The Red Shield Appeal creates a unique platform for The Salvation Army to tell its story. Our massive army of volunteers are walking advocates of our mission and we can't thank them enough for their commitment."
This year, in every capital city and at dozens of regional centres, Red Shield Appeal launch events raised a significant amount of money towards the overall appeal total. Generous corporate partners were also key to the appeal's success.
The results from the community component of the campaign show that where corps partnered with their communities, other corps in their area and even other churches, big gains were made.
Corps and services in the greater Geelong area in Victoria took an area approach to the Red Shield Appeal weekend this year, with the whole Area Leadership Team working together.
Shire Salvos in southern Sydney took a similar approach, with all corps and services in the Sutherland Shire combining forces. In Ryde, north-west Sydney, existing partnerships with other churches increased volunteer numbers on the weekend as Christians from many different denominations hit the streets for the Salvos.
As announced at the Still Others conference last year, The Red Shield Appeal initiative will now come into effect and 80 per cent of the money raised during the Community Doorknock campaign will go back to the corps and ministry expressions to fund corps community engagement.
"We anticipate up to about $3.7 million to be released directly to the corps and local mission expressions over the coming months," said Chief Secretary Colonel Mark Campbell.
Mark also commended Salvationists and volunteers, and the Army's corporate partners for the great result: "What a fantastic effort everyone! I want to thank each and every person who contributed in any way shape or form. It's because of your efforts we can continue to transform Australia, one life at a time with the love of Jesus."
Official figures: 
2019 National Red Shield Appeal total: $77,957,326
2019 Community Fundraising total: $6,734,973