Salvo screenplay wins award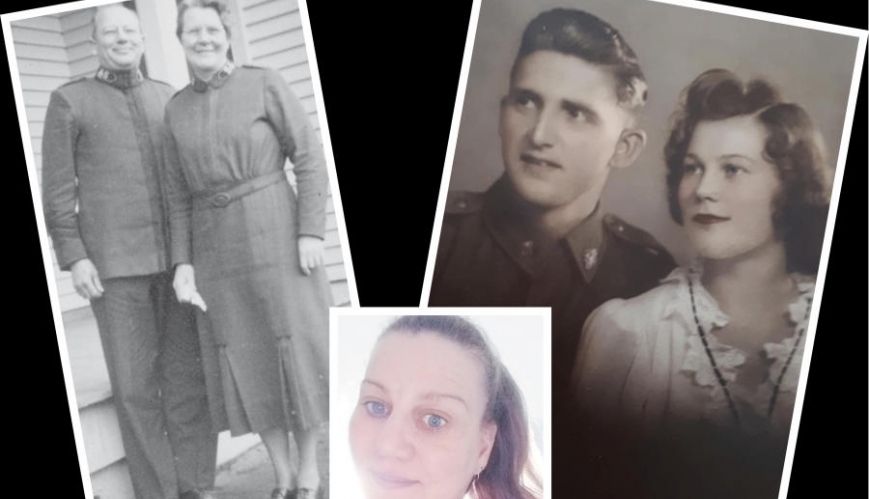 Salvo screenplay wins award
23 August 2019
Freelance writer, Hayley Jean Reeves (centre) has written a screenplay about her Salvationist grandparents and Salvation Army officer great-grandparents which has been ranked third in an international screenplay competition.
By Lauren Martin
A screenplay about the late Salvation Army officers, Commissioners Charles and May Duncan, has been ranked third in an international screenplay competition.
Written by Hayley Jean Reeves, great-granddaughter of the commissioners, the screenplay is a semi-autobiographical story of Hayley's search to uncover her family history.
"Every time I turned on my computer to search, I learned something even more interesting and inspiring. It was like reading a captivating book," said Hayley, who lives on the Gold Coast and whose family includes many current and retired Salvation Army officers.
"With every page, a fascinating twist or turn occurred, compelling me to keep reading. The more information I found about the commissioners and their work, the more I wanted to discover."
Commissioners Charles and May Duncan on their retirement in 1962.
Hayley's research led her to write a family history, which she self-published and made available to members of her family. But she felt the story wasn't finished. So, as a freelance writer, she decided to try her hand at writing a screenplay. It took her four months, and when she had finished her first draft she noticed an advertisement for the Capital Fund Screenplay Competition.
"I only had a matter of hours to get it done," she said. "I hadn't written a synopsis or a logline, so I had to include that."
Hayley said she couldn't believe it when she received an email informing her of third place in the competition.
"I'm still trying to get my head around it. I was blown away. I'm still a bit shocked because I'd never written a screenplay before. I mean, I have a background in journalism but it's totally different writing a screenplay."
The script is semi-autobiographical and centres around Hayley's grandmother, who passed away two years ago after suffered from dementia. "That's an awful disease and it was just terrible," said Hayley.
Altering the actual timeline, Hayley has written herself into the screenplay as a concerned granddaughter, who starts researching the family history to try and help her grandmother recover lost memories about her childhood.
"This project delves into key topics that many people can relate to including the love and connection between a grandparent and a grandchild, welfare and social issues, the devastating illness, dementia, and the notion that there is a time and place for everything – 'for such a time as this'," she told the Capital Fund Screenplay Competition.
In what Hayley doesn't believe is mere coincidence, 2019 marks 100 years since Charles and May Duncan began their officership in The Salvation Army. She's hoping that her notable result in the screenplay competition will open up opportunities for her to speak to producers about turning the script into a film.
"I just think it's extraordinary that I can mention the Duncans' name and, even to this day, people know them ... and know what they did, and were influenced by them. I think their legacy lives on. I'm really proud of my heritage."