Salvation Army ready to step up bushfire response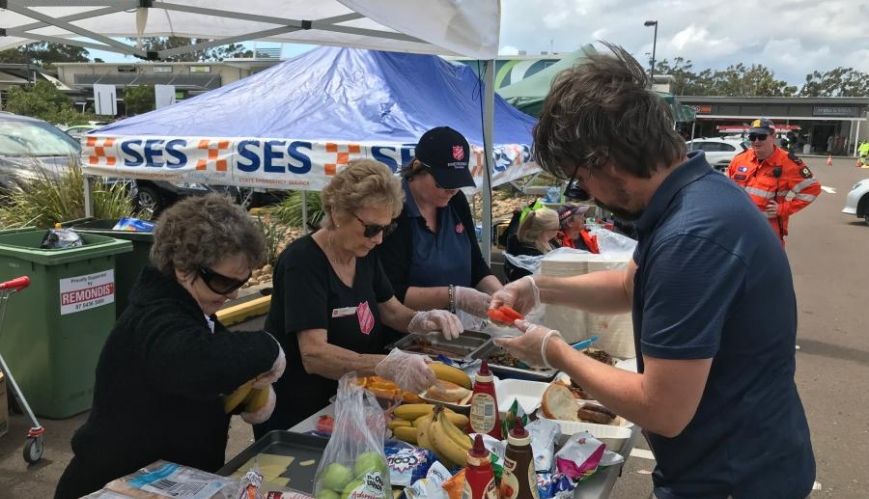 Salvation Army ready to step up bushfire response
13 September 2019
A roster of Salvation Army Emergency Services volunteers worked 24 hours a day to provide meals, refreshments and support to firefighters battling blazes on Queensland's Sunshine Coast.
By Lauren Martin
Salvation Army Emergency Services(SAES) crews are preparing for forecast dangerous fire conditions in northern NSW and southern Queensland this weekend.
In northern NSW, SAES crews are active at large fires near Tenterfield and west of Coffs Harbour. The Salvation Army Strategic Emergency and Disaster Management Coordinator for NSW/ACT, Norm Archer, is on the ground at the Dorrigo evacuation centre, west of Coffs Harbour. Speaking on Friday morning, he said there were many people still unable to return to their properties.
"Because of the nature of this fire event and a lot of single-access roads in this area, there's still people here in the evacuation centre that can't go home," he said.
The Salvation Army is providing meals to people who have had to evacuate their homes, and the firefighters and other emergency services personnel working to contain the blaze. Additional SAES crews are on standby in nearby locations.
In southern Queensland, SAES volunteers from Fassifern Salvation Army began working in Canungra this morning in the Gold Coast hinterland, providing meals to Queensland Fire and Emergency Service personnel (QFES.) Crews - including volunteers from Toowoomba who are travelling up to 160km one-way to assist) are still working in the Stanthorpe/Ballandean area.
Adam Cole, The Salvation Army Strategic Emergency and Disaster Management Coordinator for Queensland, said volunteers from Sunshine Coast corps (Coolum, Caloundra, Noosa, Caboolture and Gympie) put in an amazing effort supporting QFES crews 24 hours a day for three days during the Peregian Beach fire emergency. They have now been stood down.
"It's still a changing situation," said Adam. "We are so thankful for the prayer support from Salvos all across Australia."
Yesterday, Queensland Premier Annastacia Palaszczuk launched an appeal to help people affected by the bushfires. The government kick-started the financial contributions with a $100,000 donation, which will be allocated to a number of charities to distribute to those affected. The Salvation Army will receive $25,000 of that initial donation, with corps and centres in the areas affected by the fires working alongside those affected to provide relief.
The Salvation Army's General Manager of Strategic Emergency and Disaster Management, Major Topher Holland, said the quick response of the SAES has only been made possible by the support of disaster partner, Woolworths, and the S.T.A.N.D (Support Through Australian Natural Disasters) initiative.
 "Our ability to mobilise quickly in the many regions across South East Queensland and NSW is only possible because of the support of Woolworths," he said. "It is this unseen sustainability that Woolworths provides that becomes very tangible at times like this. We are so grateful for their support."
People can support the S.T.A.N.D partnership at any time by purchasing S.T.A.N.D water exclusively at Woolworths, or by donating at any Woolworths checkout nationwide. People can also give to The Salvation Army's Emergency Australian Disaster Relief fund at salvationarmy.org.au/bushfire2019