Prime Minister visits SAES workers in Queensland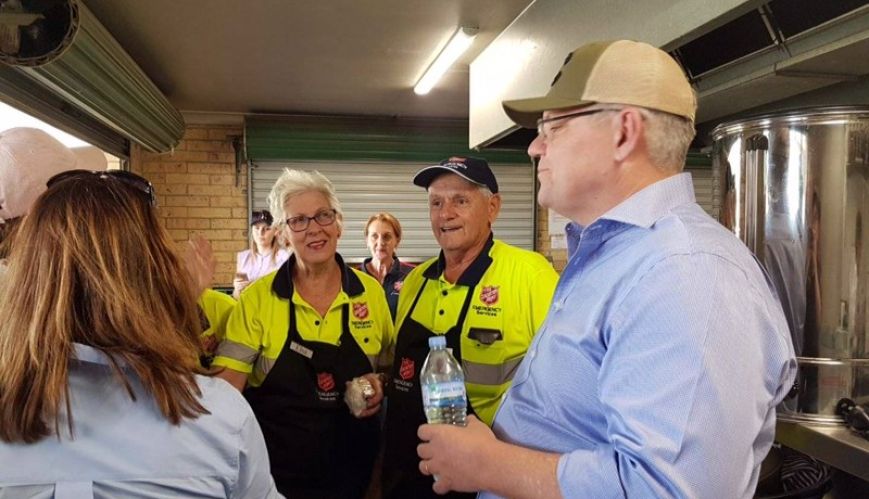 Prime Minister visits SAES workers in Queensland
16 September 2019
Prime Minister Scott Morrison and Queensland Member for Nanango Deb Frecklington speak to two Salvation Army workers at Canungra in the Gold Coast Hinterland during a tour of fire-affected areas in South Queensland. 
By Lauren Martin
The Salvation Army has thanked the many volunteers who have given their time to assist people impacted by the recent bushfire emergencies in northern NSW and southern Queensland.
While the bushfire threat in these areas has eased slightly, Salvation Army Emergency Services (SAES) crews are still at various locations feeding firefighters who are strengthening containment lines around blazes that are still burning. More than 6,000 meals have been served by SAES volunteers in Queensland alone.
In northern NSW, Tenterfield Salvation Army is still actively supporting firefighters working on the large Drake fire and others in the area. While the evacuation centre has closed, SAES volunteers are making sandwiches and meal packs that are being delivered to the fire front.
"We have a really good team made up of community members," said Tenterfield Corps Officer Captain Joel Soper. "Nearly all of our volunteers have jobs or run their own businesses but they drop everything to assist in times of emergencies."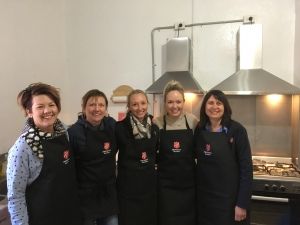 Even Mayor Peter Petty has been a regular at the Tenterfield Evacuation Centre, helping to wash dishes and give support.
"When you minister in a small town, people are like your family, so we know those who are affected," Joel said. "We've had a couple of our volunteers get affected and they've been evacuated and had to stay in motels, but they've still continued to volunteer."
Joel and Major Yolande Soper and their crews, including partnerships with other churches and organisations, will continue to serve the firefighters for as long as needed. "We've had a few good opportunities to minister and nurture people and even some of the firies that are struggling with a few things, not even to do with the fires," Joel said. "It's a good space to just come alongside people."
In Queensland, most SAES crews have been stood down after serving thousands of meals to emergency workers and affected residents in the Stanthorpe/Ballandean area, west of Brisbane, and on the Sunshine Coast.
Prime Minister Scott Morrison visited firefighters and other emergency services personnel and volunteers last Friday at Canungra in the Gold Coast Hinterland, including SAES crews serving meals there. He was accompanied by State Member for Nanango Deb Frecklington. Queensland Premier Annastacia Palaszczuk also visited sites where SAES crews were operational.
During a press conference following his visit, the Prime Minister labelled the response effort to the emergency as one that is motivated by the "great spirit and the big heart of Australians".
"These natural disasters always have the most terrible of impacts, but they bring out the best of Australians in every aspect," said Mr Morrison in reference to emergency workers.
Adam Cole, The Salvation Army Strategic Emergency and Disaster Management Coordinator for Queensland, said there had been a great response from Queensland Fire and Emergency Service (QFES) about how The Salvation Army had assisted during the emergency.
"We just want to thank everyone who's been involved and is likely to continue to be involved as the fire season progresses. It's so dry, I wouldn't even like to say what's going to happen next," Adam said.
Salvationists are also being asked to continue to pray for rain in these drought-stricken areas.