Eadie 'saving the world' at the Salvos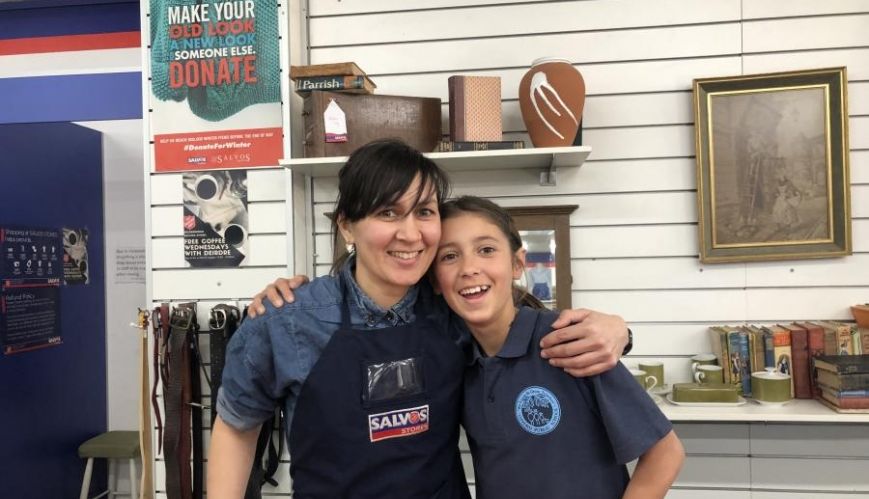 Eadie 'saving the world' at the Salvos
25 September 2019
Eadie Brassett-Xavier is proud of her mum, Bronwyn, who works part-time at Salvos Stores.
By Lauren Martin
When Eadie Brassett-Xavier was asked to write a persuasive speech for school on a topic she was passionate about, the Year 6 student knew exactly what she'd talk about.
"I chose 'Why you should shop at Salvos Stores' because I think it's a really good way to raise money for the homeless people and it helps the environment, which is another thing I'm pretty passionate about."
Eadie and her two siblings have been shopping at the Salvos Store in Helensburgh, south of Sydney, for many years. "We have shopped here for ages ... quite a lot," she said while being interviewed at the store. "I don't think it's possible for us to shop here more unless they opened a food section!"
When her mum, Bronwyn, got a part-time job at the store, Eadie couldn't have been prouder. She's counting down the years until she can volunteer or perhaps also work in her favourite store of all time.
"I think it's a really cool job," she said. "It's not just a job – it helps a lot of people. Quite frankly, it helps the world if you look at it at that range."
As she delivered her speech to her classmates and teachers, she said, "Shopping at the Salvos will benefit your family and leave more money for you and your family to enjoy the other priorities in life, while well-dressed and fitted!
"Salvos Stores gives you the customer attention, quality and products of any other store – with a major discount. You can go home from Salvos knowing that your money has brightened up someone's day."
Eadie went on to speak about a passion of hers – the environment. She spoke about 'fast-fashion', low-cost clothing that is not designed to last and is made from mostly synthetic fibres that don't break down. "They make a lot of clothes with bad materials and then they get chucked out after being worn once or twice," said Eadie.
"They've found holes in the ozone layer, it's raining micro-plastics in Antarctica – it's very bad! It's my future world that I'm going to live in, so I think it's really important for kids to realise how big the problem is. Because a lot of people just say, 'Oh this is really bad' but then don't do anything about it!"
Eadie said if more people donated to and shopped at Salvos Stores, the world would be a better place.