Salvos' Reclink program still kicking goals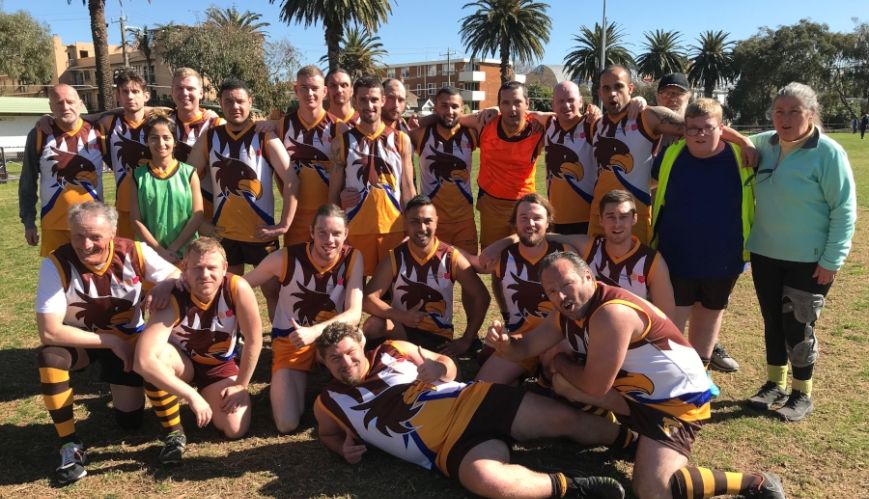 Salvos' Reclink program still kicking goals
2 October 2019
The Salvo Hawks football team took out a thrilling win against the Cardinia Tigers earlier this month.
By Faye Michelson
It was a significant moment for the Salvo Hawks Australian rules football team when they ran on to contest their AFL Reclink grand final against the Cardinia Tigers earlier this month.
While the Hawks came away with a thrilling three-point victory, another important achievement was also being celebrated. This year marks the 20-year anniversary of The Salvation Army establishing its Reclink program in the Eastern Metro Region of Melbourne.
The initial aim was to field a team in the Reclink football competition, which later expanded to include a cricket program.
Peter McGrath, SalvoCare Eastern homelessness and support manager, says over the past two decades the Salvo Hawks have provided a drug and alcohol-free environment for men and women to play sport.
"Sadly, in society there are not many teams that encourage and nurture a culture of abstinence in sport," Peter observes.
"The Tigers is a team of recovering addicts who are currently in treatment and many of the Hawks are recovering addicts who have completed treatment and are striving to live a clean life in society.
"This is a safe environment for them to play sport and the primary focus of our program is inclusion, fun and participation, rather than competition and outcomes."
Reclink Australia operates nationally, providing a range of sporting and art activities for disadvantaged Australians. In the past year, more than 80 people took part in around 500 Salvo Hawks recreational sessions, including participants recovering from drug addiction, experiencing mental health challenges, homelessness, physical disability and financial disadvantage.
"We are funded by The Salvation Army and recently we have developed a great partnership with Rotary Hawthorn, and thanks to this support there are no costs involved for our participants," Peter says.
"Rotary has helped fund new jumpers for the team and supported the program with team lunches and other volunteering support, which has been much appreciated by the players."
The grand final was played at Peanut Farm Oval in St Kilda. The competition plays modified rules, which enables men and women to play together.
"There are also modified rules for people who have a disability, so they can participate as well. It is truly all-inclusive," Peter explains.
"It [the grand final] was a close game from the first bounce, exhilarating from start to finish, with two well-matched teams. It was anyone's game, and the Salvo Hawks were fortunate to snatch victory from the jaws of defeat."
As important as playing the game, though, is the sense of community that comes from being part of the team.
"Over the years we have developed a strong, well-supported community made up of a diverse range of people from various backgrounds," Peter says.
"The love and support members receive from the program and their peers keeps them coming back," he says, adding that one of their current team members has been playing since the first team was formed 20 years ago.
"Many participants find themselves lonely and isolated by their conditions and being part of the team gives them a safe space to interact with people.
"They can form bonds and connections with others, and it provides a place of purpose and belonging that many players may be lacking in their everyday lives. It's a place where players can get support in going through the challenges they face."