You are here:
Home › News › 2019 › 10 › 14 › Disability Services Hands Over Reins For Greater Impact
Disability Services hands over reins for greater impact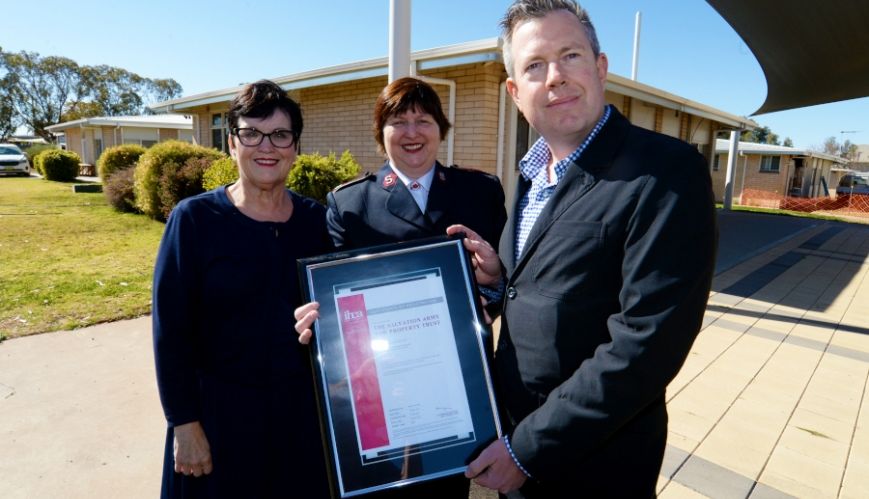 Disability Services hands over reins for greater impact
14 October 2019
Broken Hill Mayor Darriea Turley with Salvation Army Secretary for Mission, Lieutenant Colonel Lyn Edge and Westhaven CEO Andrew Everett. Photo courtesy of The Barrier Daily Truth
By Nikita Thomas
For over 100 years, The Salvation Army has provided support to people with disabilities and has now handed over the reins to specialist like-minded organisations, providing greater opportunities for participants.
With the Australia Territory coming into being last year, The Salvation Army reviewed its service delivery to not only ensure a consistent national framework but to focus on fewer key areas where it could make the greatest impact. 
As a result, The Salvation Army has decided to transition out of disability service provision and transferred its Salvation Army Individual Lifestyle Support Services (SAILSS) programs to organisations operating primarily in the disability space.
Following a lengthy due diligence period, Westhaven and Aruma (formerly House with No Steps and The Tipping Foundation) were chosen to take over the operational management of SAILSS Broken Hill in NSW and the SAILSS Darling Downs and Brisbane programs in Queensland. In Victoria, The Salvation Army is working with another provider to transfer its Australian Disability Enterprise (ADE) program in Brunswick.
"I have been reflecting on this decision, as well as the dreams and plans of our participants, and have absolute confidence that Westhaven and Aruma will not only see them through, but enhance them," said Major Evonne Packer, The Salvation Army General Manager of Disability Services.
Evonne added that Westhaven's specialisation in rural and remote services would have a greater impact in Broken Hill and the lives of each participant and family member, while bringing new opportunities for people with a disability in rural or remote NSW. Aruma, on the other hand, has a long-standing history of delivering disability services, particularly across Australia's eastern seaboard with strong links to the communities in which they operate.
"When a season of life ends, we see to some degree, the fruit of our dreaming, planning, labour and investment. As this chapter comes to a close, I am incredibly proud of the SAILSS programs and the commitment of our staff in ensuring its success," she said.
"The Salvation Army has a rich history in the disability space – spanning over 100 years in Broken Hill, to supporting people with a disability in Brisbane since the 1920s.
"Our legacy in Queensland in supporting people with a disability is a credit to our staff in living our mission, vision and values every day and I wish them nothing but the best."
To ensure continuity of support to clients, a significant majority of staff in the SAILSS programs have accepted roles with Westhaven and Aruma.
Westhaven has been successfully managing the disability service offering in Broken Hill since 31 August, while Aruma has the track record to ensure a seamless transition for participants when it takes over operations on 14 October.
Both organisations have also committed to maintaining missional connections with The Salvation Army through local corps.