Collaroy upgrade has campers hitting new heights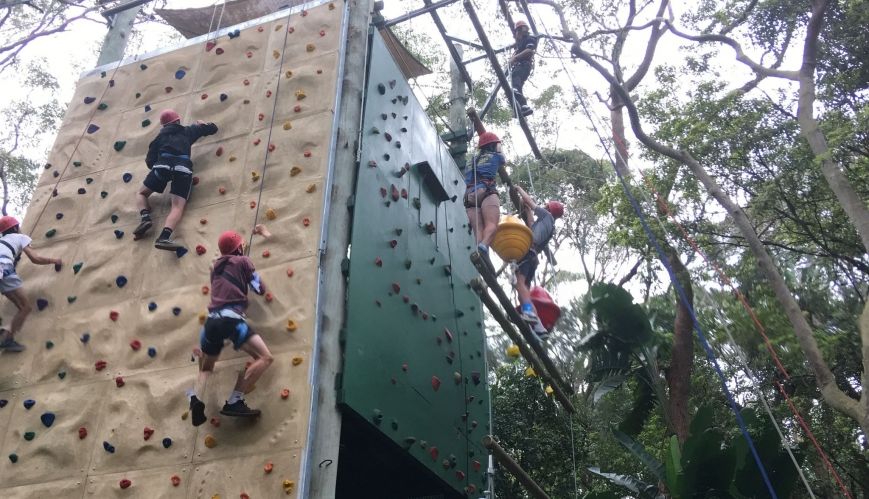 Collaroy upgrade has campers hitting new heights
18 October 2019
An upgrade to The Salvation Army Collaroy Centre's Activity Tower and Vertical Challenge Wall will create more team-building experiences for visitors.
By Lauren Martin
The Collaroy Centre, a Salvation Army camp and conference centre on Sydney's Northern Beaches, has unveiled a major upgrade of its outdoor activity space.
The centre has spent $160,000 refurbishing its Activity Tower and Vertical Challenge walls, to offer a more varied rock-climbing experience and a new 'vertical playpen'.
"We try to improve or make adjustments to all of our activities every year so there's something new every year," said The Collaroy Centre General Manager, Adam Gallagher.
"We have high retention rates for our school groups, so we want to make things interesting every time they come back."
The tower now offers groups both 10m and 5m abseil walls, a 10m rock-climbing wall and a 10m Vertical Challenge with various suspended elements. The upgrade allows school and youth camps more of a variable challenge, with different levels able to be created which are tailored around the age and ability of participants.
It also includes a new experience called the 'vertical playpen' which participants have to climb in groups of three.
"This focuses on communication to be able to succeed," said Adam. "The people are joined together, so it's literally like mountaineering ... they have to climb together, they can't progress unless they all go together."
The Collaroy Centre is located on 10 hectares overlooking Collaroy Beach. It can sleep up to 440 people and hosts school groups, corporate team building days, conferences, church camps and community group activities. It also runs Red Shield Camps to provide a holiday for children and youth from disadvantaged areas, and it fully funds single mum's camps and camps to provide refreshment and respite for grandparents who are caring for their grandchildren.   
"The reason I work for The Salvation Army in its camping ministry is because these formative experiences can make an impact that forever changes people's lives," said Adam, who's been working at The Collaroy Centre for 23 years,
"Knowing that we have equipment and activities on site that can change people's lives by helping them overcome fear or help them develop their ability to communicate or work with others, so they go home different people because of what's happened here, that's the reason I'm here."
To find out more about The Collaroy Centre, go to collaroycentre.org.au