You are here:
Home › News › 2019 › 10 › 23 › Salvos To Share Front Line Experience At Justice Conference
Salvos to share front-line experience at Justice Conference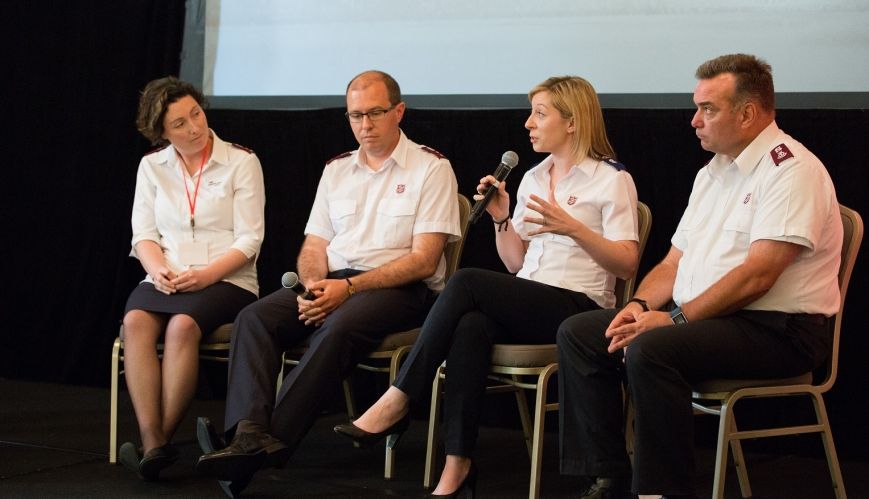 Salvos to share front-line experience at Justice Conference
23 October 2019
The Salvation Army will again present at the annual Justice Conference, taking place next month. Last year, an Army panel discussed homelessness during the conference.
By Simone Worthing
For the third year running, The Salvation Army will be a presenting partner at the annual Justice Conference in Melbourne on 15-16 November.
'Let Justice Roll' is the theme of this year's conference. Based on the scripture from Amos 5:24, "But let justice roll on like a river, righteousness like a never-failing stream" (see video on Facebook page).
Guest speakers include Brooke Prentis (Aboriginal Christian leader and Salvationist), Reverend Adam Taylor (Executive Director of Sojourners), Lexie Keller Sheard (Community Organiser with TEAR Australia) and Andrew Gardener (Senior Pastor, Vine Church, Hong Kong).
The Salvation Army's Elli McGavin (Head of Policy, Research and Social Justice Department) and Amanda Merrett (Policy and Social Justice Advisor) will run the elective 'Let justice roll in our society', an Advocacy 101 elective during the conference.
"This will focus on why Christians should advocate for people experiencing injustice, and how the local church can engage in Christian advocacy with a secular government," Amanda explained.
"There are simple things that Christians, and congregations, can do, and we will discuss these. This is why The Salvation Army is so popular at the conferences. We are practical and down-to-earth and involved in front-line ministry in a unique way.
"There are some great international speakers at the conference. We complement these speakers with our local and domestic experience. We can speak into issues that people see every day in their own areas and congregations.
"Many of the conference delegates are from Australia, and some are new to understanding what biblical justice is. People see a lot of injustice walking down their street, or even on their way to the conference in Melbourne city. They want to do something, but don't know what or how, and we can offer tips based on our experience and from our compassion."
The Salvation Army will also run a stall during the conference, providing information on the movement in Australia and the work it does around the country. Local delegates will run the stall, supported by members of the policy and advocacy team.
Anyone connected with The Salvation Army is encouraged to attend the conference and visit the team at the stall.
"The Justice Conference does a great job uniting Christians around the central theme of loving God and loving others," said Amanda. "It's also a way to meet and unite with others who see justice and the Kingdom of God as important, who want to understand what this means for their lives and how they live, and to feel empowered and equipped to do something."
If you have any questions about the conference, contact the policy and advocacy team at policyandadvocacy@salvationarmy.org.au
For more information, check out the website here or go to the Justice Conference Facebook page.
To register for the Justice Conference, click here.