Shining the light of Jesus on Halloween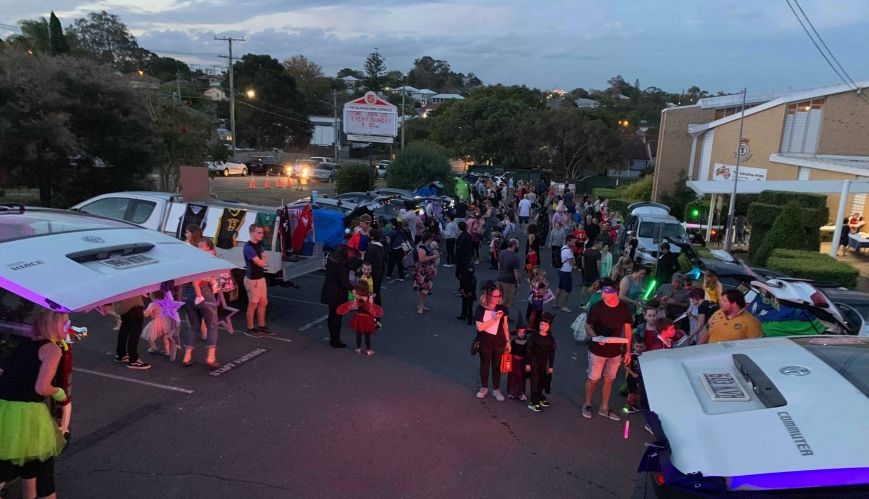 Shining the light of Jesus on Halloween
5 November 2019
About 500 people enjoyed a safe and friendly 'Trunk or Treat' night at Carindale Corps in Brisbane.
By Simone Worthing
"While many cower at the thought of aligning with a day on the calendar that often represents darkness, evil and fear, Carindale Salvos decided this is the best place to share Jesus' light in our community," said Captain Krista Andrews, Carindale Corps Officer.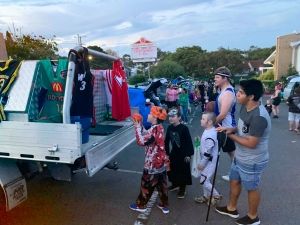 The sports 'trunk' was a popular spot for all ages.
"We want to be a safe space in our neighbourhood where families can come and connect all through the year. What better way to share this missional message than on a night when people are already walking the streets and with excited trick or treaters?"
So, as Halloween was in full swing on the evening of 31 October, Carindale Salvos did just that, hosting a 'Trunk or Treat' night in the corps car park.
The 'trunks' [boots] of many vehicles were decorated in various fun themes – from fairies and Hawaiian luau to football and under-the-sea. There was a sausage sizzle, games and prizes, and lollies for the children.
"It was just fabulous," said Krista. "We had been looking for a new and different way to connect with the families in our neighbourhood, and we had 450-500 people from the community walking through our car park, laughing at kids playing and asking questions about who we are and what we do – some even wandered into our church building.
"Connections were made, relationships formed and seeds of faith were planted. We also handed out glow sticks with a little tag sharing the truth that 'Jesus is the light even on Halloween night'.  
The fairies and Christmas trunk attracted children all evening.
"It was better than we could have imagined. William Booth was known for taking drinking songs and claiming them back for God and his glory by changing the words ... in essence, that's what our 'Trunk or Treat' event was about," Krista said.
Several people who attended the event thanked the corps for making it possible.
"This was amazing ... thank you for all the effort you put into hosting it," said one community member. "My seven-year-old had an amazing time and it was so lovely having a safe place to take him trick or treating because he was so keen to do it."
"It was fantastic," said another. "Such smiles all round and community togetherness. Such imagination, creativity too with the trunks. Well done to the team, plus ones on the barbecue cooking all night and the ones behind the scenes."
And from another, "Happy to have somewhere safe our kids can go to as an alternative to strangers' doors. Thank you!"
A Space 2 Call Home
The online Salvation Army worship arts forum hosted from Brisbane – A Space 2 Call Home (S2CH) – also chose 31 October as the date for a diverse range of artists to gather from different locations around the country to share ideas and projects.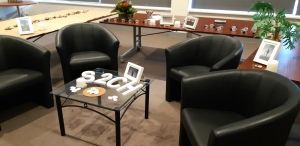 Queensland Divisional Headquarters ready for the night.
During the evening, small groups met at Brisbane Divisional Headquarters, Bundaberg (Qld) and Craigieburn (Vic.), along with several individuals logging in across the South East Queensland.
"This gathering was an opportunity for our collective to deliberately repurpose All Hallows Eve," said Louise Mathieson, Salvation Army Worship Arts Coordinator, Queensland.
"Once upon a time, 31 October and 1 November were feast days to honour the saints and heroes of faith. So, as well as our usual creative sharing, we chose to focus on gratitude and remembrance of those who have gone before us – the pioneers, groundbreakers, artisans, who have encouraged us in our journeys.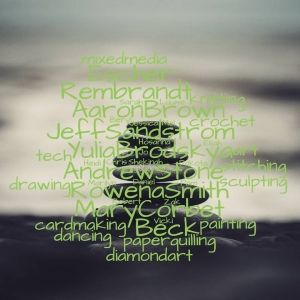 Remembering those artists who built a firm foundation.
"Our heroes ranged from famous artists like Escher and Debussy, to the innovators we follow on Instagram, to members of our own local communities who inspire us. We honoured their example and shared some of their work across the group."
S2CH gatherings seek to create a virtual studio-meets-lounge room, offering an 'open microphone' for creative people to share with others for encouragement, fresh inspiration and to showcase some of the projects and ideas they're working on.
The first gathering in 2020 will be Saturday 4 January. For more information, contact Louise at louise.mathieson@salvationarmy.org.au
The bigger picture in Phoenix
In Phoenix, Arizona, USA, thousands of families attended a one-stop trick-or-treating event – Kroctober – at The Salvation Army Kroc Centre, which included games, prizes and lollies.
The families also received flyers, vouchers and Kroc Centre activity programs.
"Being able to provide resources to this community is really the bigger picture behind these events," said Captain Caroline Rowe, leader of The Salvation Army Church of the Kroc.
"They can come into this place. They can get tutoring, sports, go swimming, they can learn how to swim. They can come to at-risk teen programs where they can play capture the flag. We feed them!"
Community families love the event.
"It's always fun. It's a clean environment. I don't have to check my kids' candy bags when we go home. I feel like that's a big thing," said mother-of-three Melinda Perkins.
"They've helped us with Christmas. We've done Easter egg thing with them before. Even if we are low on food at home, we [also] get food boxes and stuff. They help us with everything."
Watch a video on the event HERE.