Community partnership bringing hope to Deception Bay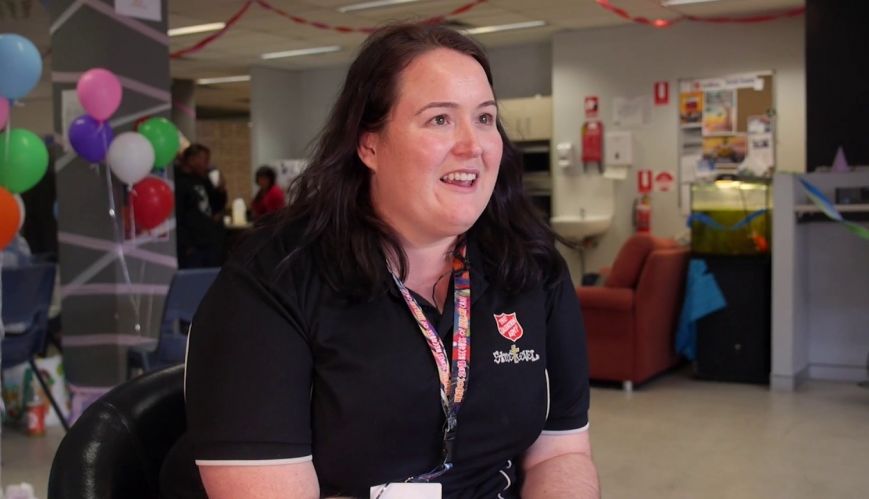 Community partnership bringing hope to Deception Bay
13 November 2019
Narelle, with Salvos Connect Assistant Narissa, open the Deception Bay site each week to serve the local community.
By Simone Worthing
"I feel like my role is like that of a community chaplain, where I am visible and available in the local area," said Captain Narelle Unicomb, Deception Bay Project Team Leader.
"The local library is my office and I write my sermons on the park bench at the beach. It's exciting to be doing something new, but also challenging."
Narelle's role is to explore the Moreton Bay Region, around 50km north-east of Brisbane, to establish a Streetlevel-style ministry. Her focus is currently on the coastal community of Deception Bay.
"At the beginning of 2018 we studied statistics to see where the greatest needs were on the north side of Brisbane, the areas facing high levels of hardship and injustice," Narelle explained.
"They pointed us to Deception Bay, so that's where I started. I have found a welcoming community that is very open to having The Salvation Army there."
Narelle quickly identified the need for a Salvos Connect (SalConnect) site in Deception Bay as the nearest one was in Caboolture – only 22km away, but almost two hours by public transport.
"We partner with the local Lighthouse Church to hold SalConnect there one day a week when they have their Foodbank operating," said Narelle. "Pastor David and his wife Cheryl have been living and ministering in the area for 30 years and his church provides low-cost and free food to many people in the community every week.   
"I also have a volunteer, Narissa, who assists me with SalConnect."
Ben Brewer, Doorways Regional Manager for Southern Queensland/Northern NSW, said Salvos Connect in Deception Bay was a great example of community partners working together for a common goal. 
"As part of a vision for the Deception Bay area, Narelle has been active in developing connections and relationships within the local community. The aim is to best understand how the Salvation Army, who previously haven't been in Deception Bay, can respond to this community that struggles with a number of social and economic issues."
Community front line
Narelle also runs a self-esteem group for girls in Years 5 and 6 at a local primary school, focusing on self-worth and where it comes from, how to be a good friend, dealing with bullying and a range of other issues.
"The girls respond and really open up," said Narelle. "One of the teachers told me it's the thing they look forward to all week."
Through another local contact, Narelle is also working in a chaplaincy support role with a case manager from another organisation, assisting women who have just been released from prison to reconnect with the community. This includes regularly checking in on the ladies, letting them know what services are available to them in the area and assist with rebuilding their lives.
A community playgroup in the local shopping centre is also opening doors for Narelle to meet local families.
"I have some great conversations with parents and grandparents while the kids are playing," she said. "They are really opening up and sharing how The Salvation Army could be supportive here.
"I also regularly drop in at the PCYC (Police Citizens Youth Club) to get to know the youth of the area and become part of that community too."
For Narelle, the one-on-one conversations with a wide range of people and partnerships with other community organisations are the key areas of ministry opening up in the area.
"We are doing these things in the community and making these contacts and will see where they go and what happens from here," she said. "God is leading us and we are following. It's exciting because I love looking at ways we can do new things, and do things differently, but it's also challenging because there is no formula for how to do this, and sometimes I wonder if I am doing it right."
Narelle is also involved at Brisbane Streetlevel Mission one day a week and enjoys connecting with the team and developing community there.
"I love the Streetlevel model – a place where everyone belongs and is accepted and cared for, contributes to the community and is given a go," she said.
"This also works well with our national vision statement, because we're doing life alongside people struggling with hardship and injustice, we fight for them and help them fight for themselves, with the love of Jesus.
"It's a perfect fit!"
Hear more about the Streetlevel model from Captain Narelle Unicomb.