A day to honour women of resilience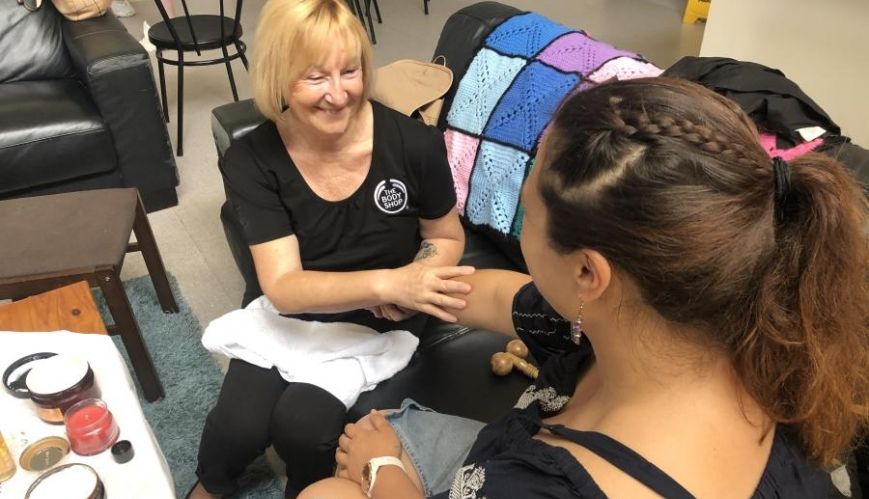 A day to honour women of resilience
26 November 2019
Women at Carinya Women's Services in NSW were pampered as part of a special event to mark International Day for the Elimination of Violence Against Women.
By Lauren Martin
A number of events have been held at Salvation Army homelessness accommodation services around the Australia Territory to mark International Day for the Elimination of Violence Against Women.
Three of these events were held at Carinya Women and Children Services in the NSW Illawarra region, at Samaritan Services in inner-city Sydney, and at The Beacon crisis and supported accommodation service in Perth, Western Australia.
Carinya Cottage – Illawarra region
Residents of Carinya Cottage, the emergency and transitional accommodation centre, came together for a pamper morning, with services donated by local Body Shop at Home consultants.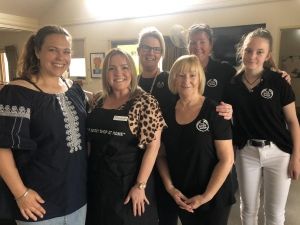 "Every day at Carinya Women and Children Service we strive to end violence against women. I believe that it is our everyday actions, advocacy and passion that will change the tide," said Carinya Outreach Case Manager Emily Pollock.
"Today on the day of International Day of the Elimination of Violence against Women we honour the amazing women at Carinya. A lot of the women that we work with spend all their time looking after others, including their family and children. It was wonderful to have an opportunity to create a space where they can put themselves first and enjoy pampering and self-care."
One of the Independent Body Shop at Home consultants, Lee, said it was an honour to volunteer for the event. "We had different stations set up, so consultants offered hand massages, face masks ... and we just pampered the ladies and made them feel very special and loved."
Samaritan House – Inner Sydney
About 20 residents and staff attended a luncheon at Samaritan House, with food from many different nations symbolising that violence doesn't discriminate between race or place of origin.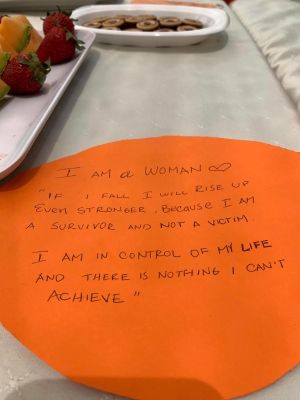 Inner-City Network Chaplain for Samaritan House, Lieutenant Belinda Cassie, spoke at the event about the resilience of women to grow where they are planted. A flowering shrub was then dedicated to the courage of survivors of violence and will be planted on the grounds.
"I sat with one woman on the day who shared her story with me," said Belinda. "She is the epitome of why days like today are so important. She is a survivor, she is strong and tenacious and has shown incredible resilience through the most horrific experiences.
"In the time she has been with us, having people stand alongside and support her, advocate for her, she has grown from strength to strength, and now takes the next step – confident that she will continue to be able to use her voice and keep moving forward."
Women at the service had hand-written and decorated cards for the table, some sharing their stories, some using uplifting quotes. One read: "I am a woman. If I fall, I will rise up even stronger, because I am a survivor and not a victim. I am in control of my life and there is nothing I can't achieve."
The Beacon – Perth
Residents and staff at The Beacon held a special service earlier this month to remember former residents who had passed away in recent years. Eleven names were added to the centre's Wall of Remembrance.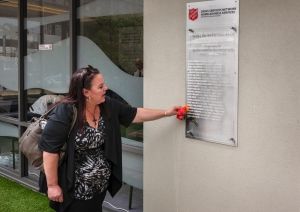 "This takes the total to 21 the people who are now 'gone but not forgotten'," said chaplain Major Deirdre Dearing. Selected verses from Psalm 139 were read before The Beacons Manager Bev Wilson-Malcolm read out the 11 names being added. Each name was followed by a drumbeat, which allowed those present to reflect on the individual and remember them as a real person – not just a name on the wall.
"It was a very moving time and although sad to know these people are no longer with us, it was comforting to know that they are not forgotten," said Deidre.