New Salvation Army officers commissioned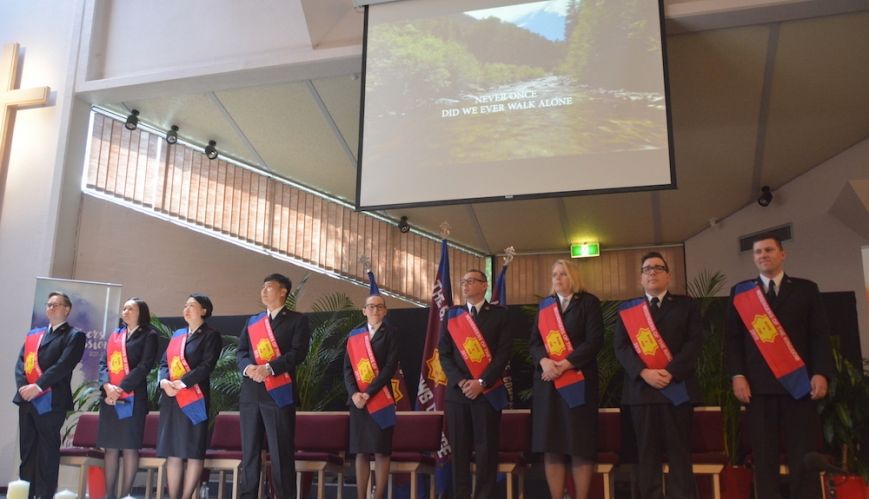 New Salvation Army officers commissioned
30 November 2019
Nine cadets of the Messengers sessions have been commissioned as Salvation Army officers. Photo: Major Gary Hart
By Jessica Morris
Colonel Mark Campbell has spurred the nine cadets of the Messengers sessions who have been commissioned as Salvation Army officers in Melbourne this afternoon, to carry the message of Christ, which transforms lives, into their communities.
"The Salvation Army can't transform people. Programs can't transform people. Jesus can transform people, and that is the core message [of The Salvation Army]," said the Chief Secretary of the Australia Territory. "That is who we are – and we are all messengers"
The nine new lieutenants - Craig Boyd, Jessica Ffrost-Boyd, Min-Hwan Oh, Andrew Webb, Marika Wallis, Paul Trotter, Alice Edge, Sunny Seol, and Henry Roehrig – were commissioned in a special ordination service led by Commissioner Janine Donaldson and Colonel Campbell at Waverley Temple Corps.
Two more cadets, Andrea and Daniel Wayman, will be commissioned as lieutenants in Rockhampton tomorrow, in a service that will be led by Commissioner Robert Donaldson and Colonel Julie Campbell.
The group is representative of the Messengers of Compassion and Messengers of the Kingdom sessions.
"The deep-seated need people have is a spiritual need," Colonel Campbell said in continuing his message to the new lieutenants. "And we have the answer – it is Jesus Christ!" he added, referring to 1 Timothy 2:7.
The camaraderie of the group being commissioned was evident throughout the service, and they expressed how overcoming obstacles had brought their session closer together.
Sunny Seol and Craig Boyd spoke on behalf of the new lieutenants. Photo: Major Gary Hart
"Sometimes cadet life felt like a trap; warm days would be spent inside the library researching, late nights writing essays," said Lieut Sunny Seol, speaking on behalf of the Messengers.
"However, as time went by we adapted to our lives and learned how to enjoy our cadet life. It was not an easy journey, but we are able to come here today because we were on that journey together."
Lieut Craig Boyd also highlighted the diversity of the group, and how each had taken their own path to officership.
"Each of our journeys through Officer Formation have been very different, and those being commissioned this year, including those being commissioned in Rockhampton tomorrow, have not walked the same path," he said.
"Some of us have been through the standard two-year residential program, others have served as cadets-in-appointment and as auxiliary-lieutenants.
"College is not the end of our stories. Each of us has received an appointment to partner with God in different communities across Australia."
The new lieutenants thanked past and present staff at Eva Burrows College for the role each played in helping to equip them to become officers, and also paid tribute to more than 60 Salvation Army expressions across the country, which had welcomed them during their training.
"It has been our privilege to do life with so many people, to listen to their stories and see their lives transformed by God's amazing grace," said Lieut Boyd.
The new lieutenants were sent out to commence their officership with the words of scripture from Luke 4:18-19: "The Spirit of the Lord is on me, because he has anointed me to proclaim the good news to the poor. He has sent me to proclaim freedom for the prisoners and recovery of sight for the blind, to set the oppressed free, to proclaim the year of the Lord's favour."
They have been given the following appointments: Lieuts Craig Boyd and Jessica Ffrost-Boyd (Carlton, Tas), Lieuts Min-Hwan Oh and Suny Seol (Greensborough, Vic), Lieut Andrew Webb (Sunbury, Vic), Lieut Marika Wallis (Gunnedah, NSW/ACT), Lieut Paul Trotter (Brunswick, Vic), Lieut Alice Edge (Tarrawanna, NSW/ACT), Lieut Henry Roehrig (Kingston City, Vic).