Motorcycle Toy Run spreads Christmas cheer in Tassie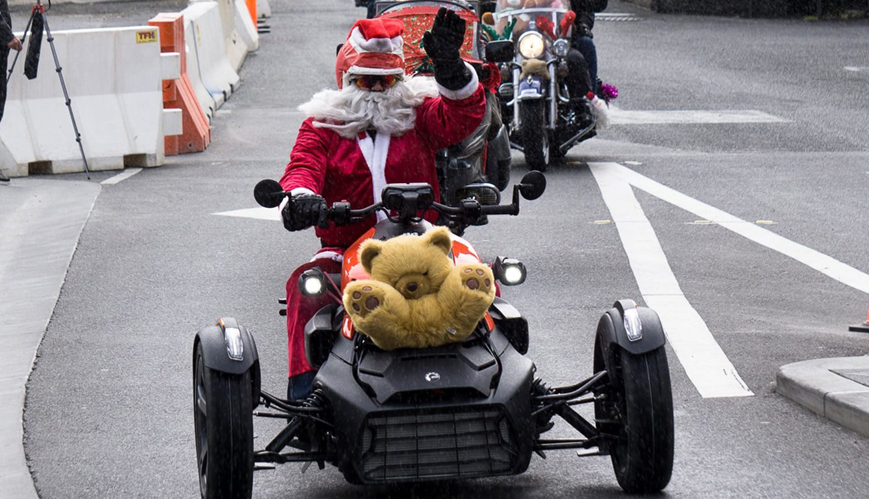 Motorcycle Toy Run spreads Christmas cheer in Tassie
16 December 2019
Six thousand motorcyclists spread Christmas cheer across Tasmania to support the Salvos at the annual Motorcycle Toy Run.
By Jessica Morris
The roar of thousands of motorbikes was once again heard along the Brooker Highway in Hobart last weekend as The Salvation Army partnered with the Tasmanian Motorcycle Riders Association for the 40th annual Toy Run.
"Who would have thought that little old Tassie would be the home of the biggest motorcycle toy run of its kind that we know of," said Major Paul Hateley, Acting Public Relations Secretary for Tasmania.
"We even had people come from interstate, and from Ireland for it!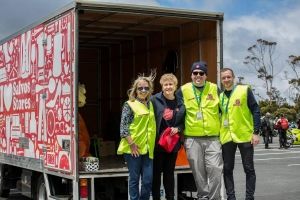 Petrina Nunn (Doorways), Divisional Commander Captain Kim Howarth, Aux-Lieut David Bruford (Adults Ministry Secretary and Inclusion Engagement Coordinator) and Ben Hirst (Schools and Community Coordinator)
"And The Salvation Army has been part of it since the first day it started."
Five thousand motorcyclists rode along the highway in convoy – dressed in everything from Santa to Sesame Street characters – and another 1000 joined them at Parliament House Lawn to deliver more than $70,000 worth of toys and monetary donations, in addition to $6000 worth of gift cards, to The Salvation Army.
More than 100 volunteers from The Salvation Army, the riders association and Hobart Police have started packing trucks full of toys to be delivered around the state to Salvation Army expressions and other welfare services, to ensure Christmas is a special day for many underprivileged children and families.
"The Salvation Army is the major player in Tasmania at Christmas," said Paul."And, just today, we just packed two crates of toys and shipped them to King Island and Flinders Island (in the Bass Strait). We share the joy!"