Salvos get festive all over Australia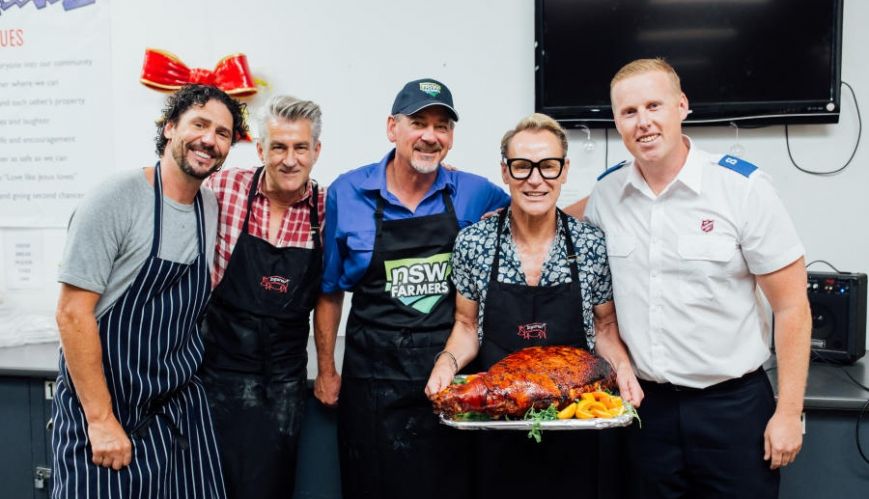 Salvos get festive all over Australia
20 December 2019
Celebrity Chef Colin Fassnidge, The Block contestant, Mark McKie, NSW Farmers Association's Ean Pollard, The Block contestant and Australian Pork representative, Mitch Edwards, and The Salvation Army Sydney Streetlevel Mission leader, Mitchell Evans cook up a storm for the Sydney Streetlevel Christmas lunch celebration. Photo: Caleb Wong
By Jessica Morris, Lauren Martin and Simone Worthing
Brisbane Streetlevel Mission, Queensland
Volunteers and participants planned the '12 Days of Christmas' – events throughout December – for the Streetlevel community and friends.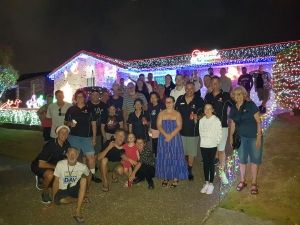 The Streetlevel community loves the Christmas lights tour.
"We've been doing this for a few years now, rather than a big lunch on Christmas Day, and everyone looks forward to the events and joins in," said Paul Maunder, Streetlevel Team Leader.
"Different groups donate food and other things for these events, and often come along to help out and be a part of what we're doing."
Paul shared that Christmas Eve, and Boxing Day, can be just as sad for members of their community, as Christmas Day itself.
"We have a picnic at Southbank and a swim on Christmas Eve, and a picnic in the park on Boxing Day, plus cricket if it's not too hot," he said.
The people we've connected with here, a lot of them haven't got anywhere or anybody else and a lot of them are doing it tough at that time of year.
"Streetlevel gives people a sense of family. That doesn't mean we're perfect, it means there is a connection and a sense of belonging. We know their story and journey and love them regardless."
The 12 Days of Christmas activities include a Sunday roast lunch, Christmas Karaoke, combined Christmas Carols with Brisbane Recovery Services Centre (Moonyah), a Christmas lights bus tour, card and gift making, a hamper day, and lunch at the Brisbane Convention and Exhibition Centre.
Riverland Corps, South Australia
The Riverland Corps in South Australia will host a breakfast on Christmas Day, focusing on giving corps and community members a "great way to kick-start the day", as well as connect people who have nowhere to go for the rest of the day, with an agency, group or church hosting a lunchtime meal.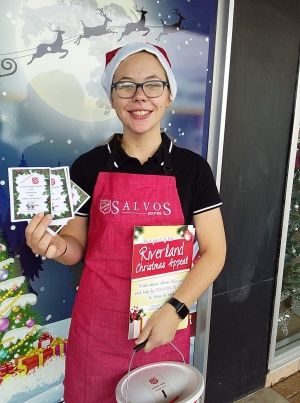 Everbody is welcome at the Christmas Day breakfast.
"For the Riverland Corps, this is a chance to say thanks to our community for the support throughout the year, share quality time with our corps members and invite the community into this space," said Helen Adamczyk, Corps Leader.
"We as a corps wanted to think outside the usual boundaries of what it means to engage and invite others into our building and build and strengthen existing relationships with others in the community.
"It's important to us as a corps to host something on Christmas Day as it challenges us to think about and serve others, which we feel is the ethos and essence of the Salvation Army, it's who we are.
"We never really know who will come, but that's part of the excitement and suspense. Guests usually include corps members, outreach guests, strangers in town, folk who don't have anyone to spend the day with."
This year, the corps added extra food items to their menu to help make the morning extra special. Using a generous donation from the public, they also put together 20-30 bags of basic foods, and added homemade cookies and soap; had fruit, vegetables and bread available for people to take home; and made sure every person received a small gift.
"We aimed to make it festive and enjoyable," said Helen. "The Riverland Corps is big on community – everything we do has an external focus, which means we are prepared to be challenged, break with tradition and measure our success by the quality of relationships we have with others."
Melbourne Project 614, Victoria
With a mission to bring hope to some of Melbourne's most lonely this holiday season, 614 is hosting numerous dinners so everyone can find a place to belong at the table.
Christmas festivities have been in motion for the Bourke Street expression since 4 December, when Majors Brendan and Sandra Nottle took part in the blessing of the City of Melbourne Nativity Scene.
The team at 614 will feed hundreds of Melburnians this Christmas.
The interdenominational spirit carried through when Planetshakers Church partnered with the Salvos, donating 2000 toys to their Christmas Appeal.
A friendship with the local Chinese community saw 600 clients treated to a meal with the Lord Mayor. And a further 500 clients and volunteers celebrated over a Christmas dinner on 19 December. To top it off, radio announcer Dennis Walter graced 614 with his dulcet tones on 20 December, hosting his final radio show for the year at the historic Bourke Street complex.
"Christmas is a wonderful time of year but increasing numbers of people across Melbourne and the nation feel forgotten and isolated from family and friends," said Brendan.
"The work we do at 614 is critical to make sure people feel valued and loved, particularly at this time of year."
The Nottles and the 614 team will be back on board come Christmas Day. They will treat the community to a brunch at the Docklands Cargo Restaurant, and an additional lunch will be held at the Holden Centre, ensuring that the true spirit of Christmas – and community – reaches every part of the city of Melbourne this December.
Sydney Streetlevel Mission, NSW
In central Sydney, The Salvation Army Streetlevel Mission scaled back its big Christmas Day function several years ago in favour of a whole month's worth of more intimate festive functions. "We find that the smaller events help people to make personal connections and also feel more comfortable to invite friends to," said Sydney Streetlevel Mission Leader Mitchell Evans.
The focus is on personal connection and taking the time to thank mission members, volunteers and employees for their unique contribution towards making Streetlevel Mission the community that it is.
"It's not just a celebration – as in a party," said Mitchell. "We make sure our people feel celebrated. We make everyone feel welcome, even down to something as small as giving everyone a name tag – having people refer to you by name is important at a time when things can get lost in the 'bigness' of Christmas."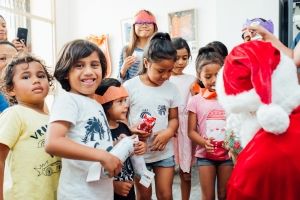 Santa visits The Salvation Army's Sydney Streetlevel Mission Christmas luncheon. Photo: Caleb Wong
Christmas craft sessions and other events are held throughout December but during the week before Christmas, luncheons are held at the mission's drop-in centre at Waterloo and its Surry Hills site.
A regular face at the barbeque is second-generation pork producer and chairman of the NSW Farmers Pork Committee Ean Pollard and his family. In a tradition started by his father more than 20 years ago with the committee, Ean donates pork for the Christmas lunch and his time to cook it. "We really enjoy the relationship with the Salvos and especially Robyn and Mitch (Sydney Streetlevel Team Leaders)," said Ean. "And it's just a real feel-good thing in doing it."
The past two years have been difficult times for pork producers, as with most farmers in drought-affected Australia. However, Ean and his family continue to donate generously. 
"It's the festive season and the season of giving ... you meet quite a few people that are doing it tough and sometimes you get a moment with people and you talk to them about what you do and how you raise your pork... and they get quite interested in where their food comes from so it's getting that city-country connection working."
Darwin Corps and Northern Territory 
The annual Darwin Motorcycles Toy Run took place on 8 December, with hundreds of bikes from Darwin and surrounding areas out on the road supporting The Salvation Army Christmas Appeal.
The annual toy run brings hope and joy to the Top End.
More than 500 toys were generously donated, which will go to families doing it especially tough this Christmas.
"This is such a great collaborative effort with Phil the Elf (event organiser), the entire Darwin Harley Owners Group, the Pint Club for the after-toy run entertainment venue, and our volunteers, which benefits families in need in Darwin," said Captain Erica Jones, Northern Territory Area Officer.
On Christmas Day, the Palmerston Corps will host a festive lunch, and the Alice Springs Corps will also hold a large "lunch in the park".
The Beacon, Western Australia
The whole month of December has been festive at The Beacon, a Salvation Army homelessness service in Perth. Chaplain at the centre, Major Deirdre Dearing, said the Christmas season can be a lonely and emotional time for people experiencing homelessness, so staff go 'all out' to create a fun, family feeling.
"At the beginning of December, each floor of the service (there are three floors) had a competition to decorate their common room and the Christmas tree in it which was fun," she said. There have also been craft activities to create decorations, pamper nail and facial sessions and a pool competition. 
One very poignant activity was a Christmas-card making session where many residents created Christmas cards for family members. "They wouldn't have been able to afford to buy or send a card, let alone a present," Deirdre said. "The activity allowed them to create a card to let their family members know that they are thinking of them at this time of the year."
On Christmas Day, each person staying at The Beacon is given a Christmas gift, and the kitchen staff go to great lengths to decorate the dining room and have all the trimmings of a roast Christmas lunch, delicious desserts, crackers and special lollies and treats. 
"It's a real family feel," Deirdre said.
Tasmania
The roar of thousands of motorbikes was heard along the Brooker Highway in Hobart in December as The Salvation Army partnered with the Tasmanian Motorcycle Riders Association for the 40th annual Toy Run.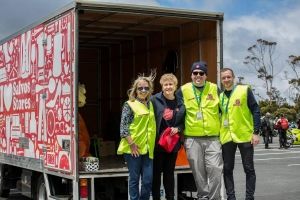 Petrina Nunn (Doorways), Divisional Commander Captain Kim Howarth, Aux-Lieut David Bruford (Adults Ministry Secretary and Inclusion Engagement Coordinator) and Ben Hirst (Schools and Community Coordinator)<
"Who would have thought that little old Tassie would be the home of the biggest motorcycle toy run of its kind that we know of," said Major Paul Hateley, Acting Public Relations Secretary for Tasmania.
"We even had people come from interstate, and Ireland for it!"Five thousand motorcyclists rode along the highway in convoy – dressed in everything from Santa to Sesame Street characters – and another 1000 joined them at Parliament House Lawn to deliver more than $70,000 worth of toys and monetary donations, in addition to $6000 worth of gift cards, to The Salvation Army.
Across the state, dozens of other Christmas events have been held, including toy and food donation events, a classic car fundraising drive, concerts and meals.