SAES ready to serve on Christmas Day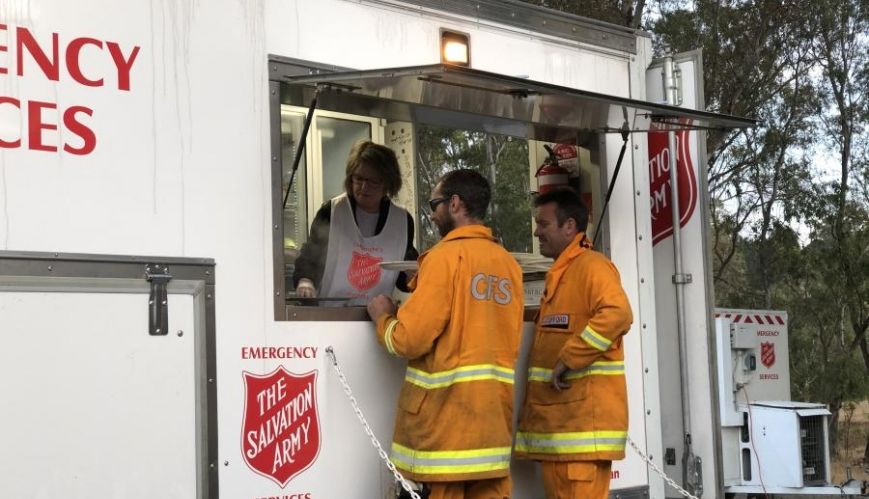 SAES ready to serve on Christmas Day
24 December 2019
Salvation Army Emergency Services (SAES) volunteers serve fire-fighters a meal in South Australia. Photo: Mark Foyle
By Jessica Morris and Lauren Martin
Salvation Army Emergency Services (SAES) volunteers in parts of Australia affected by bushfires will spend Christmas Day on stand-by, ready to respond.
The Salvation Army General Manager, Strategic Emergency and Disaster Management, Major Topher Holland said the past weekend had seen "devastating fire in three states, where our corps and teams have worked through unprecedented and unrelenting circumstances."
Almost 200 fires are still burning across the country and hundreds of homes have been lost, as well as several lives. While The Salvation Army's emergency response with SAES catering and support is ongoing, longer term recovery support has also begun. 
New South Wales
Cooler weather conditions have given SAES crews in NSW and ACT a much-needed break, following the catastrophic fire conditions last week.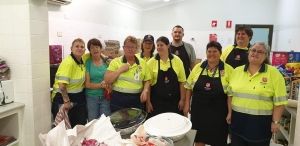 The SAES team at Pokolbin Rural Fire Service Staging Area in the Hunter Valley.
Corps and volunteers manned evacuation centres in Ulladulla and Batemans Bay on the NSW South Coast, Braidwood near Canberra and St Georges Basin. Newcastle and Central Coast crews have also been active feeding fire-fighters north-west of Sydney.
"All tasks are currently completed," said Norm Archer, State Coordinator, NSW/ACT, Strategic Emergency and Disaster Management. "But all our crews remain on a very high level of standby for the weeks ahead."
South Australia
The SAES and community volunteers have worked tirelessly to support fire-fighters in Gumeracha and Balhannah in South Australia, with authorities hoping to send home volunteers by Christmas.
More than 3000 meals were served over the sites in four days, before Balhannah was closed after the fire was under control.
"We've [the SAES] been fortunate in we've had a few community volunteers step up, so that's helped with allowing people to have a rest," said Mark Foyle, Public Relations Secretary in South Australia and the Northern Territory.
"On Sunday we got asked for 500 takeaway meals with an hour's notice – so volunteers [and officers] have been working hard amongst the Christmas appeal."
Goods in-kind donations have been exorbitant for The Salvation Army across the state, enabling them to provide families who have lost everything with Christmas gifts. However, monetary donations are still widely beneficial. And if the fires continue, they would ask that people consider volunteering with their local SAES.
"The official plan is that authorities should get the fires under control by Christmas, but if they don't we continue," said Mark.
Western Australia
Fires in Western Australia have calmed down after a mammoth few weeks, and volunteers are taking part in a major clean-up operation over Christmas. Multiple fires stretched volunteers as they provided 8000 meals to fire-fighters in six days.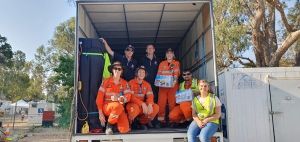 "The fires we had were sadly the most significant I've seen. We are pretty tired, we worked over the weekend and are trying to get our volunteers rested," said Ben Day, The Salvation Army Strategic Emergency and Disaster Management Coordinator for Western Australia.
"This fire [near Perth] basically just burned with such ferocity the authorities couldn't stop it, so we are concerned the rest of summer might hold."
An influx of donations means that the emergency services team are able to prepare for the rest of the summer. With temperatures expected to rise above 40 degrees, they are utilising this time to recuperate and plan how to respond more efficiently in the New Year.
"[Please] pray for rain," said Ben. "We have some big projects coming up, and are using new equipment. We ask people pray for that and new [tools] to help volunteers too."
Queensland
In Queensland, SAES operations finished on Saturday at Caloundra on the Sunshine Coast and yesterday at Mount Maria near Gladstone in Central Queensland. Crews served in excess of 2000 meals to emergency services personnel. 
Gladstone Corps Officer Lieutenant Chris Ford said it had been a privilege to support Queensland Fire and Emergency Services (QFES): "Wow, what a week! With over 3000 meals and snack-packs and countless bottles of water and great conversations, it was a pleasure to support."
He said the teams have all now returned to Gladstone and the equipment is being cleaned, ready for the next call-out.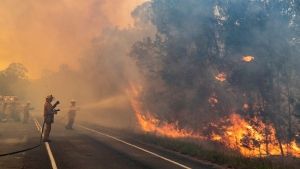 Fire-fighters at Mount Maria near Gladstone.
Adam Cole, State Coordinator, Queensland, Strategic Emergency and Disaster Management said teams are looking forward to the reprieve the cooler weather will bring. 
"We are really hoping that - not only ourselves - but the [emergency services] responders have the opportunity of spending some much-needed time with their families at this time of year.
"It's an event that's just been going for so long ... keep praying for rain."
Victoria
Emergency Services team across Victoria have been in full force this week, supporting communities west and north-east of the state.
Near South Gippsland, the Bairnsdale team are providing meals to fire-fighters battling a 37,000 hectare blaze in Tambo Crossing. A portion of the team has travelled interstate to support the relief work in Bega, NSW.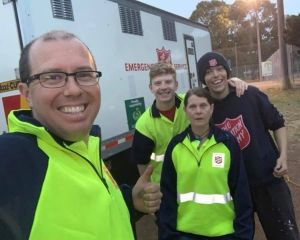 More than 280 fire-fighters battling a blaze in Lexton were also supported and fed by the Salvos, while emergency services teams from Western Victoria fed more than 300 fire-fighters who were battling the Mt Mercer fire.
The newly formed Bellarine Response team then took over, giving the volunteers a much-needed rest. They provided meals to more than 100 fire-fighters who contained the grass fire and provided bedding to nearby relief centres.
"It was our maiden voyage as a team, and we finished off as the fires closed and did the pack-up and clean-up," said Captain Peter Hobbs.
"The firefighters are really tired and said, 'We get all the publicity, but you guys are the backbone. Without your help we would be stuffed.'"
Volunteers are on alert across the state as temperatures pick up over Christmas.
"If there are going to be more fires, we need to be ready to support Salvation Army expressions in these areas," said Peter. "We're hoping to build up a really big team and use it as a corps-planting tool."