Reservoir Corps comes up with a ministry game-changer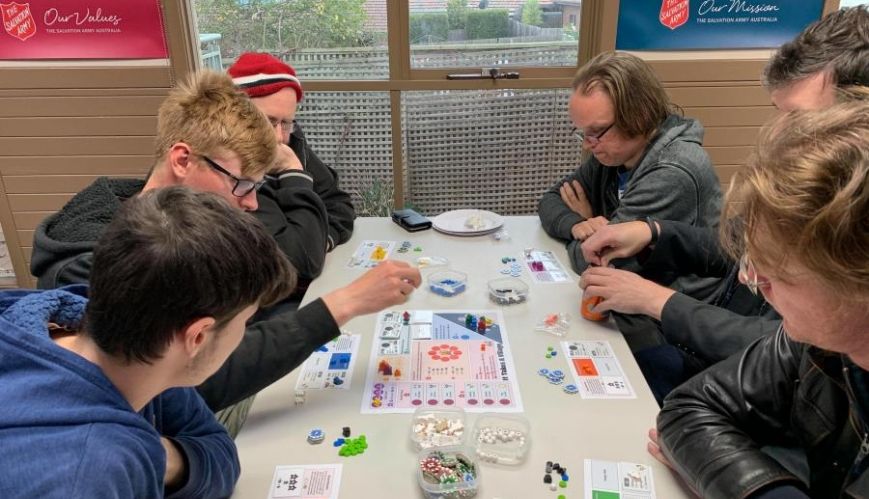 Reservoir Corps comes up with a ministry game-changer
7 January 2020
A monthly board games night hosted by Reservoir Corps has been a key way of connecting with and supporting the local community.
By Jessica Morris
Board gamers have 'rolled a six' with the launch of the Salvos initiative 'Just Game'.
Pioneered by Reservoir Salvos in Melbourne's north, Just Game is designed for isolated and lonely members of the community to connect with others over a board game.
Auxiliary-Lieutenants Esther and Matt Atkins, Corps Officers at Reservoir, said they have been using board games as a ministry tool for the past decade, but a recent Innovation Grant from The Salvation Army has given them resources to expand the idea.
Their hope is that the Just Game network will spread around the Australia Territory.
"We began a monthly gaming group 10 years ago from our house," said Esther. "It was an isolation project for people stuck in their houses to meet in a safe environment and play board games.
"After a while, we couldn't fit everyone in our house, so we moved the ministry to the corps building six years ago," said Matt. 
Esther and Matt said they have seen many people encounter community, break free of loneliness and experience the love of God through building relationships over a simple board game.
"We want this idea to be producible across Australia, so every expression can reach their most isolated individuals," said Esther.
After receiving the innovation grant, the Atkins' road-tested their Just Game model in local schools.
"Games have a huge educational component, can encourage and teach math, problem-solving, cooperative skills, engine building, creative writing as well as social skills," said Matt.
"The idea of playing games in safe environments and providing places for those who want to connect through games is a reasonably easy, cheap and reproducible model for those wanting to break through to those stuck in isolation and struggling with social connection."
Gaming is an ever-growing community in Australia. With the progress in technology, it is estimated that two-thirds of Australians play electronic games, with 30 per cent playing board games.
In research completed by Bond University with the Interactive Games & Entertainment Association in August, gaming has been shown to increase connection, creativity and help participants de-stress.
But Esther and Matt say they don't need data to prove this – they have seen the benefits first-hand in the Reservoir community and hope to see the Just Game network spread across the board.
To sign up for Just Game and receive a free starter pack, apply here. If you would like to find out more, partner up or start a Just Game group, contact the Atkins at info@justgame.net.