You are here:
Home › News › 2020 › 01 › 08 › Australia Rallies As Bushfires Continue To Impact Lives Property
Australia rallies as bushfires continue to impact lives, property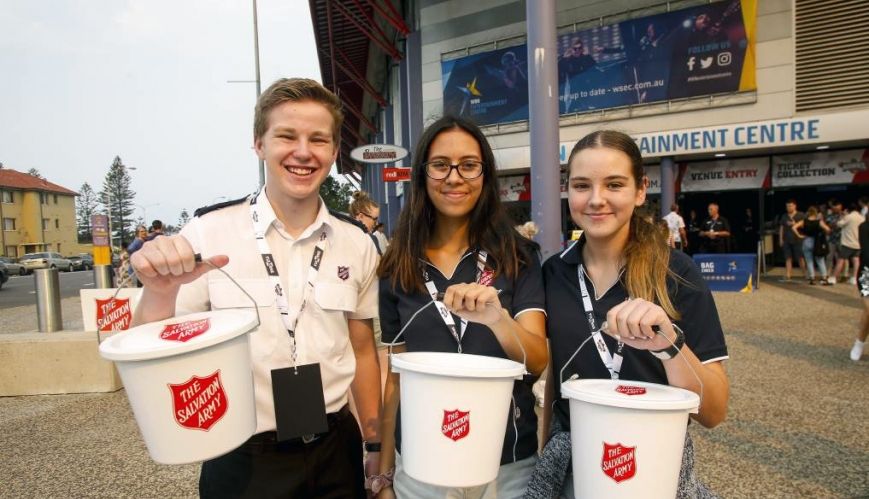 Australia rallies as bushfires continue to impact lives, property
8 January 2020
Jordyn Walker, Praise Barry and Holly Hutchison collecting for The Salvation Army Disaster Appeal in Wollongong. Photo: Anna Warr, courtesy of the Illawarra Mercury.
By Jessica Morris, Lauren Martin and Holly Reed
The Salvation Army has been overwhelmed by the generosity of the Australian public in support of those affected by the nationwide bushfire crisis.
The support has allowed The Salvation Army to keep teams on the ground at evacuation centres, providing much-needed assistance to firefighters, volunteers and evacuees.
The Salvation Army's corporate sponsors have responded to the crisis with open hearts and given the Army's national Disaster Appeal a vital boost. Toyota raised more than $229,000 via Channel 7 and Cricket Australia during Monday's Test Match against New Zealand at the Sydney Cricket Ground. Toyota has also donated $250,000 at the corporate level and raised more than $150,000 through dealerships across Australia.
Other sporting codes are rallying behind the appeal. The Illawarra Hawks basketball team, in conjunction with the Illawarra Mercury newspaper in Wollongong (NSW), launched an appeal and allowed Salvation Army collectors at the Saturday night NBL game in the city.
Woolworths has continued its strong partnership with The Salvation Army, donating $500,000 at the corporate level and to date has raised $1.2 million from point-of-sale donations. Light'n' Easy has also donated $500,000 – just one of many businesses that have come on board to support.
National response
Salvation Army Strategic Emergency and Disaster Management teams continue to be active across most states, working in partnership with local corps and their community volunteers and supporters.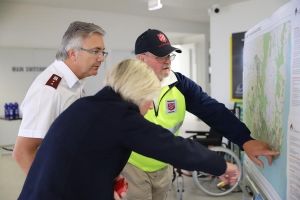 Captain Stuart Glover and Lieut-Colonel Winsome Merrettat an evacuation centre being brought up to date with fires in the Gippsland region of Victoria.
Lieutenant-Colonel Winsome Merrett, Assistant Chief Secretary, and Captain Stuart Glover, head of The Salvation Army Community Engagement, have visited Salvation Army teams in Bairnsdale (Vic.) to offer support and encouragement.
Major Topher Holland, General Manager, Strategic Emergency and Disaster Management, said The Salvation Army was working across two disaster response phases. "The nature of this unprecedented and ongoing disaster means that in some areas we have moved into our recovery phase and, in other areas, we are still providing emergency response."
He said the organisation's response to disasters occurs in several phases, the first being our initial Salvation Army Emergency Service (SAES) activations where personnel and volunteers feed and provide support for first responders and assist with the management and service of evacuation centres.
Phase two is an initial assessment and provision of emergency financial support to those affected and phase three is the recovery phase, again providing financial support for those affected following a more detailed assessment of the individual or family's needs.
Victoria
The community has thrown its full support behind the Salvos in Victoria, collaborating to provide aid, complete paperwork and assist with the mental health of survivors.
With evacuation centres open in Wangaratta, Wodonga, Sale, Bairnsdale and Tallangatta, more are set to open in the coming week.
"We currently have 250 people cycling through in Wangaratta with similar numbers in Wodonga, and The Salvation Army is playing its part and registering people to receive support," said Major Bruce Harmer, Public Relations Secretary for Victoria.
"We are partnering with agencies, in particular the Rotary Club of Wangaratta, and we have three warehouses full of material aid as well as food people can help themselves to. It's all happening here!"
A donation point has also been set up at the Melbourne Convention Centre, enabling tourists and concert-goers to contribute to the appeal. Coordinated by the SAES and volunteers from the Salvos 614 expression, Corps Officer Major Brendan Nottle says he's never seen community support like this.
"I don't think I've ever been so encouraged by the community response. It's quite amazing, I've never seen anything like it."
Mallacoota Evacuees
Salvos from 614 Bourke Street and the SAES were on hand to greet hundreds of people transported from Mallacoota by the military on Saturday. 
SAES volunteer Nigel Mapes (centre) with staff from Woolworths South Melbourne and their donation of water for the Mallacoota evacuees.
The generosity of the community has allowed the Salvos to act as mediators for accommodation, food and clothes. So far, the Salvos have received donations from Woolworths, Crown, Village Cinemas, DFO, with talks from many other sponsors on the horizon.
"Crown is providing 200 of the evacuees with accommodation for a week – including breakfast, lunch and dinner. They're also engaging psychological services as well to support people who are staying there," said Brendan.
"Salvo Stores has also been really good in providing fresh clothing for people who have come from Mallacoota, and Crown has been liaising them."
The team from 614 will be back on deck when another ship of Mallacoota evacuees arrives tonight.
Air quality
In addition to its work with Mallacoota evacuees, the team at 614 has been supporting locals affected by the smoke that has blanketed vast areas of the state, including Melbourne.
"We've been keeping our cafe open 24/7 so that people have got somewhere safe to go, and we've got teams around the city looking out for people who are on their own," said Brendan.
"We are giving them water and trying to get them into the cafe so they're out of the smoke."
The team is on the lookout for a sponsor that will provide them with facemasks for their clients.
"If there's some way of getting a couple of hundred face masks just to help people who are affected by the weather, that would be great," said Brendan. "You can email us at tameka.buckley@salvationarmy.org.au."
New South Wales/Australian Capital Territory
The Salvation Army remains active in evacuation centres on the NSW South Coast at Ulladulla, Batemans Bay, Moruya, Narooma and Bega. An Australian Defence Force team is assisting with catering and logistics at Bega, where Salvationists, volunteers from other churches and community members united to serve 3000 people at the peak of the emergency.
Bega Corps Officer Captain Rod Parsons delivered meals to the Quarma RFS, including this crew under an eerie orange sky in the Bega Valley area.
SAES teams are feeding firefighters in the Blue Mountains, west of Sydney, and at Bulga in the Hunter Valley.
Major Colin Young, Associate Strategic Emergency and Disaster Management Coordinator for NSW/ACT, says there has been an overwhelming response from the Australian public, and no more material assistance is needed at this stage.
"We have so many donations that have been delivered to our centres in these towns," he said. "We appreciate the generosity, but we cannot handle any more. The shops in these towns aren't going to be able to recover if we keep importing goods from outside the area. This is really about getting the town back on its feet and securing our supplies locally now."
Blue Mountains
The Salvation Army has been active, on and off, in the mountains west of Sydney since late last year. Teams of personnel and volunteers are currently active at the Rural Fire Service headquarters in Katoomba, preparing lunch packs for firefighters who are working in the area.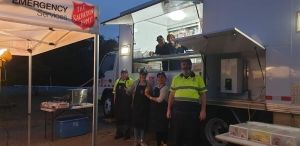 Blue Mountains Salvation Army Emergency Services volunteers catering for firefighters at Bulls Camp, near Woodford.
"We are also operational at Bull's Camp at Woodford where we are serving lunch and dinner to those firies," said Auxiliary-Lieutenant Bryan Bartlett from Upper Blue Mountains Corps. "The Rural Fire Service is doing a fantastic job and it's amazing to be able to assist."
Further to the west, in Lithgow, The Salvation Army has provided support and assistance to people impacted by bushfires earlier in the season. "We have been involved in recovery work in the Lithgow area over the Christmas period," said Bryan.
South Australia
Salvos have been hard at work, supporting fire-affected communities across South Australia for the past two weeks. 
Prime Minister Scott Morrison chats with members of the Salvation Army Emergency Services team as part of his visit to Kangaroo Island, Saturday 8 January.
A team of volunteers has been present at the Kangaroo Island since Saturday, feeding a new shift of firefighters every 30 minutes. Based near the Kingscote Airport, volunteers have worked to pre-prepare meals and give emergency services some respite.
"Everybody working here on Kangaroo Island are heroes," said Mark Foyle, Public Relations Secretary for South Australia/Northern Territory.
Today (Wednesday 8 January), Prime Minister Scott Morrison visited Salvation Army personnel and workers on Kangaroo Island, thanking them for this efforts to assist fire-fighters.
Western Australia
The Salvation Army has been assisting many families and groups impacted by the Eyre Highway closure on the Nullarbor. Kalgoorlie-Boulder Salvation Army has opened its air-conditioned corps every day, hosting people who are displaced.
Corps Officers Lieutenants Gavin and Jodie Jones have also been able to help to secure accommodation and provide some emergency financial assistance to people who have been stranded for nine days so far.
Kalgoorlie-Boulder Salvation Army Corps Officers Lieuts Jodie and Gavin Jones opened their centre to motorists stranded in the central Western Australian city.
"One of the things we've been able to do is provide a place of refuge," said Jodie. "They can come in, sit down in the air-conditioning, use our bathroom and laundry facilities and have a much-needed chat.
"Being a listening ear to these people has been so important. They are weary of not knowing when they can get home. Some have homes in areas affected by bushfires so that is concerning as well. By being available to them, they are reminded that they're not doing it on their own, someone knows they're here and someone cares."
Tasmania
Tasmania has rallied behind the Salvos emergency response, using the state's Taste of Tasmania food and wine festival last week as a catalyst for fundraising.
"Taste for Tassie sees a quarter of a million people over four or five days, and they called us to say they would sell plants for the appeal, and have collection tins out the front," said Major Brad Watson, Public Relations Secretary for Tasmania.
"Within an hour's notice there were four of us, and we managed to scrounge up a few people through the day!" he laughs.
Volunteers collected for The Salvation Army Disaster Appeal at the Taste of Tasmania food and wine festival.
A phone call on ABC Radio also gave the team from Doorways in Launceston an opportunity to reach out to a survivor of the Fingal fires.
"A guy rang ABC radio yesterday to talk about how he lost his property – and one of the staff heard it and passed it on. They are visiting him today," said Brad.
"We also had our first couple of payments from the Bushfire Disaster Appeal come in, so emergency assistance is going out today."
The funds come at a much-needed time – while the rest of the country is in the throes of fire season, Tasmania has battled two major blazes with a sense that the worst could be yet to come.
A fire in Derwent Valley was contained last year, while an ongoing blaze in Fingal on the East Coast saw the SAES use the first round of Emergency Disaster Appeal payments for their response.
"At this stage, we're going okay. The feeling on the island is that the big fires may still come. Our nervousness is that unlike last year's fires, there are no reinforcements available anymore because we are reinforcing the mainland," said Brad.
Aside from donation to the disaster appeal, Brad says the state's greatest need from Salvos is more volunteers and prayer.
"We need community fundraising teams where people can represent the Salvos. Volunteers who can attend events and rattle tins As well as volunteers with previous experience Emergency Services," said Brad (volunteer by contacting The Salvation Army - Tasmania).
"And we need prayer. Prayer for rain, energy, safety for the plans we make, and prayer for emergency services."
Queensland/Northern Territory
The Salvation Army's emergency response teams in Queensland remain on stand-by to assist in other states as needed. Adam Cole, Strategic Emergency and Disaster Management Coordinator for Queensland, said disaster recovery is underway in various parts of the state in response to bushfires from earlier in the season.
"Our thoughts are definitely with southern counterparts but The Salvation Army here in Queensland is also very active with our local spaces supporting people for the long haul.
"We haven't forgotten about those people who remain affected by emergency events earlier this year, and even going as far back as the Townsville floods; we are still in these places working our best to make a positive difference in the recovery phase."
In the Northern Territory, which is on high alert for Tropical Cyclone Claudia, Salvation Army Area Officer Captain Erica Jones says personnel and volunteers are readying themselves for any deployment.