Salvos committed to bushfire recovery 'for the long haul'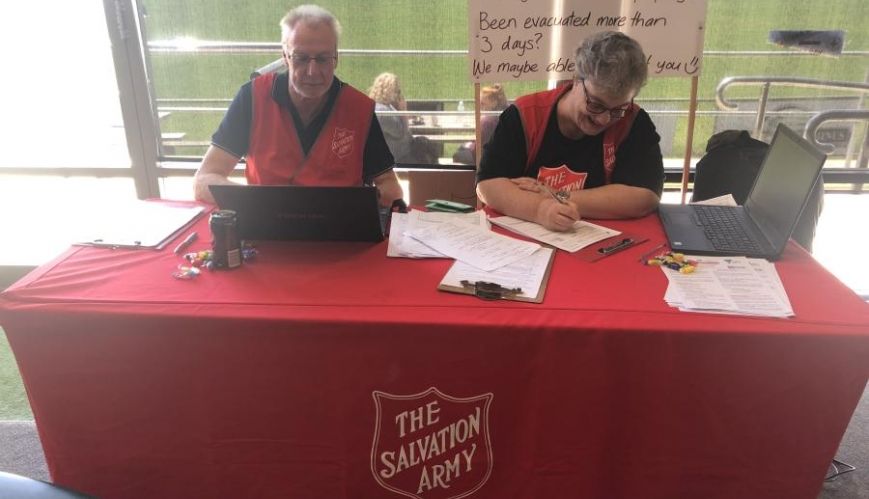 Salvos committed to bushfire recovery 'for the long haul'
13 January 2020
The Salvation Army will work in Australian communities affected by bushfire for the long haul as they recover and rebuild (L-R) Brunswick Corps Officer Major Jeff Philp and Moe Corps Officer Captain Cheryl Butcher assist recovery efforts in Bairnsdale.
By Jessica Morris, Kevin Elsley and Lauren Martin
As recovery hubs begin to open on the New South Wales South Coast and in Victoria, The Salvation Army continues to provide immediate, ongoing emergency support, as well as long-term support for people affected.
General Manager of The Salvation Army Strategic and Disaster Management, Major Topher Holland, said recovery support was well underway in some areas, while in others, assessment is still being undertaken on the needs of the communities involved and how best The Salvation Army can partner with those communities to stand alongside people affected.
"We will be there for the long haul," Topher said. "The Salvation Army has an existing presence in most of these areas, and it's a privilege for us to work with the community and the government in looking at the recovery needs of these communities."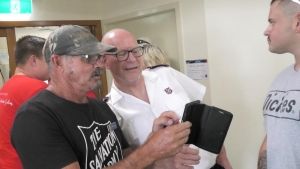 Commissioner Robert Donaldson visits Coffs Harbour Salvation Army to speak to corps members and volunteers about their experiences during the bushfire emergency.
Commissioners Janine and Robert Donaldson, the Australia Territory leaders, returned from holidays early last week to tour bushfire-affected areas. They visited Coffs Harbour, Kempsey and Port Macquarie on the NSW North Coast, meeting Salvation Army volunteers and people directly impacted by the fires that hit there in late 2019.
"We are overwhelmed by the dedication of staff and volunteers who worked for many hours day after day to provide practical assistance, at the same time offering listening ears, kind words and prayer support," Robert said. 
"To us, the most astounding reaction was that some of the people who had lost their homes and possessions had somehow become part of the Salvo volunteer team. That says something about the quality of care they received."
The territorial leaders acknowledged there will be a long recovery phase for affected communities and gave an assurance that The Salvation Army is committed to be part of that. It will be a challenging time, Robert said, because there are so many widespread areas that have been affected: "We are so grateful to our partners and donors for their generosity and we will allocate funds carefully to ensure the best outcomes."
With the Donaldson's in northern NSW, Assistant Chief Secretary Lieut-Colonel Winsome Merrett and Personnel Secretary Lieut-Colonel Kelvin Merrett visited the NSW South Coast. They attended evacuation centres in Ulladulla, Batemans Bay and Bega and spoke to Salvation Army personnel and volunteers about their experiences over the past two weeks during the bushfire emergency.
On the weekend, the Donaldsons toured fire-affected areas of Victoria, visiting the Bairnsdale Evacuation Centre and attending the local corps on Sunday.
Victoria
Victoria's State of Emergency was called off on Saturday night, and Salvos have begun moving into the next phase in the long journey of standing alongside individuals and families affected. 
Major Carolyn Harmer sorts through food donations at the Wangaratta Recovery Centre. Photo: Major Bruce Harmer. 
While fires continue to burn in the East Gippsland and Hume regions, Salvation Army Emergency Services (SAES) crews have been pulled back from evacuation centres due to favourable weather conditions. They are now focusing on the mammoth task of sorting and cleaning up at their base in Eltham.
"We're continuing to do the work of the Salvos and help people who are displaced, but they've started to move on in a coordinated effort [with the] government," said Captain Robert Champion, Strategic Emergency and Disaster Management Specialist.
"We've just had six recovery volunteers enter Army barracks, which are now relief centres, and they are providing practical, spiritual and emotional support as Hume and East Gippsland areas are most affected.
"We've gone in early alongside government agencies, [who] send people to us who need assistance. We help with all those little things for people falling through the cracks – like if they need fuel and need any extra support."
Bairnsdale recovery begins
The Donaldsons championed volunteers at the Bairnsdale Evacuation Centre in eastern Victoria, as long-term recovery efforts began over the weekend.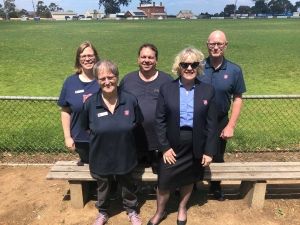 Commissioners Janine and Robert Donaldson (right) with Captain Claire Jones, Captain David Jones and Major Pat Willhelme during their visit to Bairnsdale at the weekend. Photo: Major Bruce Harmer. 
They thanked volunteers who have fed emergency services and evacuees and led the Sunday service at the corps. It was a moment of encouragement before the SAES pulled back as their services were no longer needed.
"We finished up some catering at Bairnsdale and the teams have done a wonderful job feeding hundreds of people from the community. [However] SAES activities are ongoing, as there is a massive clean-up underway, which usually happens after these events," said Captain Champion.
"We've had a lot of help from corporate partners. Woolworths has been absolutely valuable in [providing] food and water with the Red Cross, and the Australian Defence Force has been moving water to isolated communities."
Still on standby
SAES crews continue to be on standby to feed 725 emergency services personnel who have been called into Myrtleford. In the meantime, SAES volunteers will continue to assist in recovery efforts – something that every Salvo can participate in.
"Prayer support is great. Also, engage with your local Salvation Army teams and see where you can help," said Captain Champion. "Go and put your hand up and see how you can help in the long term."
South Australia
With parts of Kangaroo Island still very much alight, Salvos have partnered with the Rural Fires Service to conduct fly-in-fly-out operations and relief.
Volunteers have been working around the clock to support locals on Kangaroo Island. Photo: Mark Foyle. 
"We are on a 24/7 rotating roster, and our guys do about 490 meals a day feeding firefighters. They were actually evacuated themselves, so they've pulled back into the Kingscote airport," said Captain Champion.
"We use it as a fly-in-fly-out base, and our wonderful friends at RFS are letting us tag along so we can renew staff and keep everyone fresh."
Fires are still blazing across the state; however, the SAES is only present on Kangaroo Island. An additional team of volunteers and a truck will come across the ferry today to provide additional support. Meanwhile, SAES crews across South Australia are on standby.
Recovery efforts at Cudlee Creek
Salvos have continued to support the Cudlee Creek community after last year's fire, which destroyed more than 80 homes in the Adelaide Hills.
As some of the first responders, the SAES initially provided 24/7 support to the emergency services and evacuees. They continue to work with the community as it rebuilds.
"We have given out over $100,000 to the Cudlee Creek fire [relief efforts] to date," said Captain Champion. "It's an ongoing recovery process and there are other fires burning."
Western Australia
It's been a busy five days in Western Australia, with SAES crews called to assist at a bushfire close to the Kwinana Freeway near Baldivis, south of Perth.
SAES volunteers worked shifts around the clock to feed firefighters at the Baldivis bushfire south of Perth.
"At the peak of the emergency we were providing around 300 meals for breakfast, lunch and dinner and had a 24-hour presence at the fire-staging ground," said Ben Day, Strategic Disaster and Emergency Management Coordinator, Western Australia.
The crews are packing up this morning (Monday 13 January) and will spend time cleaning and restocking their equipment.
"We have four days of 35-degree plus weather coming up here in Perth," said Ben. "We will pack down, clean up and get all our equipment ready for whatever comes next."
A crew sent to Kalgoorlie to assist after bushfires closed the Eyre Highway has now been stood down, with the highway now open again.
New South Wales
The Salvation Army is still operational at evacuation centres on the South Coast at Narooma, Moruya and Batemans Bay. Recovery Hubs are opening in Bega, Batemans Bay and Ulladulla today [Monday 13 January], with The Salvation Army planning to have a presence in these centres to offer long-term assistance to individuals and families who have been impacted by the blazes.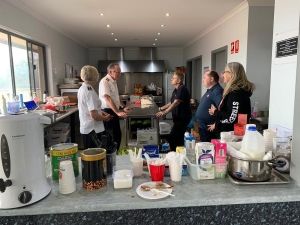 Lieutenant-Colonel Kelvin and Winsome Merrett visit the Batemans Bay Evacuation Centre on the NSW South Coast. Photo: Carol Purdie
"Many homes are still without power in these areas," said Norm Archer, Strategic Emergency and Disaster Management Coordinator, NSW/ACT. "We will keep the centres open for as long as we are tasked to."
Since September 2019, the SAES in NSW/ACT has provided in excess of 155,000 meals.
"These have been served in such a diverse range of environments and circumstances," said Norm. "From our volunteers serving firefighters from our catering trucks at fire-staging grounds, to our people partnering with other Salvation Army expressions and volunteers from the local community in evacuation centres.
"There has been an excess of 3000 volunteer shifts worked. It's been a massive effort and we need to remember that the bushfire season is still not over yet."
Recovery work has begun in many areas, including Bega on the South Coast and the Blue Mountains and Lithgow, west of Sydney.
Aux-Lieutenant Debbie Bartlett (pictured) and Captain Nichole Maxwell have been providing recovery relief in the Blue Mountains and Lithgow west of Sydney.
Auxiliary-Lieutenant Debbie Bartlett, from Upper Blue Mountains Corps, said she had come alongside many people who had been affected by the loss of a home or other damage to their property. "We've been able to assist at many different levels. Lots of people have been without power for weeks. [In one situation] a family had been without power for three weeks and they're also on tank water. So, any water that they did have left is full of ash and fire retardant so their tanks are needing to be cleaned.
"So, although their property had not been lost, we have been able to give them financial assistance so that they can do the clean-up they need to."
Debbie and Corps Officer Captain Nichole Maxwell have been attending community meetings organised by the local councils in the three local government areas impacted by the Blue Mountains bushfires to communicate with the public about how The Salvation Army can assist and connect with those affected.
"A lot of people don't want to take assistance but I've said, 'Look, when a disaster happens in Australia, Australians want to give and want to help ... think of it as a mate helping a mate, you just don't know them personally.'"
Tasmania
The threat of fires has significantly reduced across northern Tasmania, giving Salvos the opportunity to reinforce recovery efforts.
"A couple of people from Launceston went to Fingal to help in recovery efforts, but there's not really much going here [with the SAES]," said Major Brad Watson, Public Relations Secretary for Tasmania.
Last week, Salvos were able to disperse aid to communities affected by fires using the first round of donations from The Salvation Army Disaster Appeal. Meanwhile, volunteers continue to show up across the state, collecting for the appeal.