You are here:
Home › News › 2020 › 01 › 16 › Federal Government Funding Boosts Bushfire Relief Efforts
Federal Government funding boosts bushfire relief efforts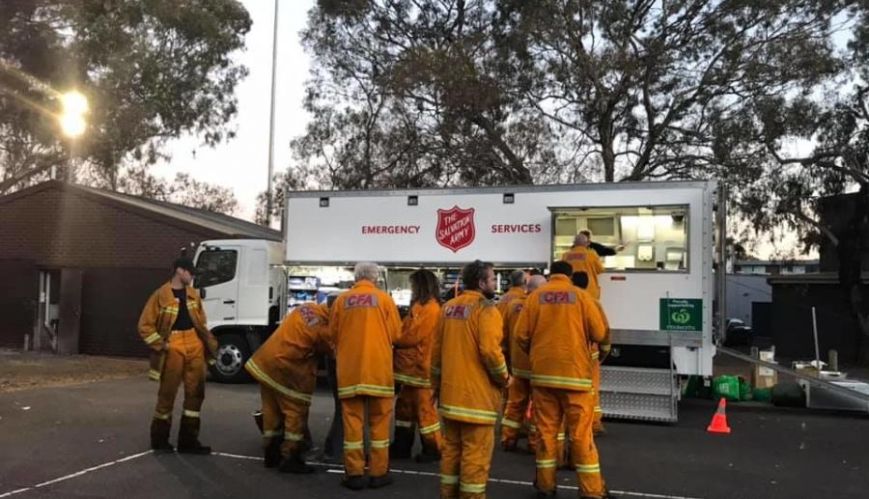 Federal Government funding boosts bushfire relief efforts
16 January 2020
The Salvation Army has prepared and served more than 225,000 meals and over 115,000 light refreshments to first responders and evacuees in the past four months.
Prime Minister Scott Morrison has announced an additional $40 million in emergency relief funding for communities directly impacted by fire, which will be administered by The Salvation Army and St Vincent de Paul Society.
A joint media release from the offices of the Prime Minister and Minister for Families and Social Services has announced that:
"For communities directly affected by fire, emergency relief funding will be increased by $40 million. These extra funds can be used for food vouchers or used to pay for a broad range of basics including utility bills, clothing and petrol.
"The funding will be primarily administered by The Salvation Army Property Trust and the St Vincent De Paul Society who collectively provide services across all affected areas who will be working with locally-based organisations to ensure access for communities in need."
An additional $10 million will be allocated to financial counselling.
The funds have been welcomed by The Salvation Army, with Secretary for Communications Lieutenant-Colonel Neil Venables telling members of the media yesterday that recovery in affected areas is expected to take many years. 
"Ten million dollars for expanded financial counselling is a good outcome and will help the long-term recovery of people who are impacted by the fires," he said. "We advised the government during consultation that this type of support was an essential part of getting people and their communities back on their feet and we are pleased that our advice has been recognised."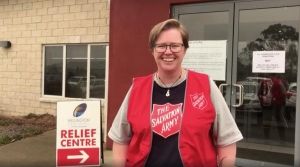 Captain Amanda Hart outside a relief centre in Victoria. 
The Salvation Army's response to the national bushfire disaster is now in its fourth month with many emergency operations moving into recovery mode.
More than $40 million has been raised since The Salvation Army launched its National Disaster Appeal on 9 November and in excess of $5 million in relief and support aid has been delivered to affected communities across Australia so far.
The Salvation Army Community Engagement and Emergency Services teams are now working with federal, state and local partners in disaster response and recovery plans to map out the steps ahead.
"With our experience in previous disasters, we anticipate a three to four-year recovery process – we are here for the long term and it is our commitment to journey with people throughout Australia," said Neil. "Funds raised during this appeal will be used.
"We will respond to crisis needs as they happen anywhere in Australia, however, we are moving our focus – along with governments and fellow agencies – towards the recovery road ahead."
Australia Territory leaders Commissioners Janine and Robert Donaldson cut short their holiday to return to Australia during the most recent bushfire emergency. In this Salvo Studios film below, they talk about their visits to bushfire-affected areas of Australia and thank Salvos for their service during the emergency.