Jayne Wilson exhibition brings community together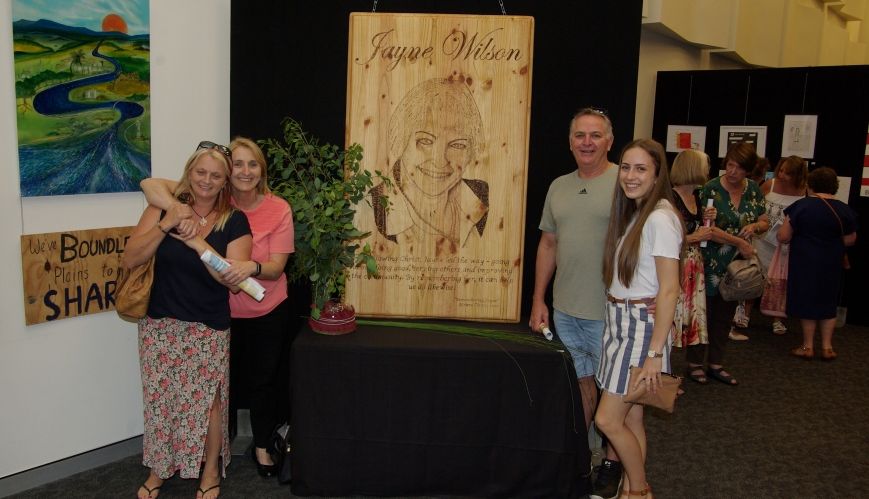 Jayne Wilson exhibition brings community together
27 January 2020
Daughter Kim McMullan (second from left) and other family members in front of an artwork depicting Jayne Wilson at the exhibition in Wollongong.
By Dean Simpson
The theme of 'Community' was on full display at the opening of the sixth annual Jayne Wilson Memorial Arts Competition and Exhibition at Wollongong Salvation Army on Thursday night.
The exhibition, the largest of its kind in the Australia Territory, this year received about 70 entries, ranging from paintings and drawings to sculptures and a musical composition. A different theme is chosen each year, and anyone is invited to submit a creation reflecting that theme.
The exhibition honours the legacy of Jayne Wilson who, in 1996, established the First Floor Program in Wollongong (NSW). The Jesus-centred program is a holistic and family-inclusive counselling and support service for those impacted by alcohol and drug misuse, mental health issues, trauma, grief and loss.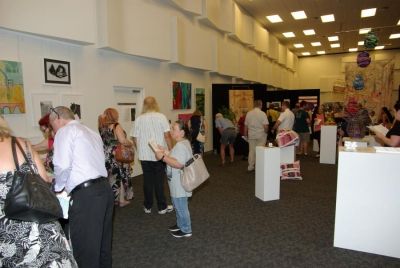 More than 100 pieces of artwork are on display at Wollongong Salvos.
Jayne, who passed away on Christmas Day 2013, often used artwork activities in the support and counselling groups she ran and was an artist herself.
Kim McMullan, one of Jayne's seven children, spoke at the opening ceremony and touched on what the word 'community' meant to her mother, who would have turned 75 yesterday.
"For mum, community was about 'doing life' with each other … about sharing experiences, building relationships, accepting difference, looking out for each other, open arms, warm smile, loving touch, comforting and reassuring words," Kim said.
"Community is one's village of support, which is the underpinning philosophy of the First Floor Program and her legacy.
"Mum would be in awe of the amazing artworks that have been created over the last six years in her memory."
More than 80 invited guests attended the official opening in the foyer of Wollongong Salvation Army before moving into the main auditorium for a viewing of the works.

MC for the evening was Neil Webster, founder and director of Santa Fest Wollongong, an organisation which raises funds for charities and services like the First Floor Program.
Neil also announced the winners of the Wilson Family Awards for works best representing Jayne's personality, life and legacy, and the 2020 theme of 'Community'.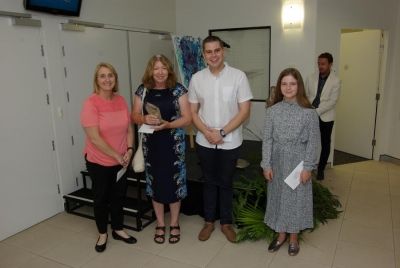 Kim McMullan (left) with Wilson Family Award winners – Robyn Clements, Connor Hutchinson and Zahra Freeman.
Presented by Kim McMullan, the winners were:

Child: Zahra Freeman, for her work 'Helping from the Hospital'.
Youth: Connor Hutchinson, for a musical composition, 'Radiance', which is played as people view the artworks. To download Connor's composition click HERE.
Open: Lisa Pratley, for her pencil drawings, 'Wrinkles', 'Unbearable', 'My Ride', 'Lying in Wait', 'Little Tabby' and especially 'Blue Eyes'.
Robyn Clements' painting, 'Flying High', received the inaugural Spirit Award, selected as the work that best captures a spiritual aspect of the 2020 'Community' theme, and Jayne's spiritual connection.
The People's Choice Award will be presented on 2 February during the 10am service at Wollongong Salvation Army.

The featured artist for this year's exhibition is 13-year-old Aidan Campbell, a student of Woonona High School, who has 24 abstract paintings and wood creations on display.
"Creating art comes naturally to me and I'm inspired by my feelings, which come out in my art. I've got a studio out the back of my place and that's my favourite place," he said.
The theme for the 2021 exhibition, 'Stronger', was also selected at the official opening.
The Jayne Wilson Memorial Arts Competition and Exhibition is open daily from 10am-3pm until Monday 3 February at The Salvation Army, 11-13 Burelli St, Wollongong. See First Floor Program Salvation Army on Facebook for further information.