Standing as one on 26 January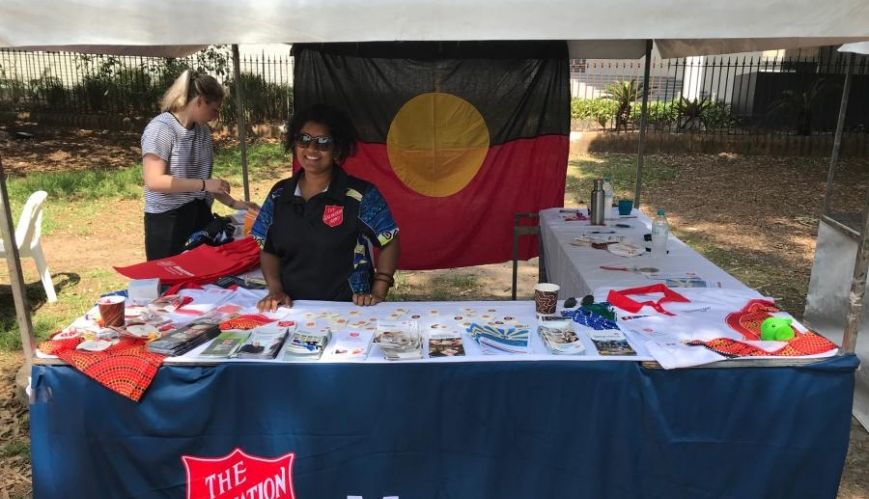 Standing as one on 26 January
28 January 2020
The Salvation Army Financial Inclusion Project Officer Seema Sanghi at The Salvation Army stall at the Aboriginal and Torres Strait Islander Yabun Festival in Sydney on 26 January.
By Lauren Martin
The Salvation Army has had a presence at the Yabun Festival in Sydney, the largest one-day gathering and recognition of Aboriginal and Torres Strait Islander cultures in Australia, held on 26 January.
The free event and music festival is held on the traditional lands of the Gadigal people in Sydney at Victoria Park. Various expressions of The Salvation Army united to have a stall at the marketplace, where more than 200 people stopped for a chat and to find out more about the Army's services.
Representatives from many of The Salvation Army's inner-city homelessness services attended, as well as Moneycare financial inclusion and counselling service and the Army's safe house for women who have experienced trafficking or slavery in Australia. The stall was supported by The Salvation Army Indigenous Ministries and Doorways.
Organiser Seema Sanghi, The Salvation Army Financial Inclusion Project Officer, said it was important to be at the event: "A lot of our clients are Indigenous, and [by being at Yabun] we can show that we support reconciliation. We want to walk alongside Aboriginal people and deepen our relationships and make sure that our services are culturally appropriate."
Seema said Moneycare's free moneyboxes and fake 'money' was a hit with the families. The paper 'money' has a space on the back for writing a shopping list, and Seema said they were able to talk to people about the importance of budgeting and meal planning. "On the back, it says that when you go shopping, only buy what's on your list and always have a list."
They were also able to speak about Moneycare's free 'You're the Boss' financial coaching program and hand out resources from other Salvation Army expressions.
Joshua Singh, a support worker at The Salvation Army Foster House, said the event was a positive way to get to know other service providers. "It's been so good to speak to all the Aboriginal-specific services. I'm confident these contacts are going to enrich our services."
It's the first time The Salvation Army has had a stall at Yabun and already organisers have ideas about how to make it even more effective next year.