Warm welcome gets new cadets underway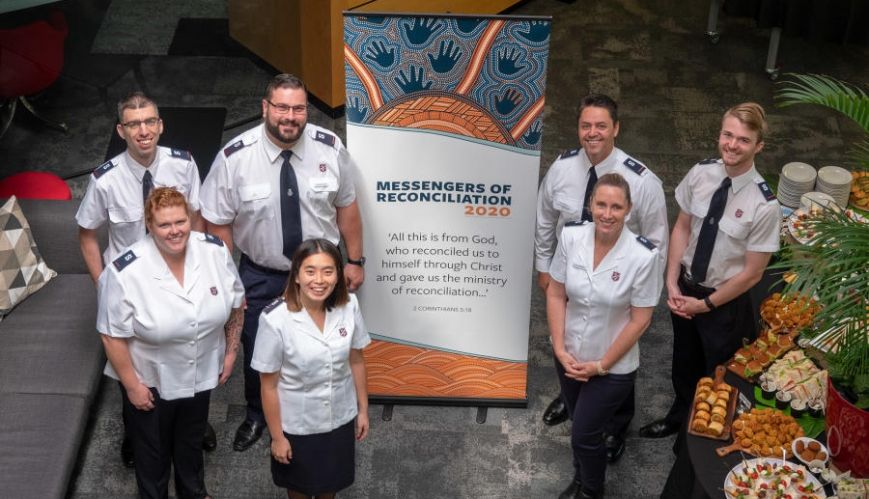 Warm welcome gets new cadets underway
11 February 2020
A service has been held to officially welcome the cadets of the Messengers of Reconciliation session. Back row from left: Shaun Featherston, Keven Williams, Anthony Bezzina, Ryan Matulick. From row from left: Renae Phillips, Crystal Lee and Nicole Bezzina. 
By Christopher Trodden*
There was a buzz in the air as family and friends gathered to support the Messengers of Reconciliation 2020 session of cadets at their official welcome service at Eva Burrows College in Melbourne on Sunday 9 February.

Commissioners Janine and Robert Donaldson (Territorial Leaders) and Colonels Kelvin and Winsome Merrett (Chief Secretary's office) attended the service, which was held to honour God and give the seven cadets a supportive start as they begin their journey to entering full-time ministry as Salvation Army officers.

A number of people took part in the opening part of the service, including a worship segment led by Captain Sonia Jeffrey, a time of prayer led by Winsome, and an introduction by Janine, who infused the cadets with a sense of optimism and hope in speaking about the blessings of ministry and the boundaries needed to flourish in a life of serving others.

Kelvin's message involved a devotion on the privilege of ministry, sharing many stories of divine appointments – those moments when God is clearly working ahead of you. "People won't necessarily remember what you say, but they will remember that you were there in their time of need," he said.

There was input from ongoing cadet Wayne Collyer and new cadet Renae Phillips, who both spoke from the heart.
In welcoming the cadets, Wayne encouraged them to make the most of their individual training officer (ITO): "Your ITO is your best friend – they will help guide you through the good days and the tough days. I cannot recommend them highly enough to you."
Renae gave her testimony, focusing on the spiritual journey she had taken in accepting the call to officership. "Over the years it was like I was collecting puzzle pieces; when enough of them came together, I knew officership was the picture that God was revealing for my life," she said.

The Territorial Commander shared an insightful message about the deep work the Lord does in the life of each of his children. "The Lord's refining fire lasts just long enough to cleanse us of our struggles, but never too long as to damage us. Malachi 3 tells us that it's in these fiery trials that we call out to him, and he answers us. It's about relationship," Robert said.

The Messengers of Reconciliation session of cadets: Anthony Bezzina (Miller Corps, NSW/ACT), Nicole Bezzina (Miller Corps, NSW/ACT), Keven Williams (cadet-in-appointment Eastern Beaches Corps, NSW/ACT), Renae Phillips (Adelaide Congress Hall, SA), Shaun Featherston (Hobsons Bay, Vic), Crystal Lee (Rockingham Corps/Perth Fortress Corps, WA) and Ryan Matulick (Adelaide Congress Hall, SA). 

* Christopher Trodden is The Salvation Army's Campaign Manager for Officer Recruitment in the Australia Territory.