Elaine finds hope in the heart of the blaze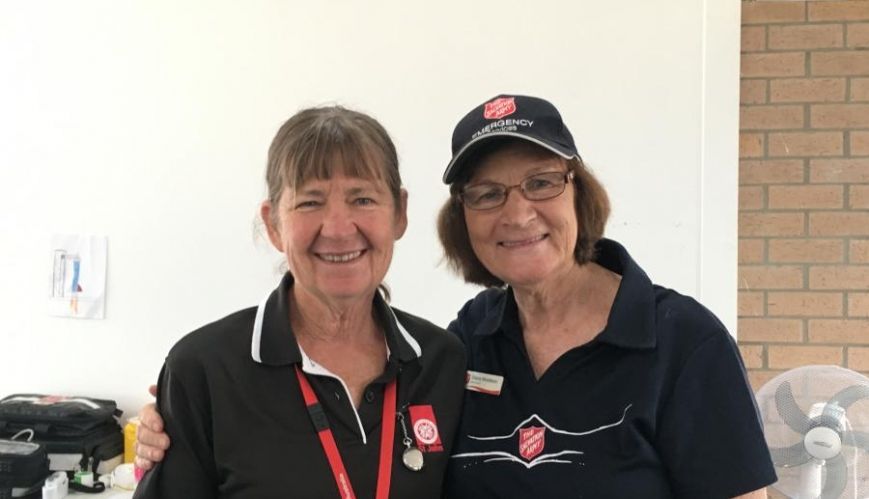 Elaine finds hope in the heart of the blaze
19 February 2020
Salvation Army volunteer Elaine Middleton (right) with Trudy from the Ku-Ring-Gai St John's Ambulance Service.
Late last year, Salvation Army soldier Elaine Middleton, from Port Stephens on the Hunter Coast north of Newcastle, put up her hand to help feed firefighters and other emergency services personnel during the bushfire crisis in Northern NSW. Little did she realise that she would volunteer in this capacity, up and down the East Coast of Australia, for many weeks to come. She shares her experiences for Others Online*.
At church, our corps officer asked for volunteers from the region to go to Glenn Innes in northern New South Wales for a couple of days to join The Salvation Army Emergency Services (SAES) team to support the firefighters and other emergency workers. I was driving home and God made it really clear that I should go. It just hit me very strongly.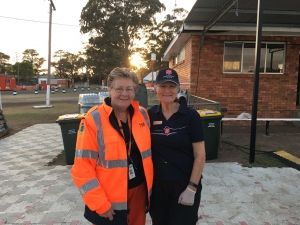 Elaine Middleton (right) met so many people from other emergency services, including SES volunteer Pam, during her weeks of volunteering with The Salvation Army during the 2019-20 bushfire crisis.
I spent the first week serving in the mess tent. There were often more than 200 emergency workers for each meal and we also made packs for them to take away. It was very intense and extremely tiring! 
After four days I was due to go home. I thought about the next SAES group coming in and thought maybe I could just stay and give them an extra pair of hands. And I really believe God gave me (and all of us) extra strength.  
After the first block of days, I worked with the chef from Coffs Harbour Salvation Army – a wonderful man. He taught me a lot and I was enjoying the cooking. For breakfast one morning, we were expecting 300 firies and others.   
They were hungry. They'd been out all night. They were exhausted. In our hearts, we weren't just feeding them but hoped we were nurturing them in some way too.  
I ended up going up and down the East Coast of Australia for months, helping with the SAES. We had a police escort out of Old Bar, and I went to assist at the Martin's Creek fire, the Wollombi Fire and at Batemans Bay on the South Coast as well.
At one stage, an SES (State Emergency Services) leader came in and I said to him: "You are heroes, our hearts are with you", and he hugged me and had real tears in his eyes.  He said, "But we couldn't do it without all of you!"    
Working with other Salvos was wonderful. They just rolled up their sleeves and they were into it. They did whatever they could for anyone, at any time, and I was really proud to wear the Salvos t-shirt. They were long days with little sleep, but we were needed and appreciated.  
There were so many others giving everything they had. There were so many emergency teams – State Emergency Service, Rural Fire Service, St John's Ambulance and many more – volunteers from all over Australia and even New Zealand and North America. 
It absolutely gave me a whole new appreciation of the emergency services. I'm in awe of them all. They were risking their lives to save people, to save homes and to save towns. It was beautiful to help serve them and others.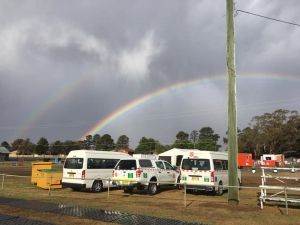 Elaine took this image of a double rainbow while volunteering with The Salvation Army Emergency Services (SAES) at a fire-staging ground in NSW.
I have a Christian faith and come from a strong Christian family. My beautiful mum and grandparents had real faith. We have all seen many miraculous answers to prayer in our lives and over generations.  
Many years ago, my darling grandfather had a terrible accident at work. He was pushed off a big printing press and  landed three floors down. He broke nearly every bone in his feet. A year after that he developed cancer of the bone.     
My grandmother told me that a lovely Christian Salvation Army man would drive Pop from Greenwich (NSW) to St Vincent's Hospital for therapy and stay for hours and take him home. It went on for a long, long, time. He was a great support to both my grandparents.  
Later, I began to worship with The Salvation Army. I instantly felt loved, embraced and at home. I'm so grateful and honoured to have been able to help in some way with the SAES. It was amazing. I can't give much financially, but I can give my time. And really, I got back much more than I gave.     
I think the biggest thing about helping others is that you forget about yourself and your problems.  When you go out and give financially, or with time and effort, the rewards and satisfaction you get are greater than anything you give.  
The experience helping during the 2019-20 bushfires has had a huge impact on my life. The incredible people fighting the fires, giving all of themselves, and the immensity of it all, was just amazing!  Being able to support them has changed me forever.
* As told to Naomi Singlehurst