Tamworth turns the sod on drought relief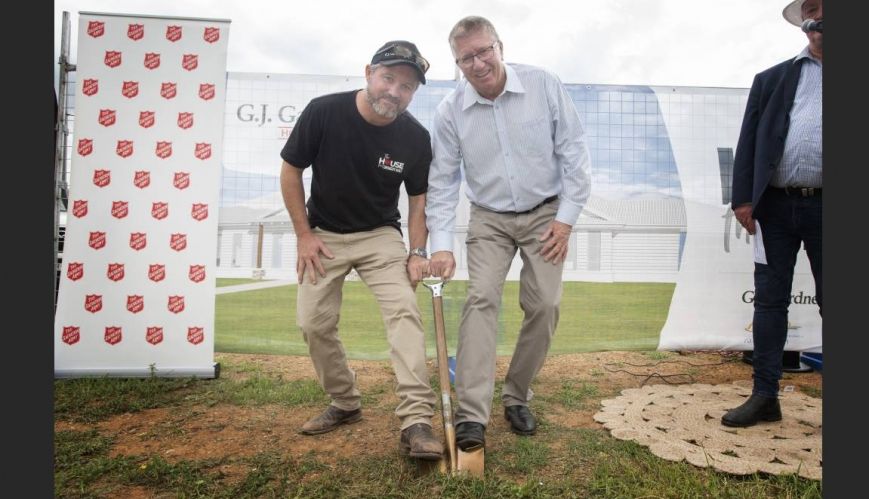 Tamworth turns the sod on drought relief
26 February 2020
G.J. Gardner Homes Tamworth director Daniel Urquhart (left) and Tamworth Mayor Cr Col Murray turn the first sod, signalling the start of construction on 'The House That Drought Built'. Photo: Peter Hardin (courtesy of Northern Daily Leader)
By Jessica Morris
The Northern NSW city of Tamworth and surrounding townships have been hit hard by drought, but locals are breaking new ground with an exciting project that will support farmers through this challenging time.
'The House That Drought Built' – a collaboration between The Salvation Army, G.J. Gardner Homes (Tamworth), McCloy Group, Tamworth Regional Council and PRDnationwide – will see the construction of a luxurious 299.5 m² property in the prestigious Lampada Estate, just 5km from the Tamworth CBD.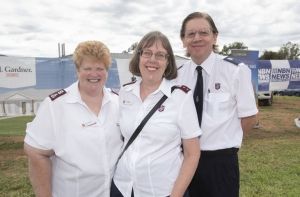 Salvation Army representatives at the sod-turning ceremony (from left) Julia Metcher, Harriet Farquhar and Dave Burbidge. Photo: Peter Hardin (courtesy of Northern Daily Leader)
The project was officially launched last weekend with a sod-turning ceremony. Over the coming months, building contractors and suppliers from the local area will be invited to support the house construction by donating their services to create a beautiful Hamptons-style family home, complete with three living areas, four bedrooms, an alfresco kitchen and windows that 'bring the outside in'. There's no doubt it will be a hot-selling property!
'The House That Drought Built' will be auctioned in July with all proceeds going to the Salvos' Rural Drought Relief program, providing much-needed financial assistance to farming families.
Nicole Jenkinson, Public Relations Manager for The Salvation Army in Hunter, Central and Mid North Coast, said the project was uniting the community.
"'The House That Drought Built' will provide a considerable injection of funds into the Rural Support program, which will allow us to extend this critical assistance to farmers in the Tamworth local government area," she said.
A render of 'The House That Drought Built', showcasing the property that will be sold in July, with proceeds going towards The Salvation Army Rural Drought Relief program in Tamworth and surrounding regions.
"It's extraordinarily generous community initiatives like this that make a positive and meaningful impact on the lives of so many."
Natalie and Daniel Urquhart, owners of G.J. Gardner Homes, Tamworth, came up with the concept after recognising the detrimental impact the drought was having on their community. Daniel said he and Natalie saw it as an opportunity to make a difference.
"The ongoing drought is putting community resilience to the test, but this challenge is bringing out the very best in people," said Daniel.
"The project partners – McCloy Group, PRD and Tamworth Council – were quick to come on board to lend their support and I feel certain that the rest of our community will also get behind this exciting project.
"We're very proud that the 'House That Drought Built' will be a community-wide initiative and we know that together, we'll create a home that is genuinely life-changing!"