Victorian Salvos host a day of fun in the sun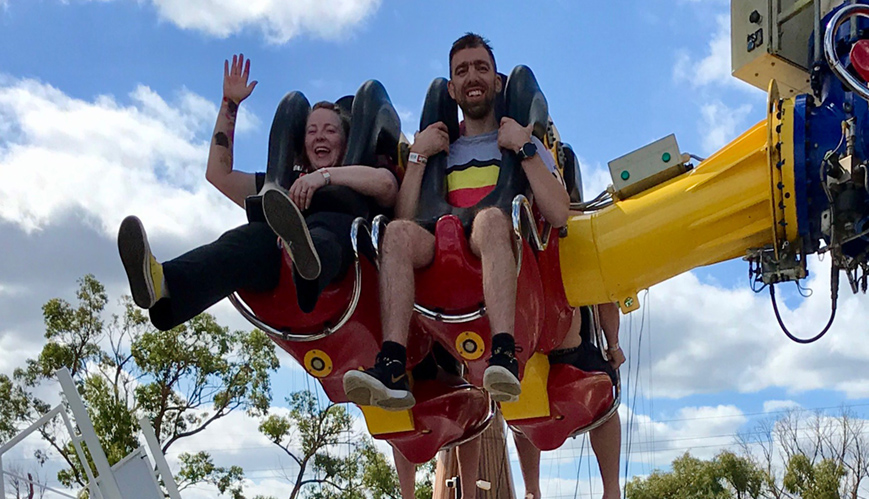 Victorian Salvos host a day of fun in the sun
16 March 2020
Victorians connected to various mission expressions of The Salvation Army enjoyed a day of thrills, spills and water fun at the Gumbuya World amusement park.
By Jessica Morris
Families affected by the 2019-20 Australian bushfire disaster were among hundreds of people invited to attend The Salvation Army 'Community Fun Day' at Gumbuya World amusement park in Victoria's West Gippsland. 
Issac Mead and Naty Keung keep everyone hydrated during the Community Fun Day at Gumbuya World. 
More than 700 people who are connected to a variety of Salvation Army mission expressions gathered at Gumbuya World in Tynong North for a day of fun, sun and community-building on Saturday 7 March.
The day included families experiencing hardship and disadvantage, communities affected by the bushfires, retired officers, corps members and various youth groups, all with the goal of creating a more inclusive and diverse community.
"It was an opportunity as a division to support corps," said Lieutenant-Colonel Debra Stevens, Assistant Divisional Commander of Victoria. "It really is a gift for them to spend time with people to build relationships – that's how people going to come to know Jesus and connect – through relationship. 
"It's actually about looking right across every stream of Salvation Army service [exercising the] local mission delivery model of holistic care," she said.
Busloads of people travelled from as far as Bairnsdale to attend the event, which encouraged people connected with Salvation Army expressions to bring their wider family to the day.
While the event was spawned from Kids Fun Days run by the children's mission support stream, a collaborative effort between all mission support streams in the state meant it was opened up to multiple generations.
"The whole mission support team – all ages and stages, along with worship arts and inclusion – worked together and thought, 'Wouldn't it be better if we did something that was more focused on the whole family?'" said Debra.
"We are really concerned about the family unit. From an inclusion perspective, a lot of cultures don't split up family. Family is God's building block of society and we realise families are all kinds of makeup, so we came up with the idea of using 'community' to broaden the scope to support families."
The event was made possible through the generosity of Gumbuya World, which discounted ticket prices for attendees, ensuring children from Summer Camp and bushfire communities entered for free.
"This is exactly what we want to do! To think broader, think differently," said Debra.
"So many people thanked us. We want kids to have a broader connection with other generations and for them to be supported and loved."
Watch a video about the day here.