Des honoured for 88 years of banding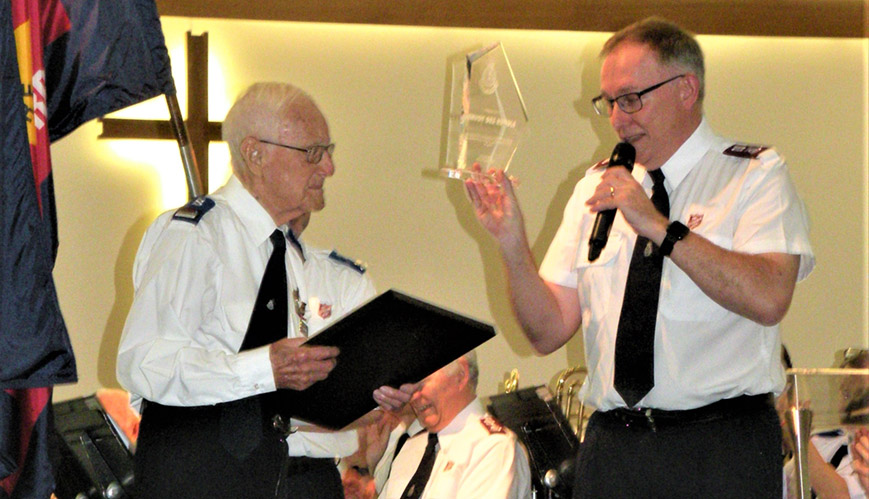 Des honoured for 88 years of banding
24 March 2020
Envoy Des Rundle receives a Certificate of Appreciation and plaque for 88 years of banding service from Major Peter Walker at Ringwood Corps in Melbourne.
By Jessica Morris 
Envoy Des Rundle from Melbourne's Ringwood Corps has just retired from brass banding – after 88 years of service.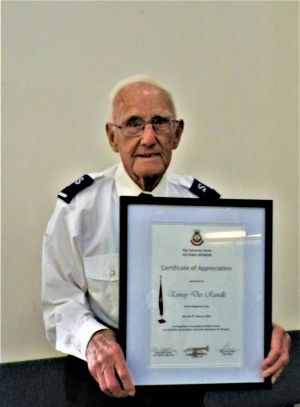 Envoy Des Rundle, with his Certificate of Appreciation, is a true Everyday Salvo!
It's not a bad effort for the 96-year-old – not that Des would blow his own trumpet, of course.  
"My favourite part of brass banding? All of it!" he says. 
"I enjoyed it when I learned from my first bandmaster, Arthur Gullidge [noted Salvation Army composer], when I was only young at Brunswick. But I've been in the Brunswick and Malvern bands, then Ringwood, since 1965. And then I joined the Red Shield Band with Noel Jones as the bandmaster." 
Des, who was predominantly a cornet player, was recognised during a special presentation at his corps on Sunday 9 February when Ringwood Corps Officer Major Peter Walker awarded him a plaque. In a full-circle moment, the corps band, led by bandmaster Mark Hamilton, played the late bandmaster Arthur Gullidge's 'Divine Communion' prior to the meeting.
"I was born into The Salvation Army. My grandfather was an officer and my father was a bandmaster," said Des.
"Arthur used to come to our place for meals every Sunday before he was married – we had a fair bit to do with him then. I was only a youngster." 
Des won't speak about his achievements without some prompting – but ask his fellow corps folk about his contribution and you realise that Des doesn't just have a heart for music, he has a heart for others. 
"He's a source of inspiration to us," says Peter. "Des models what it means to be a Salvation Army soldier and a disciple of Jesus Christ." 
That discipleship has led him to serve in multiple ways over the years. He worked as the centre manager at The Salvation Army Bayswater Convention Centre (now Boronia Corps) for many years, running camps for youth in the region.  
And after his 'retirement' in 1996, he and his late wife June spent time travelling to Salvation Army children's homes in Indonesia. Starting at The Salvation Army Denpasar Girls Home in Bali, they also began visiting the Bali Boys Home. Back at home, they would often fundraise for the children.
"Des is a real grandfather figure [at Ringwood]," says Lieut-Colonel Ian Southwell. "He's been a very faithful Salvationist for many, many years. He enjoys being in the Army." 
Here's to you Des! Thank you for modelling what an 'Everyday Salvo' looks like for 96 years. 
Ringwood Corps recently had its 100th anniversary. Unfortunately, celebrations had to be postponed due to the current situation with COVID-19.