Self Denial Appeal altar service to go digital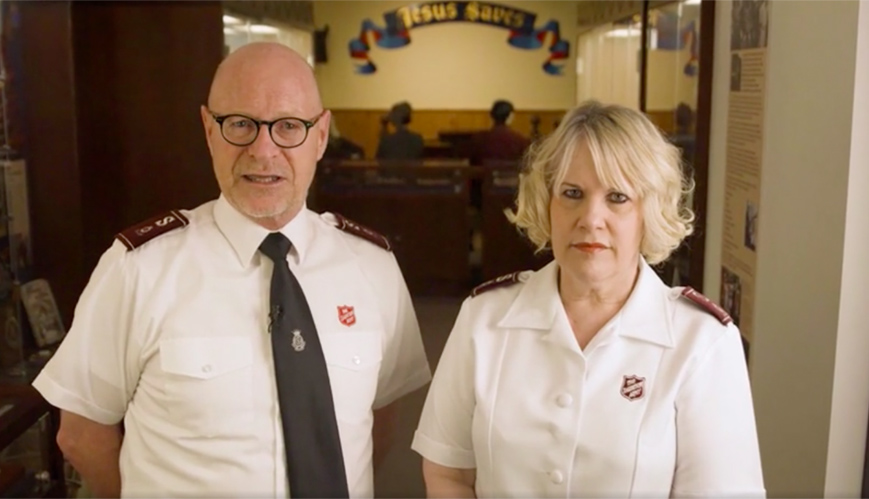 Self Denial Appeal altar service to go digital
25 March 2020
Commissioners Robert and Janine Donaldson are encouraging Salvos to prayerfully give online to this year's Self Denial Appeal.
For the first time, The Salvation Army in Australia will hold a 'digital altar service' for the Self Denial Appeal this Sunday.
Week six of the Self Denial Appeal series normally sees Salvationists and supporters give a sacrificial gift at their Sunday altar service. However, with the temporary closure of public meetings across Australia due to the COVID-19 crisis, people are now being urged to give their gift online.
"We have found ourselves in extraordinary times as we self-isolate and find ways to communicate as a corps family and as a wider Salvation Army," said Commissioner Robert Donaldson.
Most people will have planned their sacrificial gift [for the Self Denial Appeal] and may be wondering how to give when there are no church services. The Self Denial Appeal team has set up an SMS platform that will communicate with thousands of Self Denial supporters via a text message. This will point people to the website selfdenial.info where they can offer their sacrificial gift.
The text message will also ask people if they would like to receive a personal call to help complete their gift. If they reply 'yes', they will then receive a call within 24 to 48 hours. 
Funds raised by the Self Denial Appeal play a fundamental role in supporting the mission and community development work of The Salvation Army in developing countries around the world. This year's campaign has followed the theme of 'Love Beyond', focusing on the Army's work in countries including Myanmar, eSwatini, Papua New Guinea and Greenland.
Salvationists and supporters are encouraged to engage with their local church's live-streaming and to watch the Week 6 message from our Territorial Leaders, Commissioners Janine and Robert Donaldson, including worship with Louise Mathieson here.
"By now you have prayerfully considered your support of the Self Denial Appeal," Robert says on this week's video.
"As Jesus reached out to people at his own expense, he urges us to do the same. Together we can show Love Beyond."
WAYS TO MAKE YOUR SACRIFICIAL GIFT
●  The Self Denial team will send an SMS on Sunday 29 March (9am-11am in local time zones). Recipients just need to follow the prompts.
●  This weekend and during a number of live-stream services, a special video introducing the digital altar service will be played. This can also be shared on social media pages.
●  People who do not receive a text will still be provided with a pathway to receive a personal call or make an online gift.
●  Go directly to selfdenial.info to donate. Click on the red 'donate' button on the top right of the page and follow the steps. Remember to select your corps.