An Army in touch with its creative side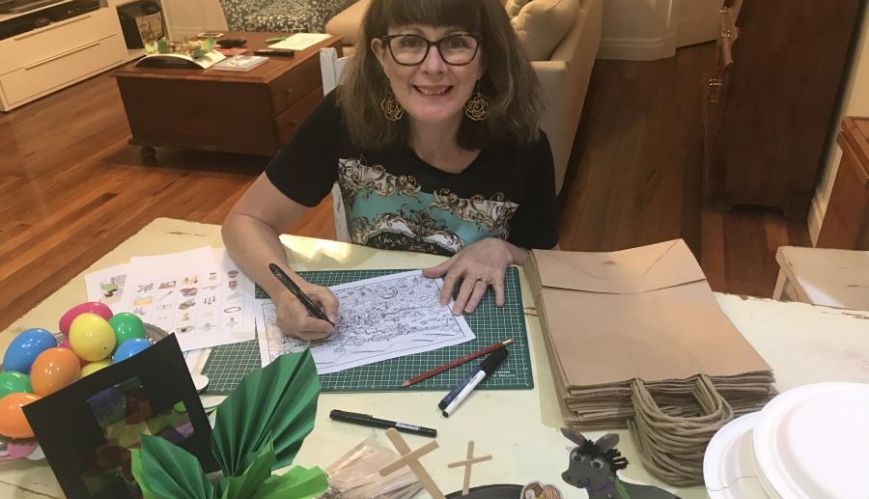 An Army in touch with its creative side
4 April 2020
Nerylie Whitecross from Stafford Corps working on Easter resources.
By Darryl Whitecross
With the COVID-19 pandemic sweeping Australia, The Salvation Army has called on its people to become creative and resourceful in the way they present mission in corps and centres across the country.
From 'church in a box' delivered to people's front doors to online puzzles and projects, corps, missions and centres are getting in touch with their creative side.
While many are using social media or online video platforms to upload helpful and encouraging messages, prayers and images, others are coming up with creative ideas to keep people kingdom-focused in these times of social distancing and isolation.
Some of the online resources are not necessarily theology based, but range from cooking tips for making healthy meals – many with the most basic of ingredients – to helping learner drivers with their theory questions, and hosting "watch parties".
In the 'three-dimensional space', there is 'church in a box'. These are being targeted at all ages. The packs contain a number of things from Bible verse cards to little craft projects for children – even chocolate!
Care teams are springing into action across the country, too.
At Mandurah, Corps Officer Captain Scott Ellery said corps members were pounding the pavement, doing letterbox drops of newsletters, important information, magazines and devotional readings to others corps people who don't use computers or mobile telephones.
At Stafford Corps in Brisbane, Sunday school leader Nerylie Whitecross has come up with a resource pack to help children of all ages cope with not being able to attend church each week. These resources are posted and updated on the corps' website www.salvationarmy.org.au/stafford and facebook page https://www.facebook.com/stafford.salvos
Nerylie has designed several interactive resources which can be used anywhere in the country. They include a 'Where's Wally'-type drawing and an Easter game where, each day, parents of children in the Brisbane northside faith community are sent, via SMS, a picture which they match with the image on their game card. The first child to match all images correctly on their card and SMS Nerylie their name will win a mystery Easter prize.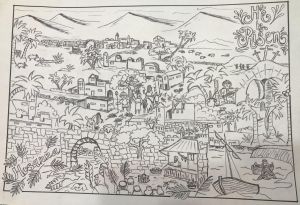 Nerylie's Easter 'Where's Wally'-type drawing for her Sunday school class.
The 'Where's Wally'-type game – which she has called Where's Jesus – involves a combined picture of a number of Easter tableaux, which Nerylie drew herself. The children are given the list and number of items to find in the picture. Again, the first person to SMS Nerylie to say they had located all the images wins a prize.
Nerylie has also designed an Easter pack, which people can pick up from the corps centre at their convenience. She said there was no reason why the wider Salvation Army community could not use her ideas to benefit the children at their corps or centre.
Kidzone magazine https://www.kidzonemag.com.au/ also has some Easter resources for children.
At Perth Fortress Corps in Western Australia, youth group leader Juanita Reynolds and her team have produced a colourful challenge card. 
Juanita said her 20-strong youth group was encouraged to take on a minimum of five of the challenges individually while the social distancing restrictions were in place. Each time the person completes five of the challenges, they receive a prize. They need to post online a picture or some type of authentication to show they had completed the challenge.
The challenges include picking up an item from the shops for someone who is unable to do that, posting a meaningful Bible verse on a social media page, making a crossword for people to complete, and "patiently helping" someone improve their use of technology.
Juanita said already the wider corps family had noticed the challenge chart and were becoming involved with it, too. The challenge chart can be viewed on the corps youth facebook page: https://www.facebook.com/Perth.Fortress.Youth/
The Salvation Army has many other resources available online which can be downloaded to use to teach and entertain children in their Christian walk. To get access to those resources, log on to facebook and ask to join the Corps Leaders Resource Network https://www.facebook.com/groups/404497423485063/ group.
At Taree, on the Mid North Coast of New South Wales, Major Jennifer Stringer has her pencil poised to create some locally drawn artwork for the kids of her corps to colour in.
Taree Corps Officer, Major Sandy Hogg, said Major Stringer, a former schoolteacher, was gifted in the creation of all kinds of arts and crafts and had agreed to create some unique art to put online for children to colour in.
Major Hogg said that, each week as part of the worship service, the children were given something to colour in. Now that meeting together to worship has been postponed, this had moved to the online space.
In Port Augusta, on South Australia's Spencer Gulf, Salvation Army community engagement officer, Tenille French, is running a project where people in the city are given a 10cm x 10cm piece of cardboard, balls of different coloured wool and some glue, and invited to do something unique with it.
 Tenille French and some balls of wool for the community montage.
Tenille said that, once the restrictions were lifted and the community centre could function again, the designs would be collected and joined together to create a huge montage "as a memorial to the time that was the coronavirus".
Along with co-ordinating the wool community art project, Tenille is putting together care packs for distribution to people who are regulars at the centre. The packs include a letter outlining what was happening in the world of social distancing and isolation, Easter-themed cards and craft, a recipe, some toilet paper, information on how to ensure they took care of their mental health while having to remain indoors and isolated, and packets of seeds which can be planted as a reminder of the current crisis.
"I'm hoping to have a pack delivered every Tuesday," Tenille said. "I'm wanting them to still feel part of our community even though they're not coming in."
Others magazine has also launched a page on its online site where readers can click a link to our stories to share section.