Cyber services reaching community for Christ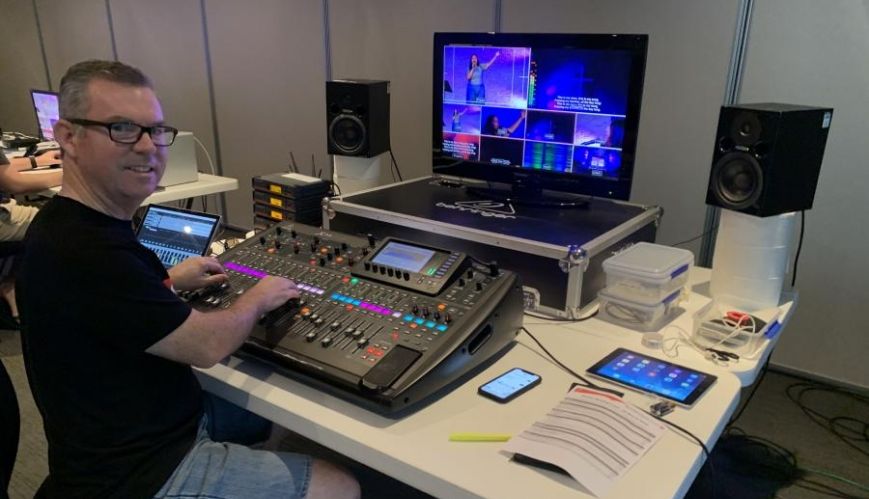 Cyber services reaching community for Christ
8 April 2020
North Brisbane AV team member Andrew Strange at the console to produce live-streaming worship online.
By Darryl Whitecross
The beauty of the worldwide web and all things cyberspace is the far-reaching effects many and varied online posts are having.
Corps, missions and centres across Australia and the rest of the world are increasingly using the internet to continue the mission of The Salvation Army during times of lockdown and social isolation in the wake of the COVID-19 pandemic – and are reaping kingdom rewards.
This presence is having a positive effect on not only Salvationists and people already privy to this online presence, but to people who are discovering Jesus Christ for the first time.
North Brisbane Corps in Queensland is one such corps that has had a number of people join faith conversations online, after it stepped up its live-streaming of worship as COVID-19 restrictions tightened.
Corps Officer Major Craig Todd said that after each of the online services an online chatroom was set up for people to talk about the sermon or go deeper in their faith. About 25 per cent have been Salvationists not attached to the corps, but a number of people had responded to the opportunity to send their name via SMS to a dedicated number. A member of the corps ministry team has then contacted them and walked them through wherever they were on their 'journey of faith'.
"There is nothing worse than preaching a sermon and preaching salvation but don't make it easy for someone to accept Jesus. If you've got to figure it out on your own, in your own home, it can be a bit tough," he said.
Craig said his technical team had enjoyed rising to the challenging of the constantly changing landscape that government restrictions put on them.
North Brisbane Corps has recorded its services for more than 10 years, but the situation now required "something more significant".
Craig said that, originally, the corps recorded services with a single camera on a tripod at the rear of the hall. Today, it is far more technologically advanced: "They never taught us at college to use teleprompters!"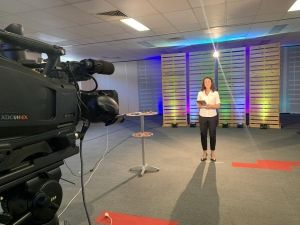 North Brisbane Corps Officer Major Donna Todd steps in front of the camera to stream worship online.
"It's something we've been doing well for three to four years, then this (COVID-19 restrictions) came along and we had to go to a whole new level," he said.
Craig said the corps' live-stream services had always had a wide audience, mainly from within its congregation (people travelling the world or the country on holiday) but the people being reached in the current situation had gone outside that.
He said a priority of the corps was to remember that its online presence was to help all people "feel connected." Salvationists in remote parts of Australia would log on and watch the service so they felt part of "the bigger army", he said. "We have about 25 different nationalities worship at North Brisbane so, if there was a baby dedication or a junior soldier enrolment, it was great for family members from other parts of the world to wake up in the middle of the night to watch (those events)."
About three years ago, North Brisbane upgraded its camera system and, with the technical team having the skills and funds to do a top-quality presentation, began to encourage its preachers and worship leaders to also acknowledge its online audience when welcoming the congregation.
"Probably, the really big thing to note is that every week so far, we've had to wrestle with changes as the government directives came out. Every Tuesday, with our tech guys and worship team leaders it is: 'OK, thinking caps on. How do we make this work?'" Craig said.
"They've actually enjoyed rising to the challenge. As we've seen our audience grow across the whole country or across a wider audience, it has fuelled them on to succeed. They have a mission mindset to make this work," he said.
Keeping it simple at Craigieburn
Captain Peter Brookshaw, Corps Officer at Craigieburn in the outer northern suburbs of Melbourne, said the aim of his online services was to "keep it simple and authentic".
"We are not seeking to create a production that is on par with the big Pentecostal church down the road," Peter said. "We want to keep it 'live-stream' and not just pre-recorded because we love the engagement we are getting from our local church community.
"It has been great to see the community engagement during the service. That authentic community engagement has been really valuable for us."
He said his corps aimed to replicate online what the conversations and engagement over a cuppa in the foyer of the church achieved on any given Sunday.
The Craigieburn experience has been that it is not only corps folk tuning in to the telecasts and other posts but people well beyond his faith community; many from interstate and those loosely connected with a church and groups of 10 are attending virtual small groups where, previously, in a physical meeting that was closer to five.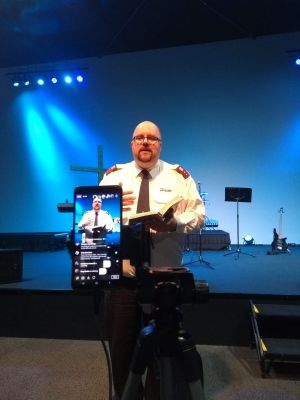 Craigieburn Corps Officer Captain Peter Brookshaw in focus.
Peter said people were struggling in the community far more in the present situation and were reaching out to the Army in a way they previously had not: "Some are losing their jobs. Others have already got mental health challenges ... and, all of a sudden, their anxiety levels are through the roof. They have tuned in and heard a word that has given them some peace in the midst of all of that."
"There's a lot more people online than there used to be and they see that there's lots of people engaging with our service and it comes up on their Facebook feed and they tune in.
"People are engaging primarily through our Facebook page through comments and private messaging and the occasional SMS. The engagement online works for us but it's not going to work everywhere. It's not a one-size-fits-all."
United in online mission
The Mission Support Department's Faith Communities Development Secretary, Major Sandra McLean, said The Salvation Army was well-placed to continue to provide a "slick and professional" presence across the online platform.
Sandra said she was part of a national peer group of six corps across the country, including North Brisbane and Craigieburn, which had been either involved in live-streaming of services well before the COVID-19 pandemic thrust the Church into this space as well as others who were well-equipped technically to move swiftly into that field.
The other corps are Wollongong (NSW), Ingle Farm (SA), Perth Central (WA) and Launceston (Tas.).
The people coordinating the live-streaming and online presence in those corps are to meet once a week with Sandra to talk through any technical issues, what the responses have been to their broadcasts, what questions people are putting to their churches as a result of having watched the telecasts, the licensing complexities associated with performing music and presenting text in those services and to share resources and ideas.
"The playing field has changed. Every Sunday the rules and restrictions are changing so we're making sure we're having conversations around that," Sandra said. "It's quite a minefield when it comes to the music and what we're allowed to do it and how we're allowed to do it."
The findings from these meetings will help corps, missions and centres across the country improve their technical presence online.
Salvation Army services are being streamed not only in English but Cantonese, Mandarin and Farsi (Persian) by corps that have congregations with a specific ethnic background.
Sandra said that, although there was a large amount of energy and resources being put into linking with the community in the environment of social distancing and lockdown now, the Army was already looking ahead to see how to continue that engagement "once we come out of our houses".
The Army has set up a database to record attendances and participation in the live-streams to help it measure the data coming out of services. Part of the analyses would be to work out where people are watching from.
"It's a very interesting space," Sandra said. "There's early indications that what we are going to be able to do (in this time) is to reconnect with some people who we have not been able to connect with."
Sandra said the survival of the local Church is at stake in this situation. Many churches may not survive or will find decreased attendance once congregations are permitted to reconnect in pre-pandemic meetings and services.
She said this was an enjoyable situation for 'tech savvy' Army young people where they have been able to help their older corps officers move into the online space. "They are feeling really useful."
Federal Government restrictions on the way society meets together has pushed The Salvation Army forward in the use of technology much faster and more collectively than it otherwise would.
"This (pandemic) has pushed us forward into the use of the technology available and many Salvation Army centres across the country have been fast-tracked into the space. It is up to the Church to ensure it is done well," Sandra said.
She said that the short time live-streaming had been a major focus, there was only a small sample of data to base outcomes on, but early indications were that a number of people were connecting with the Army that had either never connected before or were "lapsed attenders".
"At a time of crisis, it is good for people to connect with whatever it is that is bringing them comfort and hope," she said.
Sandra said it was the group known as Generation X that was coping best and adapting to the change in worship media in the current climate. "We're not native to this technology but we're able to see its benefit."
Sandra said the pastor's network with which she is involved, believed the Church that emerged from the COVID-19 situation would be "very different" from the Church that went into it.
"This is an opportunity for us to re-imagine," she said. "This online thing might be about the survival of a local church. If we can teach our people to adapt to online platforms, then we can keep local churches open in a virtual sense that we might need to close in a physical sense."