You are here:
Home › News › 2020 › 04 › 14 › Chocolate Bunnies And Bars Of Soap Delivering Hope At Easter
Chocolate bunnies and bars of soap - delivering hope at Easter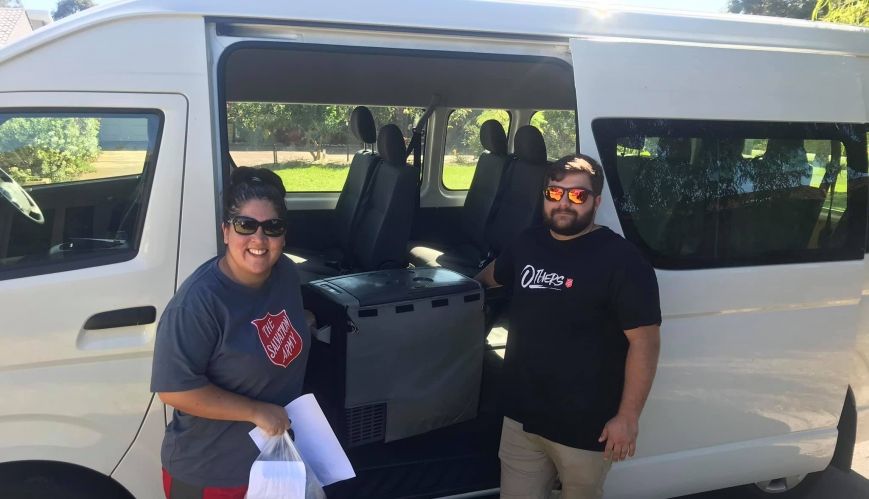 Chocolate bunnies and bars of soap - delivering hope at Easter
14 April 2020
Youth leaders and volunteers in Western Australia dropped off Magnums and Easter letters to youth and young adults around the state.
By Holly Reed, Jessica Morris and Lauren Martin
The Salvation Army across Australia has connected this Easter in a variety of new ways due to the COVID-19 restrictions in place. While many watched online church services on Good Friday and Easter Sunday, throughout the weekend there were lots of other missional activities taking place.
Volunteers from Bellarine Peninsula Corps brought hope, joy and peace to more than 80 local families during the Easter long weekend.
Victoria
Bellarine Peninsula Corps
On Good Friday, three outreach teams from Bellarine Peninsula Corps travelled the area to bring joy, hope and peace to hundreds of people.
"Socially distancing from the families we visited, we dropped off Easter eggs and Easter crafts, to help keep people busy at home," said Captain Peter Hobbs, Corps Officer.
"We reminded everyone to stay isolated, keep positive, stay safe and to share the love. Our message was 'you are not alone, but stay at home'."
Project 614, Melbourne
People experiencing homelessness were treated to a traditional Maori meal on Easter Sunday courtesy of Melbourne-based caterers, Hangiboys.
Melbourne-based caterers, Hangiboys deliver Easter meals to The Salvation Army Magpie Nest at Project 614.
Prepared in their commercial kitchen and adhering to health and hygiene regulations, the meals were donated to The Salvation Army Magpie Nest at 614. Clients were then treated to a traditional pork and lamb stew all served in individual takeaway containers.
Hangiboys is a catering company run by "four guys from the north island of New Zealand". Their aim is to showcase the cuisine of their heritage and culture while using modern day techniques. The term "hangi" describes a traditional Maori method of cooking over heated rocks buried in a pit oven, which stems from pre-colonialism days and has been passed on through generations.
Knowing all too well the financial loss the hospitality industry has suffered due to the COVID-19 pandemic (they had some major functions and festivals lined up), the guys at Hangiboys decided to give back to the Melbourne community that has given them so much over the years.
"We chose the Salvos as my older brother does a lot of charity work for the Salvos back in Auckland through his work," said business partner Kareem. "I thought why not reach out to those, like the homeless, as they seem to be the forgotten people in all of this."
Tasmania
Derwent Valley Corps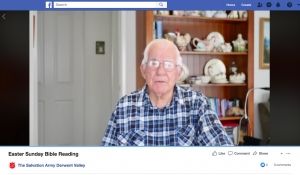 In Tasmania's south west, Derwent Valley Corps took a collaborative approach to Easter Sunday. Corps Officer Captain Tim Size asked corps members to record a video message from home so everyone could celebrate together virtually.
"I saw that Wyndham City Corps was recording Bible verses and getting people to send in messages on Facebook. So, I thought it would be good to do a whole sort of reading, and I can get videos sent to me and I could edit it together," said Tim.
Young families, long-time members of the corps and senior soldiers all joined in, reading from John 20. Cutting the Easter story between comments about how people are coping in isolation, it allowed everyone to connect spiritually and emotionally.
"People thought it was a great idea because they hadn't seen [each other] for a while – and the kids really miss each other!" said Tim.
Given the success of the Easter video, Tim plans to continue virtually connecting everyone with weekly video messages and scriptures from members of the corps.
"I'm thinking all the time of connecting and including people!" he said.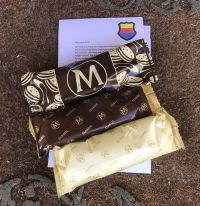 Magnums and an Easter message were dropped off to youth around the state.
Western Australia
#gotmymagnum was the theme for a statewide Easter Magnum drop in Western Australia on Easter Saturday, much to the delight of more than 100 youth and young adults.
The annual Easter camp had been cancelled, due to COVID-19, but the youth leaders still wanted to connect with the young people while adhering to both government and Salvation Army regulations and restrictions during the pandemic.
"We emailed all the corps across the state last Wednesday so they could register their youth on our spreadsheet, and by Saturday morning we were delivering the Magnums," said Aux-Lieutenant Steve Freind, Youth and Young Adults Secretary for Western Australia.
"We had 12 youth workers and volunteers, 130 Magnums, 10 participating corps, and also delivered to The Salvation Army's Crossroads West (youth homelessness program).
"Magnums were dropped as far south as Bunbury (175km), north to Quinns Rock (45km) and east to Kalgoorlie (600km), so it was a long day, but a really cool one."
As well as Magnums, the youth team also dropped off a printed message of encouragement for the young people, which included the scripture John 3:16 and a focus on the love and sacrifice of Jesus for us all.
"We wanted the young people to know that we still loved and cared for them, are here for them, and that Jesus loves them," said Steve."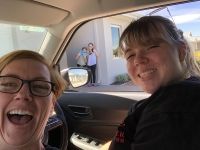 Youth leaders connected with young people 'from a distance'.
"We did a large risk assessment and put all the necessary requirements into place so that our teams, the young people and their parents knew about it. This enabled us to have some great conversations, with our leaders sitting in their cars, while the young people were on their driveways.
"It was a good connection point and for some of our youth workers, the first time in three or four weeks that they'd had face-to-face meetings with the youth."
The team has received positive feedback from the Magnum drop.
"One young guy who'd been struggling and hadn't been out of his pyjamas for two weeks had a shower, got dressed and waited for his youth leaders to come," said Steve. "They were able to have a really good conversation. Others were reassured that they belong, and that we are there for them."
Steve emphasised that the national Salvation Army theme for youth and young adults, 'We're Found Together' still applies, even though everyone is physically isolated and all camps and activities have been cancelled.
South Australia
Playford Corps
Playford Corps Officers Lieutenants Dale and Fi Allan spent plenty of time in their car with their family over the Easter weekend, delivering care packs and 'church in a bag', as well as conducting brief pastoral care visits on Easter Sunday.
Everyone connected with the corps Thrift Shop, food pantry and other missional activities received a care pack containing Easter eggs, a personal letter from the Allans and a card with contact details, encouraging people to get in touch if they needed anything.
"We stopped and chatted briefly [while observing social distancing guidelines] and said 'Hey, how are you doing, we're just checking in'," said Fi. "They were really surprised to see us and we were received really well."
The corps members received a larger pack containing a handmade nail cross, a box of chocolates, copies of the sermon transcripts from The Salvation Army's online Easter services and an Easter postcard with a link to watch those messages and a link for the Kidzone magazine Easter activities. "We also included a personal letter from Dale and myself and a copy of our message for that week on CD," said Fi.
"I personally felt very connected with all of our community," said added. "It was a very long day for our family, quite a few hours of driving [dropping off care packs and Easter 'church in a bag' packs] but it was quite nice to see people again and to see how they're going and let them know we're thinking about them and praying for them. The conversations were kept quite short of course [within social distancing guidelines]."
Despite Easter being over, the Allans' car continues to buzz around their local community, delivering 'church in a bag' and helping in ways that they can.
New South Wales
Singleton Corps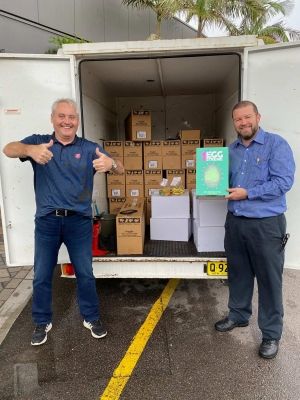 Singleton Corps Officer, Auxiliary-Lieutenant David Hopewell accepts boxes of donated Easter eggs from Wests Mayfield Club Premise Manager, Gary Rankin.
In the Hunter Valley, Singleton Corps Officer Auxiliary-Lieutenant David Hopewell received a surprising phone call the week before Easter.
It was from the operations manager at Wests club, where he had worked as a Salvation Army chaplain for four years. "He asked if The Salvation Army could use some Easter eggs," said David. Little did David know how many eggs were being donated ... when he drove the Singleton Salvation Army trailer down to Newcastle to pick them up, he said "I reckon there was about 100 kilograms of eggs and about 500 chocolate bunnies!" A few days later another batch of the same amount of eggs and bunnies was donated by Wests.
Corps across the Hunter, Lake Macquarie and the Central Coast used the eggs to bless families over the Easter weekend.
David said delivering the Easter goodies to families in Singleton was a lot of fun. "We were able to bless all our Kids Club helpers and volunteers and more than 100 children connected with The Salvation Army received a chocolate bunny and a Kids Club pack, which contained Easter story books from the Bible Society, some Easter colouring and other games to keep them occupied during the school holidays."
David's connection with Wests has continued since leaving his chaplaincy position and taking up the leadership role with his wife Val at Singleton Corps. When he found out that the club had to close due to COVID-19 restrictions, he made contact to let them know he was praying for everyone involved and asked if there was anything he could do to support staff. He was able to write a message that was sent to staff through the club's internal communications channels, which has resulted in many staff members getting in touch.
"I've had quite a few phone calls since with people chatting and talking – people just want to talk," he said.
Communities of Hope Outreach Worker Dan Taylor with Easter care packs that were delivered to 178 units at the Urana Street housing complex in Villawood.
Villawood Community of Hope
At Villawood, in Sydney's south-west, Communities of Hope outreach worker Dan Taylor and Major Bryce Davies spent part of the Easter weekend delivering Easter care packs to every single unit at a Housing NSW complex where the team operates a Salvation Army Community of Hope program.
"We really wanted to make it a surprise," said Dan about the team putting the care packs onto people's doorsteps, knocking on the door and then making a hasty getaway! "A few people came out and they were surprised that we were still doing things like that ... [it was nice that] they felt worthy and it put a bit of a smile on people's faces."
The Easter care packs contained a chocolate bunny and information about how people can get in touch if they need assistance or want to have a chat. "It also had in it a roll of toilet paper and a big bar of soap," said Dan. "People were more excited about seeing the toilet paper than anything else!"
Despite COVID-19 restrictions, the Communities of Hope team is still connecting with people through phone calls, mowing people's lawns, and a new Whatsapp messenger group where positive messages and helpful information is shared among members.