Calm before the storm in the Top End
Calm before the storm in the Top End
22 April 2020
Delivering fish for Easter – (from left) Coastal Line Fishermen's Association vice chairman Jon Hay, professional fishersman Shannon Johnston, Sunrise Centre chef Sue Hoddinott and centre manager Lorraine Butler at the centre in Berrimah, Darwin.
By Darryl Whitecross
The Salvation Army's support network for people experiencing homelessness in the Northern Territory is gearing up for a possible exponential growth in demand for its services in the coming months when Australian Government COVID-19 handouts are scaled back.
Northern Territory Community and Fundraising Manager Kevin Wrigley said the Sunrise Centre at Berrimah and the Red Shield Hostel in Darwin were not experiencing the volume of requests for help at the moment because increased government money may have reduced the reliance on such services.
Kevin said that could change in the next few months when payments "go back to normal". He said the Northern Territory had the highest percentage of homeless people in Australia, which was reflected in the number of people usually calling on The Salvation Army for support in the way of food, clothing and accommodation.
He pointed out that the Northern Territory had one per cent of the Australian population but 15 per cent of the country's homeless. Public housing waiting lists were really long and families were waiting for several years before they could get that accommodation.
With the outbreak of the COVID-19 virus, Kevin said the wait would only get longer, with homeless and rehabilitation centres having limited capacity. "In the best of times, there are a lot of people struggling in the NT but, obviously, with COVID-19, that has is gone to another level."
Salvation Army support services, including Doorways, had experienced a significantly quieter period in the past month, according to Kevin.
"I'm not too sure about homeless seeking support but, in terms of seeking financial support, the people we normally see on a day-to-day basis has been quite dramatically less," he said. "We were expecting a big demand on Doorways services with mass unemployment happening when a lot of people got stood down, but we probably haven't seen really seen that materialise.
"It could be the case that it's still a few months away when these payments go back to their normal levels but we'll just have to see what comes back. I do think the government support that's been offered has kind of kept people or let people survive for the time being without having to go to services such as what the Army provides."
Easter fish feast
The front page of the NT News with Kevin Wrigley and some of the fishburgers.
The Salvation Army in the Top End was treated to an Easter fish feast recently for its clients who are struggling to make ends meet.
The Northern Territory professional fisher's Coastal Line Fishermen's Association (CLFA) donated about 80kg of black jewfish to the Sunrise Centre and Red Shield Hostel over Easter.
Kevin said COVID-19 had created a new set of challenges for people living rough or with other problems in their lives and that special donation provided welcome relief.
The chef at the Sunrise Centre – the Army's drug and alcohol rehabilitation and homeless complex – cooked up the 400 serves of the black jewfish into fishburgers.
CLFA vice chairman Jon Hay told the NT News newspaper that professional fishers in Darwin had worked together over a period of weeks to coordinate the donation.
Katherine Winchester, chief executive officer with the Northern Territory Seafood Council, said having black jewfish on any menu was a treat: "If it's on the menu, you're excited."
Black jewfish is a popular in-shore fish species in the Northern Territory, along with other iconic Top End species such as barramundi and king threadfin. "It's absolutely delicious. With large thick fillets it's easy to cook and just delicious so having a fish fillet burger would have just been the bomb," Katherine said.
Challenging times during COVID-19
The COVID-19 restrictions had been having an impact on the operation of centres, said Kevin, with social distancing rules in place for a number of outdoor activities and art classes.
"It's a challenging space in normal times but, obviously, with COVID-19, it gets a bit more challenging in terms of all the restrictions you need to put in place you need to limit the intake of people," he said. "You can't actually take as many people as you would normally just because of the way the buildings are laid out and the space that's available and keeping social distancing in mind.
"All that obviously has an impact on how many people you can support and obviously you have medical regimen as well; alternate and rotate staff. We can't have the full staff presence at one point in time because of the government regulations we face. It's a challenge for both the client and the staff. Because they're vulnerable people, you need to keep them safe and secure.
"It's not an easy task because clients may not necessarily understand what these restrictions are all about, what is coronavirus is, why we need to stay inside and all those these kinds of challenges as well. In the Northern Territory, at the best of times, there's very limited capacity in terms of homeless shelters or other rehabilitation programs and support programs just because the population size is very small."
Rough sleepers and long grassers
In the Northern Territory, with its warmer climate, many people experiencing homelessness are 'sleeping rough'. These people are not always visible – sleeping on park benches somewhere in the city centre – but are what are called 'long grassers' who sleep in the scrub on the outskirts of the city.
"You do have a big challenge with that, and that's especially because of about 30 per cent of the population in the Northern Territory is Aboriginal [or Torres Strait Islander]," said Kevin, who indicated that the remote communities around Darwin also fed into the homeless numbers.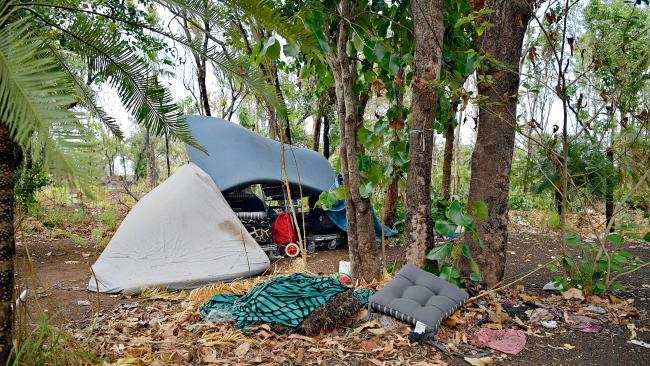 An example of a long grasser camp outside Darwin.
When the people from those communities need to come to Darwin, particularly for medical treatment because facilities, often hospitals, are not available in those areas, they often do not return home afterwards.
"What can happen is that they don't return back to their community so they might stick in Darwin just because you've got less restrictions than in remote communities," Kevin said. "For example, remote communities are dry communities so, in Darwin, in contrast, you can go to a liquor store and buy alcohol.
"The downside to that is they don't have a support network or family in Darwin so the only way they can then manage is to sleep rough or seek support from services [such as what The Salvation Army provides].
"With the COVID-19 crisis, all Aboriginal people who are not from Darwin have been encouraged to return to their communities just because they are in the safest place there because, if you're sleeping rough, you can't really self isolate."