You are here:
Home › News › 2020 › 04 › 30 › Bringing Some Sunshine Into The Lives Of Vietnamese Seniors
Bringing some 'sunshine' into lives of Vietnamese seniors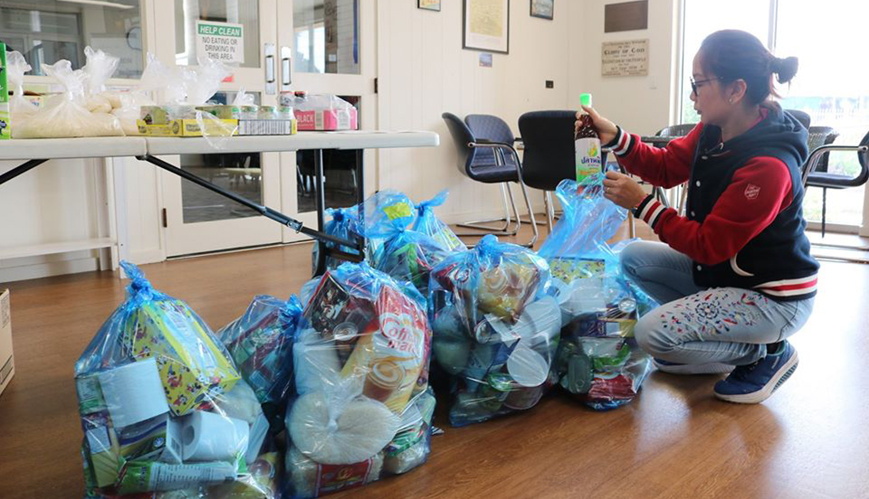 Bringing some 'sunshine' into lives of Vietnamese seniors
30 April 2020
Lieutenant Phuong Reynolds, Corps Officer at Sunshine Salvation Army, packs food hampers ready to drop off to Vietnamese seniors in Melbourne's western suburbs.
By Jessica Morris
Food hampers from the Salvos have become the literal bread and butter for thousands of Australians during COVID-19 isolation, but the team at Sunshine Salvation Army knows it's not one-size-fits-all.
To best support the diverse community in Melbourne's western suburbs, Sunshine Corps Officers Lieutenants Colin and Phuong Reynolds are working with the Victorian chapter of the Vietnamese Community in Australia (VCA) to create monthly customised food hampers for elderly and isolated Vietnamese residents.
"It's a tough time for them. They would normally rely on the assistance and support of family, but within the Vietnamese community a lot of people have been really cautious about visiting elderly relatives," said Colin. "The residents have also heard reports of racism [due to coronavirus] and it adds another layer of fear and keeps them entrenched at home."
Phuong provides a Sunshine local with a food hamper customised for the Vietnamese community.
With seniors unable to reach out for help, Colin and Phuong brought some of their 'sunshine' to doorsteps as far away as St Albans and Deer Park to Flemington and Brunswick. Over two days they packed and dropped off 27 hampers loaded with items including soy milk, fish sauce, rice and noodles. Or as Colin says, "All the best stuff!"
"They were very specific to that cultural group. If we had taken a normal food hamper, half of it would have been thrown away or handed back to us, so we are mindful of what they would need," he said.
Sunshine Salvos has a long-standing relationship with the VCA, and many Vietnamese residents attended activities at the church before COVID-19. So, when the VCA reached out to Colin and Phuong with concerns about isolated seniors, they knew the Salvos could lend a hand. "It's super important at Sunshine Salvos that we create and foster the community connections we have," said Colin.
By simply knocking on a front door and leaving a customised hamper, Colin and Phuong remind residents that there are people in the community who care for them. It also gives them a chance to make some new connections.
"Some of these people are familiar faces to us, but most of them are people we are meeting for the first time," said Colin. "It was a great opportunity for us to make that connection, but more importantly for us to make sure those people are being looked after."