Red Shield Appeal 'digital doorknock' launched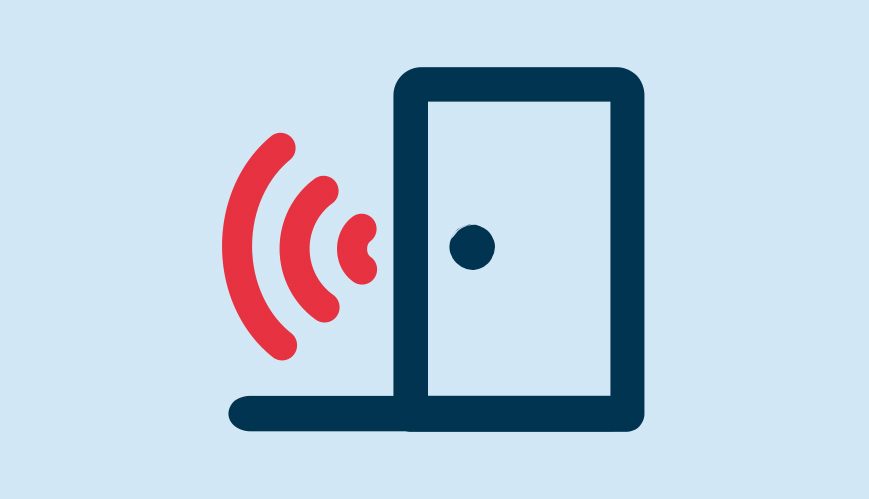 Red Shield Appeal 'digital doorknock' launched
30 April 2020
A digital doorknock will replace the traditional community doorknock during this year's Red Shield Appeal campaign.
By Lauren Martin
The Salvation Army has launched its 2020 Red Shield Appeal, which will be spearheaded this year by a 'digital doorknock'.
It will be the first time in more than 55 years that Salvos and volunteers won't be knocking on doors to raise money for The Salvation Army's mission and ministry due to coronavirus restrictions.
An online digital fundraising platform, found at digitaldoorknock.salvationarmy.org.au encourages people to donate or sign up to become 'digital doorknockers' and create a personal fundraising link to ask friends, family and social media followers to donate. Every local corps and centre has its own Red Shield Appeal Digital Doorknock page so people can search for their suburb and support the work of the local Salvos in their area.
In 2019, 80% local funds raised were spent in the local area where it was raised. Funds raised though national channels supported The Salvation Army's major national service streams in homelessness, alcohol and other drug recovery, youth work, domestic violence and strategic disaster management.
Salvation Army spokesperson Major Bruce Harmer said he hopes that, across Australia, up to 10,000 digital doorknock collectors will sign up and fundraise: "Australians are facing an economic and social crisis unlike anything witnessed in recent decades and The Salvation Army is preparing to provide hardship support on an unprecedented scale.
"The Salvos are going digital this year and it's easier than ever for people to volunteer and help raise money for those in need. We are asking our local communities to partner with us to provide the critical care needed as we face these challenging times. We know when the chips are down, Aussies come together and do what they can to give hope, and there is no more important time than now."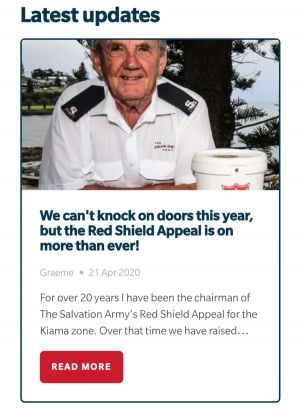 Share the love
Already, corps and individuals are jumping onto the platform, with the running overall donation tally on the home page continuing to climb.
Salvationist Graeme Packer, from Kiama on the NSW South Coast, has already posted a personal message and photo on the Kiama Salvos digital doorknock page, saying "We can't knock on doors this year, but the Red Shield Appeal is on more than ever!" and encouraging supporters to give generously.
There are opportunities for Salvos to share videos, post sponsor logos and links to various social media accounts through their digital doorknock platform, and The Salvation Army Communications Team is working on content to assist corps to promote the digital doorknock and The Salvation Army's work in this unprecedented time of need.
To sign up and volunteer to fundraise go to digitaldoorknock.salvationarmy.org.au
Donations can be given by going to salvationarmy.org.au or by calling 13 SALVOS (13 72 58)