You are here:
Home › News › 2020 › 05 › 02 › The Salvation Armys Newest Countries Join The Fight Against Covid 19
Army's 'newest' countries join the fight against COVID-19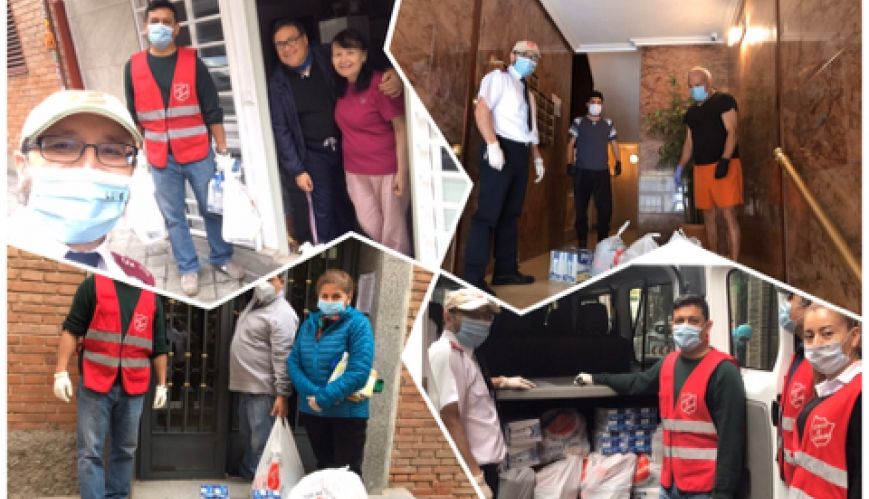 Army's 'newest' countries join the fight against COVID-19
2 May 2020
The Salvation Army Madrid Central Corps in Spain is running a food distribution program for people in extreme need, and offering spiritual support.
IHQ Communications
The Salvation Army's work in Burkina Faso and Gabon officially started only two years ago, and the movement's exploratory ministry in northern Thailand is still not yet officially recognised. However, COVID-19 responses are now underway in all three of these countries, as well as many more with a longer-established Salvation Army presence.
Each response is culturally appropriate and carefully designed to meet the specific needs of communities in these days of great need, in coordination with relevant governments, local authorities and other agencies, to ensure that nobody is missed.
Responses include:
Africa
Distributing hygiene and cleaning supplies is also raising the profile of The Salvation Army in Burkina Faso.
In Burkina Faso, supplies of handwash and soap have been transported 300km from the capital Ouagadougou to Bobo-Dioulasso Corps. In this community, the local markets have closed, leading to financial hardship for people reliant on this trade. The supplies will be distributed to the most vulnerable, in liaison with the mayor's office.
In Republic of the Congo, families in six of the most impoverished suburbs of Brazzaville are being supported with emergency Salvation Army food parcels. The loss of employment because of coronavirus restrictions is widespread, and starvation is a very real risk. Approximately 1580 recipients will also benefit from hygiene supplies.
In Gabon, The Salvation Army is supporting the World Health Organisation's efforts to curtail the spread of the virus throughout a particularly susceptible community. Plans are in progress to distribute soap, hydrochloride gel and disinfectant to 300 vulnerable families in Libreville, along with buckets and hygiene information leaflets.
Radio broadcasts are being used by The Salvation Army in Malawi to share important disease prevention messaging, in conjunction with the country's Ministry of Health. This means of communication – bolstered by a poster and leaflet campaign – will ensure that information gets to hard-to-reach vulnerable groups, such as those who live in the slums, migrants and homeless people. At the same time, around 2250 of the most vulnerable individuals in Blantyre will receive food packages and soap. A number of 20-litre buckets with integral taps will also be distributed to strategic locations.
Food relief is being provided to families in the Babu Patel locality in Jinja, Uganda. With the majority of the 5000-household community having little or no income and nothing in the way of financial reserves, the COVID-19 crisis is giving rise to malnutrition. The Salvation Army has identified and is providing maize flour, beans and cooking oil to the 1000 most vulnerable families. Hygiene and healthcare information is also being distributed.
Also in Uganda, a separate project seeks to provide 20,000 bars of soap and hygiene information to vulnerable families in Kizanyiro. Personal protective equipment will also be made available in Kawempe, along with sanitiser for the five health centres in the division and for the five local council officers.
Americas and Caribbean
In Brazil, The Salvation Army has been approached by São Paulo's civil defence administration to help meet the needs of the huge homeless community in the city. Local authorities are opening shower blocks, portable washbasins and toilet facilities, and low-cost restaurants are still available in some parts of the city. However, The Salvation Army will be stepping into the gap and providing hot meals and snacks for around 75 people every day who are unable to access these. The Salvation Army will also distribute hygiene kits among the city's 3200 street dwellers.
In Haiti, around 21,000 people are being supported with the provision of handwashing facilities and disease prevention advice. 
In the USA, The Salvation Army in San Francisco is deploying large teams of helpers to provide hundreds of unsheltered people with pre-prepared meals. In Greater New York, The Salvation Army has partnered with the Port Jervis City School District to feed children who are in need of breakfasts and lunches while remote-schooling. Meanwhile, food distribution continues across New York City.
Europe
In the far-flung Færoe Islands, The Salvation Army's shelter in Tórshavn has become the central food distribution point for people in need across the islands.
In Iceland, there has been high demand from the public in the capital Reykjavík for food and The Salvation Army has handed out bags and gift certificates for grocery stores. There has also been a telephone service for people who are afraid or lonely. Young people from disadvantaged families in the northern town of Akureyri have had extra challenges in these days, so the local corps has facilitated special gatherings for them – with appropriate social distancing.
The Salvation Army in Slovakia is meeting the needs of a largely Roma (Gypsy) population in Pezinok and Plavecký Štvrtok. Face masks have been sewn locally to meet demand, and food assistance is being provided to around 140 people on a door-to-door basis.
In Spain, The Salvation Army's Madrid Central Corps is running a food distribution program for people in extreme need. The team is also distributing food to the homes of elderly people as well as those sick with the virus. Spiritual support is being offered where appropriate.
South Asia
In northern India, The Salvation Army in Chandigarh, in coordination with the local government and other humanitarian agencies, has identified 1725 families in particular need of food support. A program of distribution will begin shortly. Hygiene advice and soap will be provided.
A Salvation Army response in Sri Lanka is providing 1600 vulnerable families with soap, laundry liquid and handwashing. This is in addition to an emergency feeding program that is ensuring 100 of the most at-risk people receive a hot meal daily for at least 20 days.
South Pacific and East Asia
In Thailand, The Salvation Army is actively responding in the northern city of Chang Mai.
Health care is a focus for The Salvation Army in Myanmar, where the majority of patients suspected of having COVID-19 are being brought to the former capital, Yangon. Schools in the city have been requisitioned as clinics in order to host the influx of seriously ill people. The Myanmar Council of Churches received a request from the government to assist with the treatment costs for patients. To date, The Salvation Army has met the costs of 20 patients. A further 500 vulnerable families will shortly receive care packages of 10kg each of rice and dhal, in order to meet daily needs.
In the city state of Singapore, The Salvation Army is in coalition with other partner organisations in distributing personal protective equipment and other hygiene necessities to immigrant workers. A local logistics company, Ninja Van, is working with The Salvation Army to supply 20,000 care packs to the city's most vulnerable people.
In Thailand, The Salvation Army's pioneer team is playing an active part in the coronavirus response in the northern city of Chiang Mai. The team has responded to a call from the city's governor to provide meal assistance to a centre providing care to individuals who have tested positive for COVID-19. Salvation Army officers and staff are also providing support to front-line workers, including the distribution of face shields to three hospitals and a police station. Food parcel distribution to vulnerable communities has also been undertaken.