A voice for Jesus and justice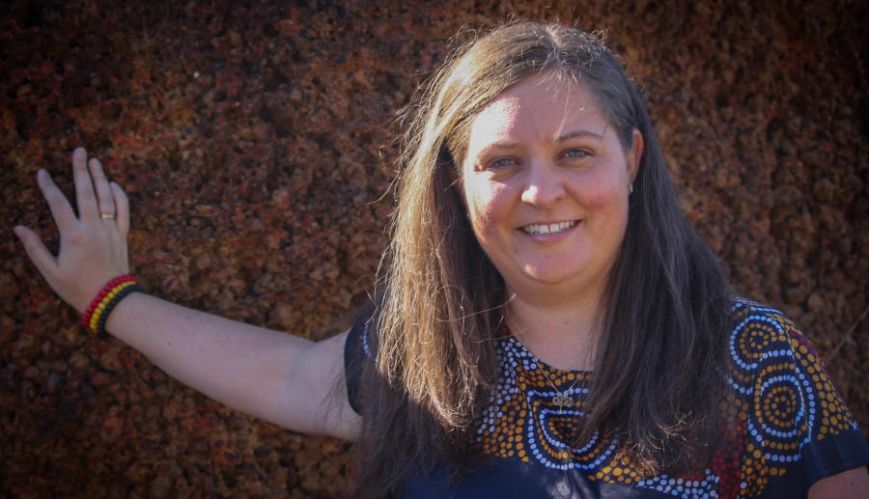 A voice for Jesus and justice
29 May 2020
Brooke Prentis began her role as CEO of Common Grace in February. She says Common Grace aims to be led by Aboriginal and Torres Strait Islander peoples to achieve friendship and reconciliation in our lifetime. Photo: Jon Redman
By Simone Worthing
Salvationist Brooke Prentis, an Aboriginal Christian leader from the Waka Waka peoples, is the first Aboriginal person to become the chief executive officer of a national Christian organisation in Australia that is not specifically Indigenous.
Brooke, who became a Christian through Albion (now Stafford) Corps in Brisbane in 2001, after hearing the story of Catherine and William Booth and the Christian pursuit of justice, was appointed CEO of Common Grace in November last year. She officially began in the role in February.
"Common Grace is an online Australian Christian movement for justice that exists to inspire and organise Australian Christians to think, speak and act like Jesus for a more just world," says Brooke. "The movement seeks to be a gracious public Christian voice that is both provocative and compassionate, and one that helps to reframe public attitudes toward Christianity. We reach across denominational, theological and political lines to find common ground."
This diverse community of people campaigns on four key justice areas – Aboriginal and Torres Strait Islander justice, creation and climate justice, refugees and asylum seekers, and domestic and family violence.
"At the centre of what justice means in an Australian context is truth-telling about our history and therefore Aboriginal and Torres Strait Islander Christian leaders are fundamental to all our work," says Brooke. "This appointment builds upon the other Aboriginal leaders who have paved the way for me, and I can pave the way for future leaders. I am passionate about our four areas, but look at them all from the Aboriginal perspective."
Brooke, who has also served in Salvation Army Indigenous Ministries from 2012, says she was attracted to Common Grace as it enabled her to lead as an Aboriginal person, to advocate for Aboriginal and Torres Strait Islander justice, and to amplify the voices of other Christian leaders in that space.
Reconciliation
Salvationists pray over Brooke.
In its Aboriginal ministry, Common Grace aims to be led by Aboriginal and Torres Strait Islander people, and to "achieve friendship and reconciliation in our lifetime," explains Brooke.
"When it comes to the theme of this year's National Reconciliation Week (27 May-3 June), 'In this together', I didn't like the theme when I first heard it. It felt like so many people weren't in this together with us and, in some ways, the reconciliation process had gone backwards. I wondered where all those people had gone who supported us 20 years ago in the Walk for Reconciliation across Sydney Harbour Bridge.
"My deepest desire and prayer, though, is that people are together with us in achieving reconciliation. We still need to be engaging in this together."
The theme for Reconciliation Week 2019 was 'Grounded in truth: walk together in courage'. This, combined with the theme for NAIDOC Week 2020 (5-12 July)*, 'Always was, always will be', reminded Brooke that there are so many moments in Aboriginal history to celebrate, truths to still be told and understood and actions to take.
"The voices of Aboriginal people still need to be heard, and we need to invite people into that story and walk it together," she says. "So, from a Christian point of view, we are in this together. We are grounded in the love of Jesus and called to love our neighbours. So we are praying for change, that others will sit with us in our pain, that we will stand together against injustice, and walk together in truth and friendship.
"This is my message in my journey as an Aboriginal Christian leader, and remains my call to Australian Christians, and the nation, today." Brooke believes that during this time of the COVID-19 pandemic there is much that Aboriginal and Torres Strait Islander peoples can offer the nation.
"As well as the intergenerational trauma that is so often talked about, there is also intergenerational memory – invasion and colonisation, death, disease, dealing with grief and survival," she says. "We can speak into the current crisis and help lead Australia through this. So far, though, as with the [recent] bushfires, we have been denied a voice."
Brooke and her small team at Common Grace, reinforced by the organisation's many supportive volunteers, are focused though on calling people to take action against injustice. "As people find hope and healing in Jesus, our support base is growing," she says. "Australian Christians from every denomination of the Church in Australia are represented in Common Grace, and that is what it means to be the body of Christ.
"As we hold Jesus and justice together, we can also be an example to non-Christians who are passionate about justice and are curious about Jesus' fight for justice, so these non-Christians are drawn to Common Grace as they see us taking action against injustice."
Common Grace also aims to resource its online community in its advocacy. The Salvation Army Head of Mission, Lieut-Colonel Lyn Edge, recently contributed to one of the movement's video series on Lent. "Lieut-Colonel Lyn spoke about Jesus being the light of the world, which really speaks into the COVID-19 situation," says Brooke. "It was wonderful for me to have a Salvation Army presence in this series."
* NAIDOC week 2020 has been postponed. For more information head to naidoc.org.au