Proclaiming freedom for the captives at Beechworth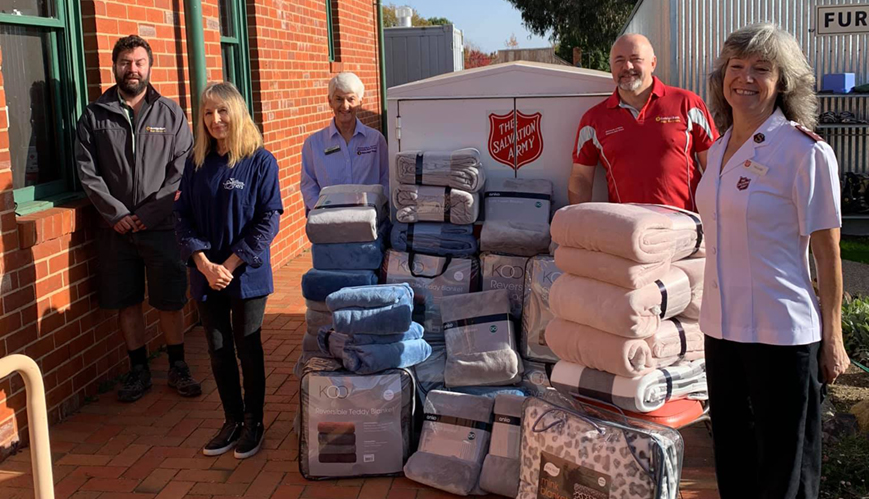 Proclaiming freedom for the captives at Beechworth
2 June 2020
Captain Pauline Middleton (right) accepts a donation of blankets from the Beechworth and District Community Bank while following social-distancing guidelines. The bank and numerous locals have thrown their support behind The Salvation Army during this time, despite experiencing their own hardships. 
By Jessica Morris
While some of us have more time to read the Bible during isolation, not everyone enjoys the same luxury.
One group in this category are prisoners. The demand for Bibles at Beechworth Correctional Centre in Victoria's north-east has increased during the COVID-19 pandemic, but inmates have struggled to get their hands on one.
That's where Beechworth Corps Officer Captain Pauline Middleton has been able to help.
Pauline originally left some Bibles on a desk at the correctional centre and soon heard some heartwarming news – there's a greater thirst for God's Word in the prison than ever before.
"We have lots of Bibles now going out. They're wanting more Bibles more than ever [due to COVID]," she said. "It works really well because we have community welfare involved with the church. It's amazing what COVID-19 has allowed us to do considering everything has shut down."
Having served in the area for the past decade, Pauline's long-standing prison ministry has continued with social-distancing measures in place. With some access to the prisoners to support their recovery and wellbeing, she was given an avenue to literally bring hope to the captives, to borrow a phrase from the Bible.
"Beechworth was a prison town and a mental health town for many years prior to being a popular tourist town – it's open to all sorts of people. Sometimes people get out of jail and they come here, so there's lots of compassion," she said.
COVID-19 has come straight after a long, arduous summer of bushfires in the area. The town was evacuated during the first weekend of January due to the Corryong fires, and Pauline continues to act as a first responder to residents still suffering in the aftermath.
New thrift store
Yet, despite the hardship being experienced by many locals, their generosity has not only enabled Pauline to continue her prison ministry but also set up a new thrift store. Located next to the corps building, the previous owner refused higher offers on the sale, adamant it would be used for the Salvos' ministry.
The thrift store opens next week and will be fully stocked thanks to an abundance of donations. It just shows that you reap what you sow – and who knows how that will blossom in this town now that God's Word is being digested by some of their most vulnerable.
"This is a God story," said Pauline. "People are on board with supporting the whosoever of the world, and it is exciting."